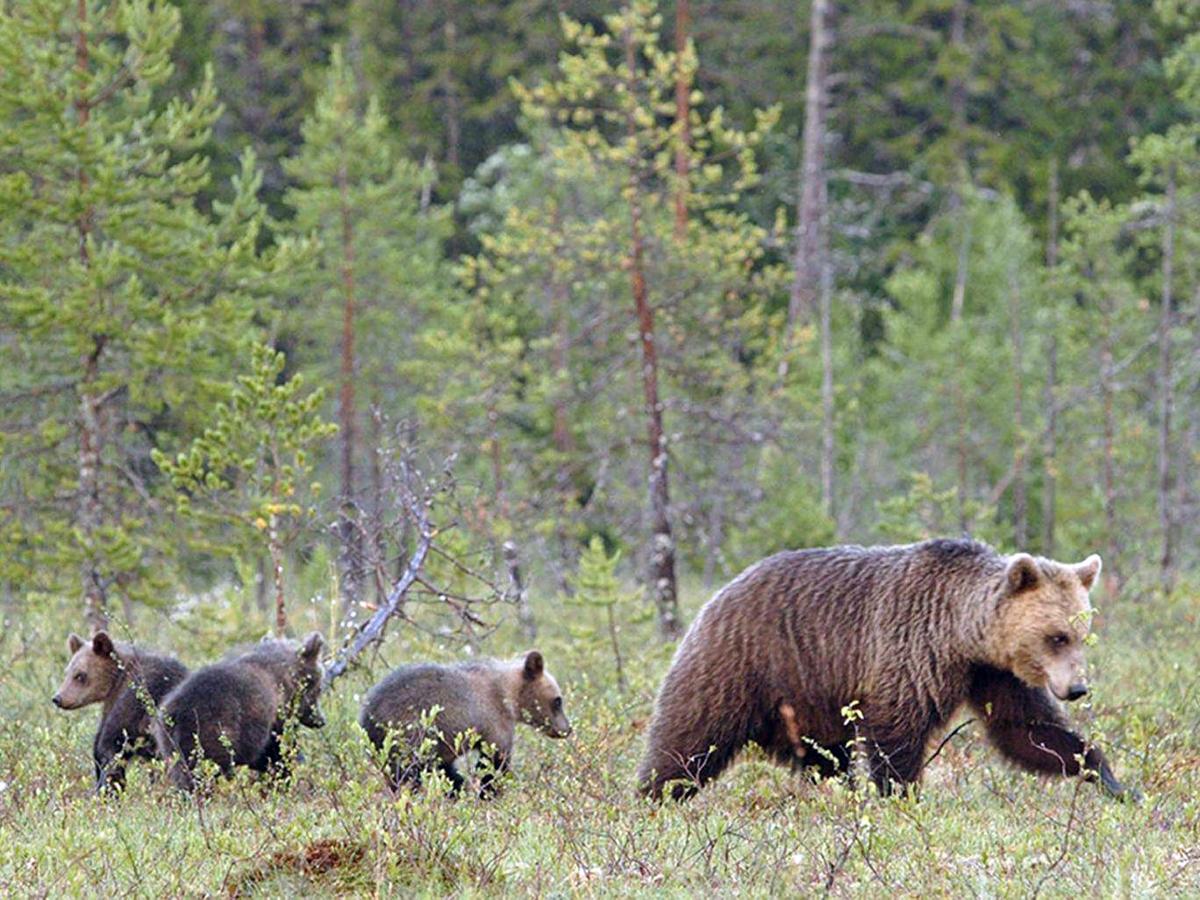 In a variation of "women and children first," Scandinavian biologists found that female brown bears keep their cubs close a year longer than usual as defense from hunters.
"The young are like a shield, a protection, that increases the survival of the mother," said Jon Swenson, a professor at the Norwegian University of Life Sciences in As, Norway. "If that's inheritable, and it might be, then it's an example of hunter-induced evolution. Animals respond to selection pressures, and a lot of hunting is selective."
While wildlife managers in Montana, Idaho and Wyoming debate how to set up grizzly bear hunting seasons, Sweden has decades of experience hunting a similar species. And Swenson has a tight connection, too: He grew up in Shepherd, in Yellowstone County, and once worked for Montana's Department of Fish, Wildlife & Parks.
About 3,000 brown bears inhabit Sweden, a country slightly larger than California. About 2,000 grizzlies live in the three-state area around the Northern Rocky Mountains, where their population increases about 3 percent a year. The Swedish brown bears, in comparison, grow by about 15 percent a year.
Last July, the U.S. Fish and Wildlife Service removed Endangered Species Act (ESA) protection for roughly 700 of those American grizzly bears in the Greater Yellowstone Ecosystem and turned their supervision over to state wildlife agencies.
Wyoming's Game and Fish Department announced plans to hold a grizzly big-game hunting season starting this September, with a potential quota of 24 bears. The Idaho Department of Fish and Wildlife followed suit, with a single-bear limit for 2018.
Montana's Fish and Wildlife Commission decided to skip a 2018 grizzly season. Its commissioners cited the possibility that federal lawsuits opposing the ESA delisting could postpone or cancel any state hunt this year. 
Sweden has no individual limit on killing brown bears, although it does have regional quotas that end the season once reached. Swedish hunters who buy an annual permit (similar to a Montana conservation license) and pass an annual rifle-handling course may shoot almost any bear they find during the hunting season, Swenson said. They may not shoot bears in family groups, however.
"It used to be only Swedish hunters hunting bears for meat and rugs," Swenson said. "But now we have foreign hunters and a lot of money involved. That's something that's changed in the last 10 years."
But while taxonomically Swedish brown bears and American grizzly bears are identical, in the woods they're quite different. North American Ursus arctos horribilis are known for ferocity and occasionally eating livestock or picnic supplies. Swenson said Swedish Ursus arctos arctos rarely encounter people or raid human food. Thousands of years of persecution by humans has turned them into secretive, highly nocturnal, vegetarian animals the Swedes often call ghost bears.
Female brown bears in Scandinavia tend to be about 10 percent smaller than their American grizzly cousins, and they reach breeding age sooner. For a long time, having cubs at a younger age and raising them for only one and a half years was a good adaptation to human hunting pressure. But increases in hunting interest and kill quotas in Sweden appears to be changing that family behavior.
This presents a tricky tradeoff. Spending just one and a half years raising cubs means a female can mate more often, adding more cubs to the population. But spending two and a half years as mom means more cubs survive to adulthood. Male bears often kill a sow's cubs in order to restart her breeding cycle. People kill mature bears during hunting season.
Swenson's study showed solitary female bears were nearly four times more likely to die from hunting than those that hung around with their offspring. So sticking with the family helped both cubs and mature females live longer in Sweden.
"For managers we were interested to know how much has this change affected the population growth rate," Swenson said. "The lower reproductive rate was offset by a higher survival rate of the female. And we see that keeping the young for that extra year increases the survival of the young."
Wildlife managers in the Rocky Mountains have the same interests as they consider hunting quotas for delisted grizzly bears, according to FWP bear biologist Cecily Costello. However, American grizzly moms already keep their cubs for two and a half years, without hunting pressure. Costello got to do some field work in Sweden, including observing a helicopter capture of a brown bear.
"It made me realize they're a little bit of a different bear than they are here in the Rocky Mountains," Costello said. "They have a different personality."
Sweden has recorded 40 bear-related injuries and two human deaths in the past 40 years.
"Some of them are weird things like a teenage boy who was skiing off-piste and fell into a bear den with a sow and cubs inside," Swenson said. "You always end up with things like that in the statistics."
On the other hand, Swedish brown bears like to hunt reindeer calves in the nation's northern regions. This angers the indigenous Sami communities who herd reindeer. Swenson said the Swedish government last year issued so many bear kill permits for livestock protection that it couldn't offer a public hunting season in one region: The quota had already been filled and the bear population shrunk by 10 percent.
"Any season we would have, at least right now, is going to involve a pretty small number of individuals," Costello said. "And any hunting mortality has to fit into what's left over after we account for other sources of mortality (poaching, roadkill, management removals). It wouldn't have the kind of effects that it has in Sweden where they have a lot more hunting pressure."
Be the first to know
Get local news delivered to your inbox!