Law enforcement officers from Montana and Utah were keeping watch Saturday in the Salt Lake City hospital where Montana Highway Patrol trooper Wade Palmer was airlifted after being shot early Friday morning during a manhunt in Evaro.
While in Utah on Saturday, Montana Attorney General Tim Fox said the support for Palmer, as well as three people believed to have been shot by the same suspect, was immense.
"It takes a rare kind of individual to serve the public in any capacity, but certainly in those roles of law enforcement, fire service, first responders and others, whenever they're called, they run to trouble," Fox told the Missoulian in a phone interview. "No one knows better than law enforcement in general the risk they take. We have to be cognizant of that and have to honor not only them but their families and never forget them."
The law enforcement community in Utah has been taking good care of Wade, his family and Cpt. Kitchin & Sgt. Finley who are with him in Salt Lake. There has been someone outside his room around the clock including his surgery room. #mtnews pic.twitter.com/CZuducoiBa

— Montana Highway Patrol (@MTHwyPatrol) March 16, 2019
A GoFundMe account was set up midday on Friday to support Palmer's family; by early Saturday afternoon more than $87,000 of the page's $100,000 goal had surged into the account from more than 1,300 people. Palmer is being treated at University Hospital in Salt Lake City.
Palmer was among four people shot in separate but related incidents late Thursday and early Friday. The first shooting targeted three people, wounding two and killing one. Johnathan Bertsch, 28, of Arlee, was arrested after an hours-long manhunt and charged with one count of deliberate homicide and three of attempted deliberate homicide. He's being held without bail in the Missoula County Detention Center.
Casey Blanchard, one of the three shooting victims from the earlier incident, was also life-flighted to University Hospital in Utah.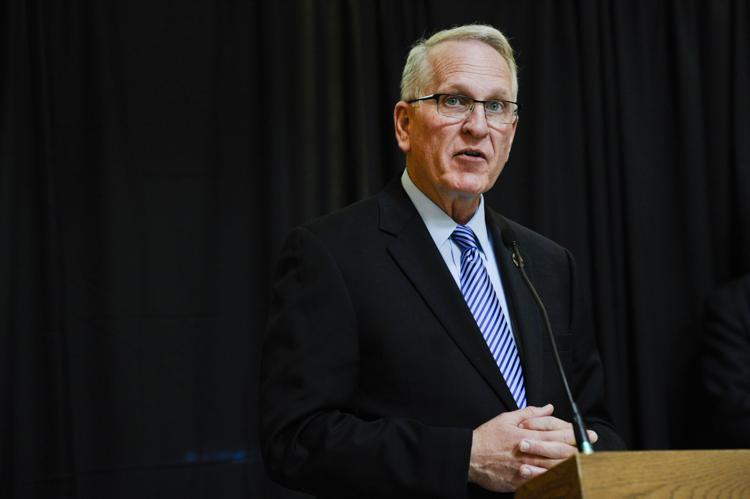 "It's tremendously heartwarming to see the support of so many people, not just for Trooper Palmer and his family but also for Leavella (Calhoon) and her husband, Casey," Fox said.
The shooting spree began shortly before 11 p.m. Thursday when a red pickup containing Julie Blanchard, Casey's mother, Casey Blanchard and his friend Shelley Hays stopped near the Lithia auto dealership of Missoula on Grizzly Court and Expressway, after a driver in a white Cadillac Escalade flashed its lights at them, according to court documents.
The Escalade had reportedly followed them from Marvin's Bar at the Wye, Julie Blanchard told authorities. When the driver flashed their lights at them, Julie thought they might need help.
You have free articles remaining.
Keep reading for FREE!
Enjoy more articles by signing up or logging in. No credit card required.
When Casey Blanchard got out of the pickup, the Escalade's driver opened fire, wounding Casey and his mother and killing Hays, according to court documents.
The shootings sparked a massive manhunt. Palmer was shot about an hour later after reporting he'd come under fire on Highway 93 North near the Evaro bar.
GoFundMe accounts have been set up for all the victims and their families.
The account for Shelley Hays asks for help with "any expenses Shelley needed to pay or any expenses the family now has to endure." It had raised more than $17,000 of its $25,000 goal by Saturday afternoon.
A Facebook request for his mother, Julie Blanchard, had raised more than $5,000 of the $6,500 requested.
As donations poured into the respective accounts for victims and their families in recent days, law enforcement's presence at University Hospital has been a steady one. Fox, who has been spending time by Palmer's side, said law enforcement and officials from the entire region have plugged into the support system, including Utah Highway Patrol led by Col. Mike Rapich, Utah Attorney General Sean Reyes, Utah Gov. Gary Herbert, the national Fraternal Order of Police and federal agencies such as the FBI, DEA and ATF.
The constant drumbeat of reinforcing messages from Montana, though, is a welcome support system of its own for Lindsey Palmer and her family, Fox said.
"She wanted everyone to know that she and her family really appreciate that, it does her heart good and makes things a little easier for all of them," he said.
"Montanans do it as well or better than anybody in caring for the people in their community and their state," Fox added. "We need to continue to pray for Wade and also for Lindsey and the family."