Editor's note: This story has been updated to reflect the fact that Natascha Robinson is the program director for the Montana Hospital Association's South Central Area Health Education Center.
On Friday, March 22, a PowerPoint slide projected onto a wall of the Jefferson High School library showing an acronym identified as "The Action Plan."
A was for "assess risk for suicide or harm" and L for "listening non-judgmentally." G stood for "giving reassurance and information," and both of the E's "encouraged professional help, self-help, and other support strategies." Together, the letters outlined how an adult should respond and support a young child or teen who may be struggling with their mental health.
The acronym was one of many lessons the group of 20 high school teachers learned at this mental health first aid training last Friday afternoon. But while this training aimed to educate teachers on how to support their students, that wasn't its main mission. The training was a precursor to a larger teen mental health first aid pilot program unprecedented in the United States set to launch at Jefferson High School in the coming weeks.
Recently, the Boulder, Montana, high school was one of eight schools awarded $5,000 by Lady Gaga's Born This Way Foundation and the Well Being Trust to pilot a version of an evidence-based, Australian teen mental health course adapted by the National Council for Behavioral Health with their students.
After two pilots and a soft launch, the organizations hope to bring the course to high schools nationwide by 2021.
"The language in this program is more focused on peer-to-peer support, which is a huge shift. … It empowers students to be leaders," said Natascha Robinson, one of the three trainers who will lead the pilot program in Boulder.
Robinson, who works as program director for the Montana Hospital Association's South Central Area Health Education Center, went on to further explain that while similar mental health first aid courses exist to educate adults on how to help either their peers or youth, this is the first program that focuses on educating teens to help teens.
Through a handful of 45-minute courses that follow a five-step action plan, Jefferson High School teens will soon learn how to recognize and respond to developing mental health or substance use problems among their peers, including how to identify a "circle of trusted adults," Robinson said, hence the reason for last Friday's youth mental health first aid training.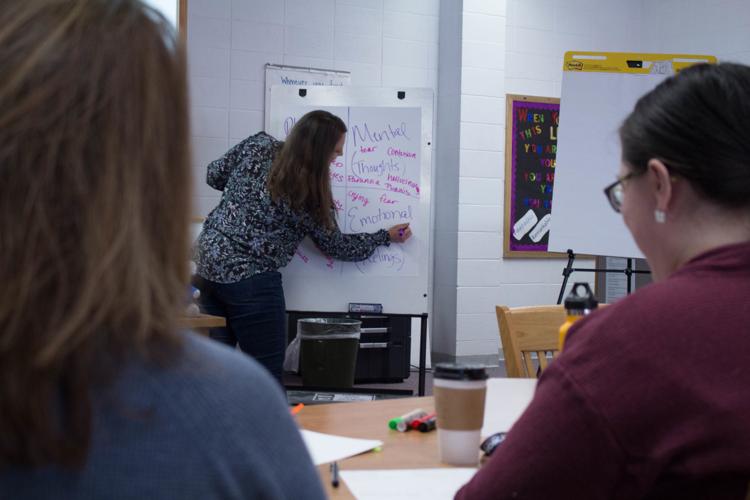 Now that a significant number of Jefferson High teachers have been trained, Robinson; Shani Rich, program director for the Montana Hospital Association's North Central Area Health Education Center; and Sarah Layng, librarian at Jefferson High School, are ready to start training students through the pilot course, which will run until the end of April. 
When asked what she feels is different about this teen mental health course compared to the training and resources that already exist, Layng said that on top of the peer support mentality, she was impressed that it wasn't dumbed down.
"I think it's very interactive for students, and it respects their intelligence. … It's awesome for our school community, especially being one of the first schools in the U.S. with the program," Layng said.
You have free articles remaining.
You're out of free articles
Sign in or create a FREE account to keep reading.
Research on the effectiveness of the U.S. teen mental health pilot course that's based on this Australian program will be conducted as well.
Robinson explained that Jefferson High School students will take both a pre- and post-program survey that will be sent to researchers at Johns Hopkins University's Bloomberg School of Public Health in late April or early May. Survey responses from all eight pilot schools will be used to assess the U.S. teen mental health first aid course's effectiveness.
"These students will help shape future courses through their feedback. They'll be the trailblazers," Robinson said.
According to the Centers for Disease Control and Prevention, Montana has the highest suicide death rate in the nation at 28.9, so it's not hard to imagine why Robinson said the Montana Hospital Association received a request from the National Council for Behavioral Health to have a high school apply for this teen mental health first aid pilot.
"The selection of a Montana school reflects the significant need for mental health support in our state but also the significant potential of our existing programs and expertise to deliver needed services," Robinson said.
Youth Dynamics, a statewide mental health provider and nonprofit, fulfilled this request by applying for a pilot position on behalf of Jefferson High School and now serves as the direct liaison between Jefferson High School and the National Council for Behavioral Health.
But why Jefferson High School?
Kristin Thompson, the marketing and education coordinator for Youth Dynamics, said the reason is twofold: Youth Dynamics has a good relationship with the high school because its teachers help educate students at the nonprofit's Boulder day treatment facility for teens that "can't manage within a typical school structure," Thompson said — and Jefferson High School District No. 1 Superintendent Tim Norbeck expressed interest in participating.
"It was kind of a seamless fit for us to work together," Thompson said.
Norbeck expressed similar thoughts, noting how important he feels it is to collaborate and work closely with an organization like Youth Dynamics. But for Norbeck, the teen mental health first aid pilot is a way to address mental health issues like suicide through proactive education -- and is something he plans to continue at Jefferson High School even after the pilot is complete.
"I think this is a great opportunity to empower young people to be able to help their peers, adults, or whoever happens to be in need of it," Norbeck said. "The training these young adults get here can be used later in life, which is a huge positive."