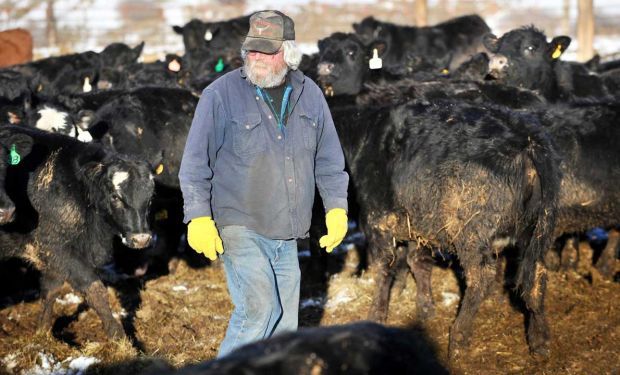 BILLINGS — For 10 years, selling U.S. beef to Japan has been tougher than a $2 steak, but former billion-dollar buyer of American red meat announced Monday it is easing restrictions triggered by a 2003 mad cow scare.
On Friday, U.S. cattle older than 20 months will begin flowing into Japan's market for the first time since 2006. It's a significant event because Japan was once a $1.4 billion-a-year buyer of U.S. beef, and preferred high quality beef, for which Montana is known. That was before a Washington state dairy cow was discovered to have bovine spongiform encephalopathy, or mad cow disease, in December 2003.
Japan banned all U.S. cattle for three years after the Washington incident, fearing consumers would contract mad cow's human variation, Creutzfeldt-Jakob disease. Japan then cracked its trade door open to U.S. cattle 20 months and younger in 2006, reasoning the disease wouldn't materialize in an animal that young. But the age restriction still kept some U.S. cattle out of the Japanese market and the perception that something was wrong with U.S. beef kept sales from recovering even to what the age limit allowed. Sales of U.S. beef to Japan fell to $469 million in 2009, before slowly climbing to $1 billion last year.
The new 30-month restriction has ranchers hopeful.
"This will get us access for 95 percent of our cattle. It's a big deal, probably worth close to a half-billion dollars," said Bill Donald, Melville rancher.
Reopening the Japan for U.S. beef was a nagging issue in 2011 when Donald was president of the National Cattlemen's Beef Association. NCBA and the U.S. trade representatives argued that 20-month age restriction wasn't founded in science. The World Organization for Animal Health, which oversees global trade of animal products, ruled American beef posed no threat.
Last August, U.S. Sen. Max Baucus, D-Mont., traveled to Tokyo to meet with Japanese Prime Minister Yoshihiko Noda to encourage the easing of restrictions.
"I'm thrilled it's finally taken a big step toward accepting sound science and welcoming more of our exports," Baucus said in a press release Monday. "The simple fact is American beef is among the safest in the world."
However, the Japanese government council that Monday announced the easing of the restrictions came to the conclusion on their own, said Erin Daley Borror, U.S. Meat Export Federation economist.
Japanese officials spent the last months of 2012 reconsidering the 20-month and younger age restriction. It wasn't a sure bet the restriction would be raised, but Borror suspected Japan would act. And the economist forecast that U.S. meat exports by volume would increase this year as Japan, a reliable customer, began shopping again. The boost in Japanese sales would be timely after a decline in total U.S. exports by volume in 2012.
"I think it helps that the Japanese came to this conclusion on their own. They weren't being coerced into this. It helps out with the trust factor on the Japan side," Borror said. "In 2012, we hit the $1 billion mark again in Japan for the first time since 2003 and now it's expected to be much more robust. There is going to be bigger opportunity."
Borror said cow-calf producers, which dominate the Montana ranching industry, should be big beneficiaries of increased Japanese sales. That's good news for ranchers like Tucker Hughes, of Stanford, who weathered the rough market after Washington's mad cow discovery in 2003, known to ranchers as "the cow who stole Christmas."
"You lose a huge market like that and
the calf market drops significantly," said
Hughes, who is the Montana Stockgrowers Association president. "We had sold our feeder calves and had them all delivered before then, so we watched the prices and waited for fall. It had an economic impact on our ranch.
"Montana as a whole produces high quality feeder stock and high quality calves and yearlings. That quality meant is what
Norm Haaland, who owns Haaland's T-bone Feeders in Shepherd, said the easing of the age restriction will have an immediate impact on his feedlot, where heifferettes — females younger than two years who have only had one calf — were fattening up for market.
Meatpackers made a run on the animals last Friday, which don't fetch the best price, Haaland said. With Japan raising its age restriction to 30 months, Haaland will be expecting a better deal for his heiferettes.
Be the first to know
Get local news delivered to your inbox!