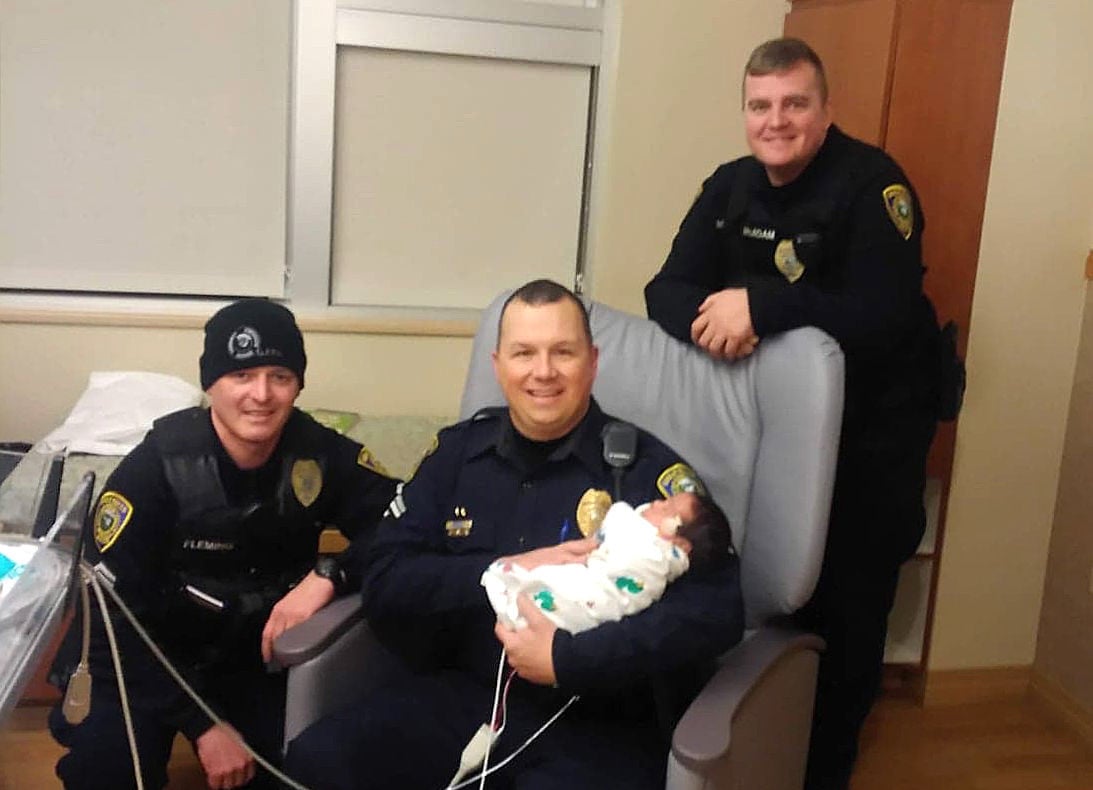 Josh Garner had never performed CPR on an infant in his 14 years as a Great Falls police officer.
He'd trained for it, and performed CPR on several others. Then, on Jan. 9, the call to service came.
Garner was the first to walk into a home on Fifth Avenue North and 15th Street North in Great Falls where he saw a sobbing mother, Emilee Ketchum, holding her limp infant son Kalloway in her arms. The boy had suffered a cardiac arrest and wasn't breathing.
When he couldn't find a pulse, Garner held the boy on his forearm and started CPR. Great Falls police officer Will Fleming, a trained medic, jumped in to help once he arrived.
Garner continued CPR while Great Falls Emergency Services medical crews arrived. After about 20 chest compressions, Kalloway took a few gasping breaths. Garner continued as medical staff worked around him. Within a minute, the baby started to cry.
"Training starts to kick in," Garner said. "We were basically helping him do what he wanted to do. He wanted to breathe."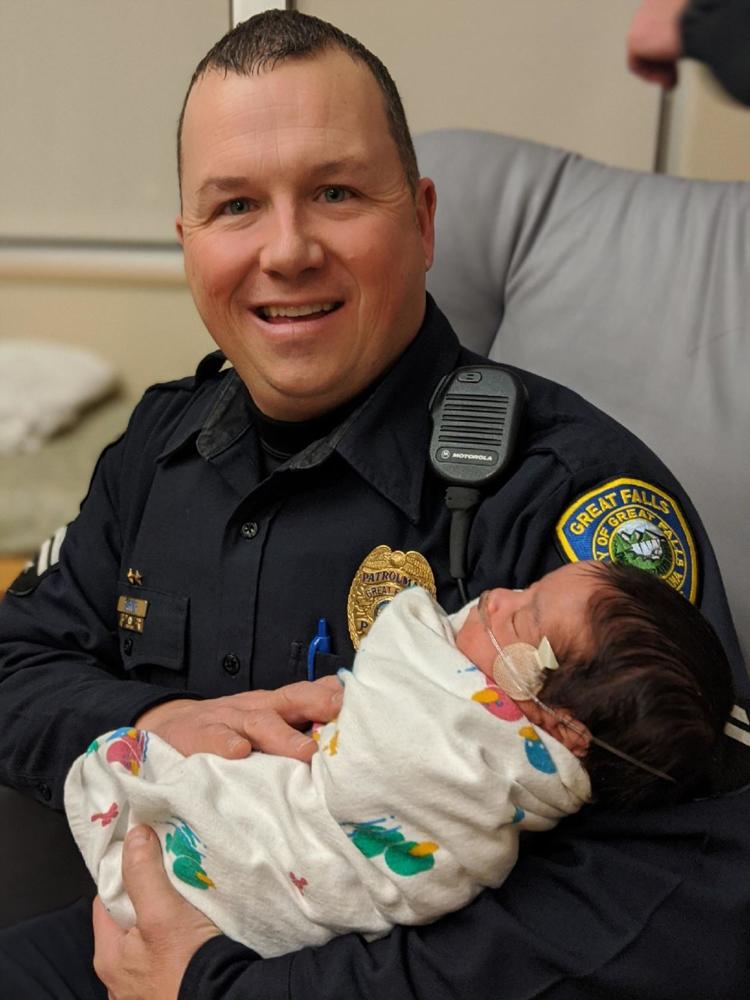 Ketchum's son, Kalloway Saddler-Ketchum, was born premature at 29 weeks on Nov. 7, 2019, and received medical attention in the Neonatal Intensive Care Unit at Benefis Health System in Great Falls for two months. On Jan. 6, he was released on oxygen, and Ketchum took him to Billings for a few checkups.
On Jan. 9, they returned to her parents' Great Falls home where she laid him in a bassinet by her bed around 9 p.m. Because his lungs were not fully developed, Ketchum placed sensors on Kalloway's body that were hooked up to an apnea monitor, which sets off an alarm if the baby quits breathing.
As she was sending a text message to one of the NICU nurses from the hospital about the checkups in Billings, the monitor's alarm sounded.
At first Ketchum thought one of the sensors had fallen off of Kalloway's body. When the alarm grew louder, Ketchum looked at her son. He was turning blue.
She unwrapped him and tried to remember the CPR video she'd watched at the hospital before taking Kalloway home. She yelled for her parents to call 911 while she gave him a few breaths and performed CPR.
Two minutes later, Garner and Fleming arrived. Firefighters and EMTs filled the room, and Ketchum begged for them to make her son cry. As long as he was crying, he was breathing, Ketchum said later.
"It's hard to hand over your child when you think you're doing everything to save him," Ketchum said.
After Kalloway started breathing again, responders took him to Benefis Hospital. Maybe the trip to Billings and the checkups were too much for the premature baby, Ketchum said.
"I think it was a lot of stress on him for being so small and on oxygen," Ketchum said.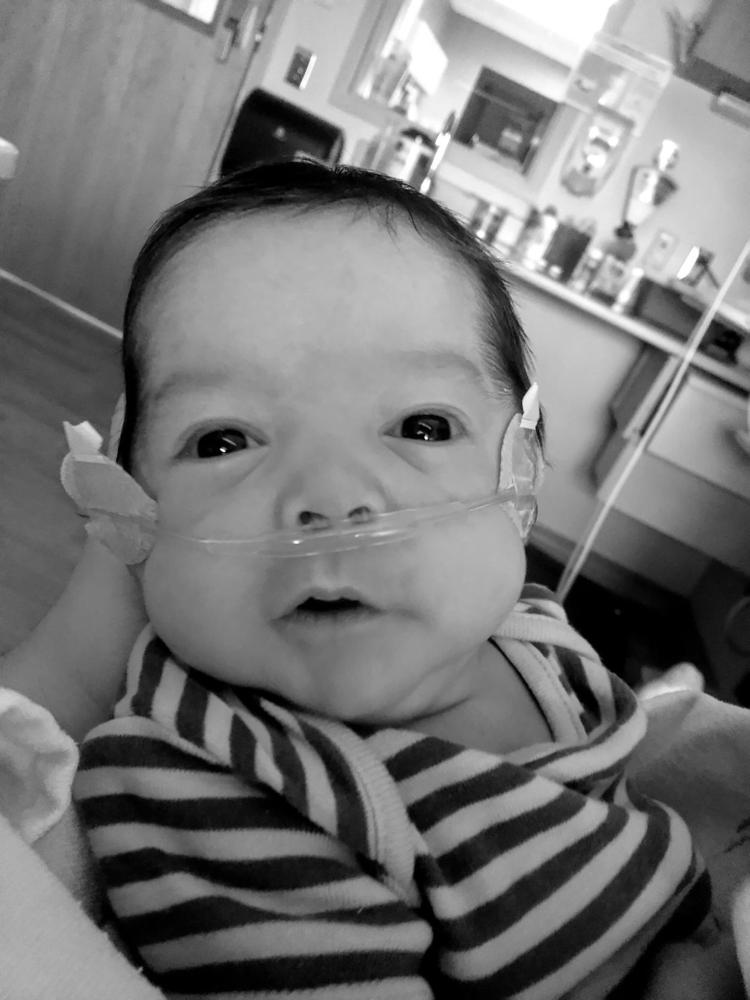 The next day, Garner, Fleming, and other officers who responded visited the hospital to see the baby. Ketchum thought she'd never get the opportunity to meet the officers who saved her son.
"That was the reason for the visit, was to get some closure and wish them good luck," Garner said. "Just to see him actually breathing on his own was good."
For the next two weeks, Ketchum visited Kalloway every day. He was finally ready to return home Jan. 21. Kalloway should be able to breathe on his own soon, Ketchum said Tuesday.
She said that every parent should pay attention and learn about infant CPR, because anything can happen.
"That sight of my little boy will be etched into the back of my eyelids for the rest of my life, but the officers did such an amazing job," Ketchum said.
Lt. Doug Otto with the Great Falls Police Department said that all first responders are trained for adult and infant CPR every two years. 
Officers are also equipped with tourniquets and small medical kits in their patrol cars.
"We go to those calls just to make sure that we can try to provide some quick efforts, and that way when fire and medical get there they can take over and we can continue to do our part if there's anything else at the scene that needs to be handled," Otto said.
More than 7,000 children suffer out-of-hospital cardiac arrests annually in the U.S., according to 2017 report from the American Heart Association. About 6.2% of children younger than 1 who experience cardiac arrest out of the hospital live long enough to leave the hospital again.
"All I could ask them was to please make him cry. I wanted them to make him cry," Ketchum said. "Until the day I keel over, if he cries, I don't care how bad or how loud he cries, I know he's okay."
Be the first to know
Get local news delivered to your inbox!