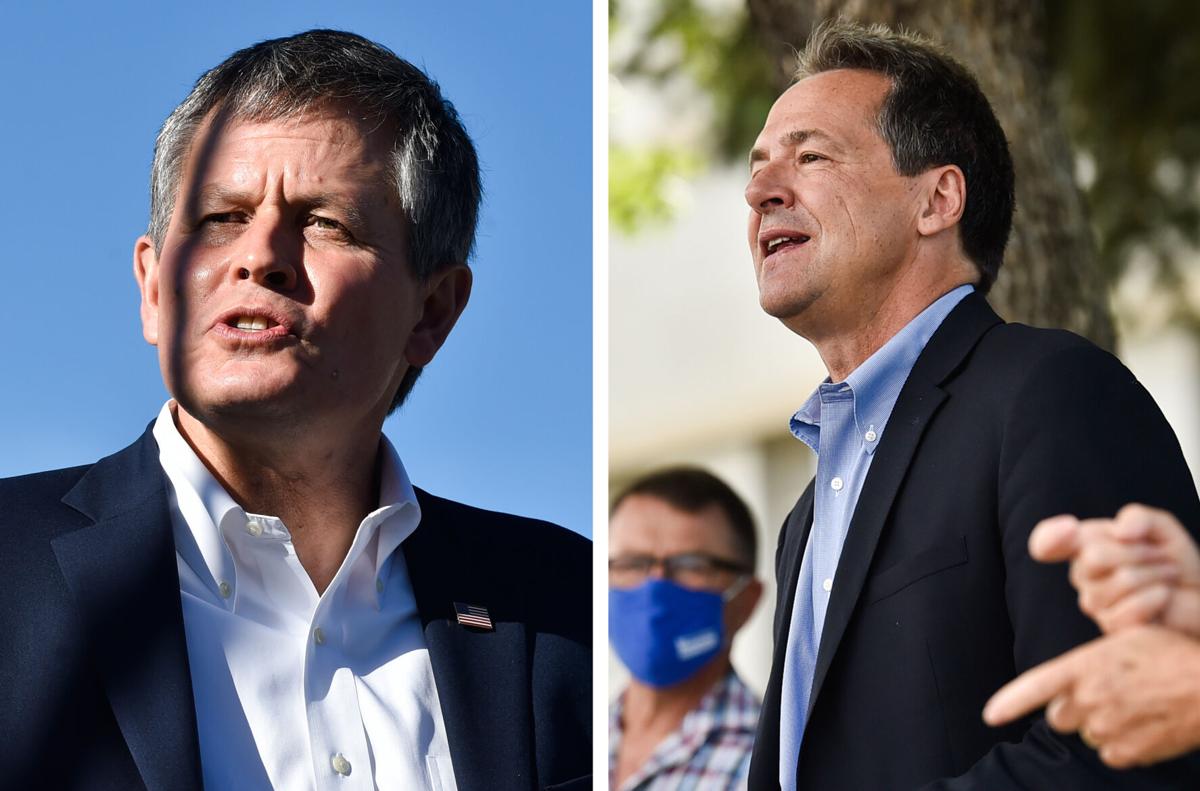 The final debate between Republican incumbent U.S. Sen. Steve Daines and his Democratic challenger Gov. Steve Bullock was much like the barrage of campaign ads that preceded it.
Daines repeatedly touted his A+ rating (and Bullock's F) from the National Rifle Association and took every opportunity to tie Bullock to Speaker of the House Nancy Pelosi and Senate Minority Leader Chuck Schumer, as well as the faceless "liberal mob."
Bullock dinged Daines for his years working in China, saying Daines' claim as a job creator actually refers to jobs created overseas; as well as for his repeated votes to repeal the Affordable Care Act — an argument Democrats emphasize during the pandemic — and for tax breaks favoring corporations and the wealthy.
At least the accusations came from the candidates themselves, sharper and more personal in this last direct confrontation, rather in the doom-laden tones of the ad voiceovers.
Each accused the other of lying and at one point Daines sniped that the governor "put the bull in Bullock" while Bullock accused his rival of having "his head in the sand and his hand in the pockets of corporate donors" when it comes to climate change. When Bullock called Daines a "lapdog" to Mitch McConnell, Daines said Bullock was a lapdog to Schumer.
A discussion of the pending confirmation hearings for U.S. Supreme Court nominee Amy Coney Barrett provided a newer, and substantive, topic during the debate sponsored by the MTN News Network in the final three weeks of the race.
But the coronavirus, and Montana's skyrocketing COVID-19 case numbers, made for urgent fodder. Bullock, who has resisted imposing statewide restrictions even as the state sees record numbers day after day, teed up a target for Daines when he said, "We need to learn to live with this virus," urging rigorous attention to masks and social distancing.
"I reject the notion that we need to learn how to live with it. We need to end it," Daines responded, saying therapeutics and a vaccine are the solution. In the meantime, he added — without details as to how — "we need to protect our most vulnerable populations," specifically mentioning Montana's tribal nations, as he would frequently throughout the debate.
Bullock questioned whether Congress would deliver on Daines' promise that any vaccine would be provided free, and hammered at Congress' inability to agree on a second relief package for financially strapped workers and businesses.
Daines returned to a familiar argument: that Bullock has yet to distribute all of the $1.25 billion in CARES funds allocated to Montana, although the governor said most of that money is committed, and that — given the uncertainty of more federal relief — it's important to hold some in reserve.
The two wrangled, as they have for months now, over the Affordable Care Act, with Bullock highlighting Daines' votes to repeal it, and Daines saying he'd insist upon preserving one of the ACA's most popular provisions, protections for people with preexisting conditions. In very nearly the same breath, Daines pivoted to Barrett's nomination, citing her participation in a moot court panel whose majority found that most of the ACA would stand, although it was not known how Barrett voted during the mock trial.
"Schumer, Pelosi and the liberal mob are trying to destroy this woman's life and career," Daines said, trying to tie that notion to the resignation in 2015 of Lt. Gov. Angela McLean and unsuccessfully seeking an explanation from Bullock. McLean moved into a job with the state Commission on Higher Education.
Asked whether he'd support Coney Barrett's nomination, Bullock said he wouldn't support anyone nominated so close to the election, accusing Daines and Senate Majority Leader McConnell of politicizing the nation's highest court. As to whether he'd support adding justices — a question Democratic presidential nominee Joe Biden has sidestepped — Bullock said he'd consider any measure to take politics out of the process, including adding judges, a response Daines called "a chilling, profound moment."
"You are packing the court right now," by supporting Coney Barrett with an eye toward overturning the ACA, Bullock responded.
Montana's Senate race is one of the most closely watched in the country as Democrats fight to gain control of the Senate. It's rated a toss-up by the nonpartisan Cook Political report and most polls show the two in a statistical tie.
Get Election 2020 & Politics updates in your inbox!
Keep up on the latest in national and local politics as Election 2020 comes into focus.