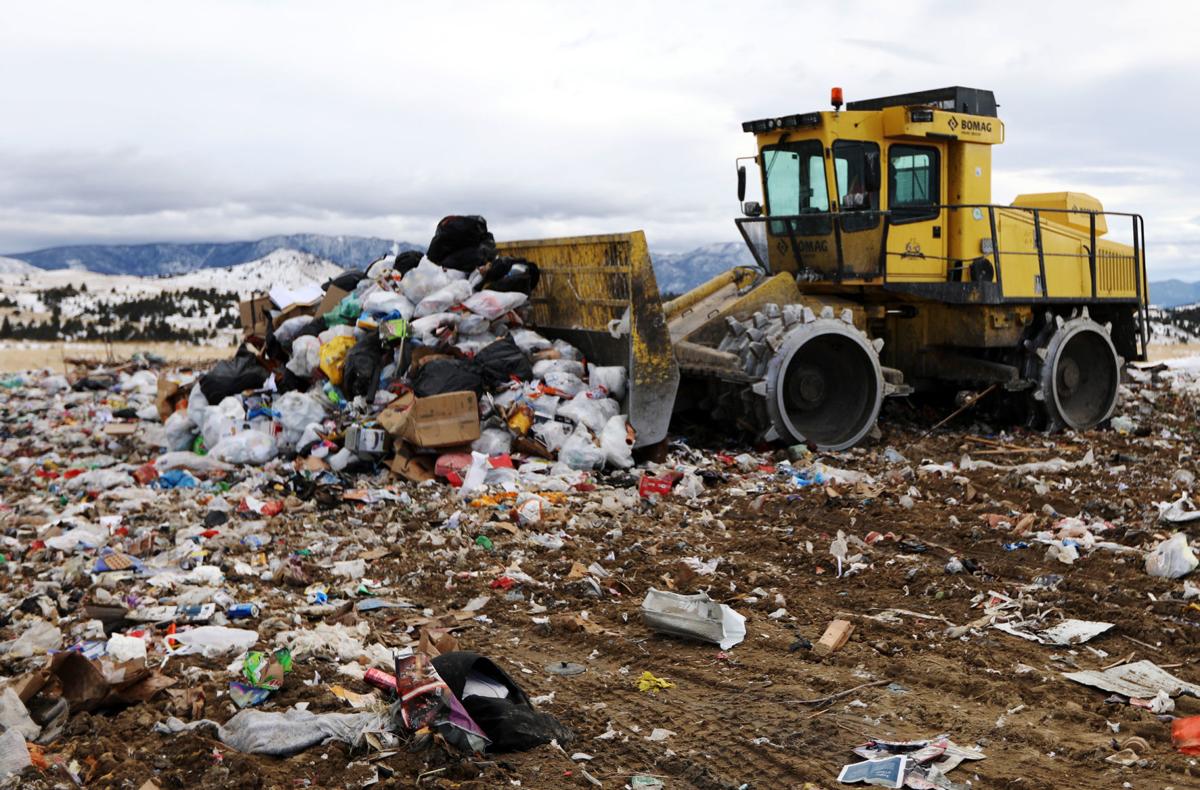 People who pull into the Butte-Silver Bow landfill with uncovered or unsecured loads would pay a $20 fee to dump the stuff under a proposed change in local law.
If they drive off rather than paying up, they could be still be fined up to $100 for driving in the county with trash flying out. And that does happen.
"We have in the past ticketed for that," Sheriff Ed Lester said. "It has to be pretty extreme, but we have issued tickets."
Another proposed ordinance change would help prevent people or contractors from bringing giant loads of concrete, old lumber and construction debris and saying it's "normal household trash" that can be dumped for free.
And instead of those loads being charged by the yard, tipping fees would be based on weight — something most major landfills in Montana do already.
County officials pitched such changes to commissioners in late November, and now specific language has been drafted to get them on the books.
It likely will take weeks longer for commissioners to discuss and debate the proposals, refine wording if needed and get public input before voting on final changes.
People already can be fined up to $100 for driving with unsecured loads of trash or debris, but it's a cumbersome, time-consuming process for landfill employees to pursue.
They must photograph the unsecured load, get license plate and personal information and present all that with an explanation to the Community Enrichment Department, which has enforcement powers. But that department must still present tickets and make a case to a city judge before someone is forced to pay.
Glen Rafish, the county's solid waste services manager, suggested in November that a $10 "fee" be charged at the landfill instead if people wanted to dump unsecured loads. That would discourage the practice and eliminate  red-tape involved with his employees going after fines, he said.
Rafish said last week that after further discussion, a $20 fee is being proposed. Most landfills charge $20 to $25 for unsecured loads, he said, and people might opt to pay a $10 fee instead of spending that or less on a tarp to cover their loads.
The proposed change says open loads must be secured with an effective cover. That can be a tarp or net held firmly in place with ropes, straps, bungee cords or other devices.
It may also be "a layer of heavier material, including lumber, brush or garbage containters so positioned that lighter material is prevented from exiting the vehicle."
"Waste contained in securely tied plastic garbage sacks and garbage cans with tied-down lids will not constitute a violation of this chapter," the proposal reads.
Officials say their intent is to charge the $20 fee at the landfill for unsecured loads but leave the $100 fine intact for driving in the county with them.
Rafish said it's a real problem that was off-the-charts this past Christmas.
"You wouldn't believe how many people came in after Christmas on Wednesday and Thursday — trucks just full of cardboard boxes with no tarps, no secured loads. I have never seen it so bad."
Rafish said last week, he drove behind a truck with four large bags of trash with no tarp. That might have been OK, he said, but there was a hole in one of the bags and trash was blowing out continuously.
Rafish said he met the driver at the landfill and told him if the proposed ordinance was in effect already, he would be charged a $20 fee.
"He was nice and said he didn't know he had a hole and thought it was OK because there wasn't much in there," Rafish said. "I said, 'You are correct, but it's not the size of it (load), it's the idea that it's not secured or tarped.' And he actually lost a quarter of the bag on the highway."
Landfill officials aren't trying to be mean or make more money with the change, he said, just discourage unsecured loads in the first place.
Lester said it was a good idea.
"It's cheaper to buy a $5 tarp at Walmart," he said.
The other proposed change is meant to discourage people from bringing in giant loads of material and claiming its household trash not subject to tipping fees.
Most Butte residents pay for trash collection each week, but a separate $25.37 access fee allows them to take their own loads of additional household garbage or junk and yard waste to the landfill all year without paying additional fees there.
But the current ordinance gives mixed messages on what constitutes normal household trash.
Under the new proposal, it would not include — as examples — used tires, discarded appliances, roofing materials, building waste from home improvement and residential demolition wastes such as asbestos, concrete, asphalt, soils and railroad ties.
Commissioner Dan Olsen, chairman of the council's Public Works Committee, says the proposed changes seem reasonable.
Get Election 2020 & Politics updates in your inbox!
Keep up on the latest in national and local politics as Election 2020 comes into focus.