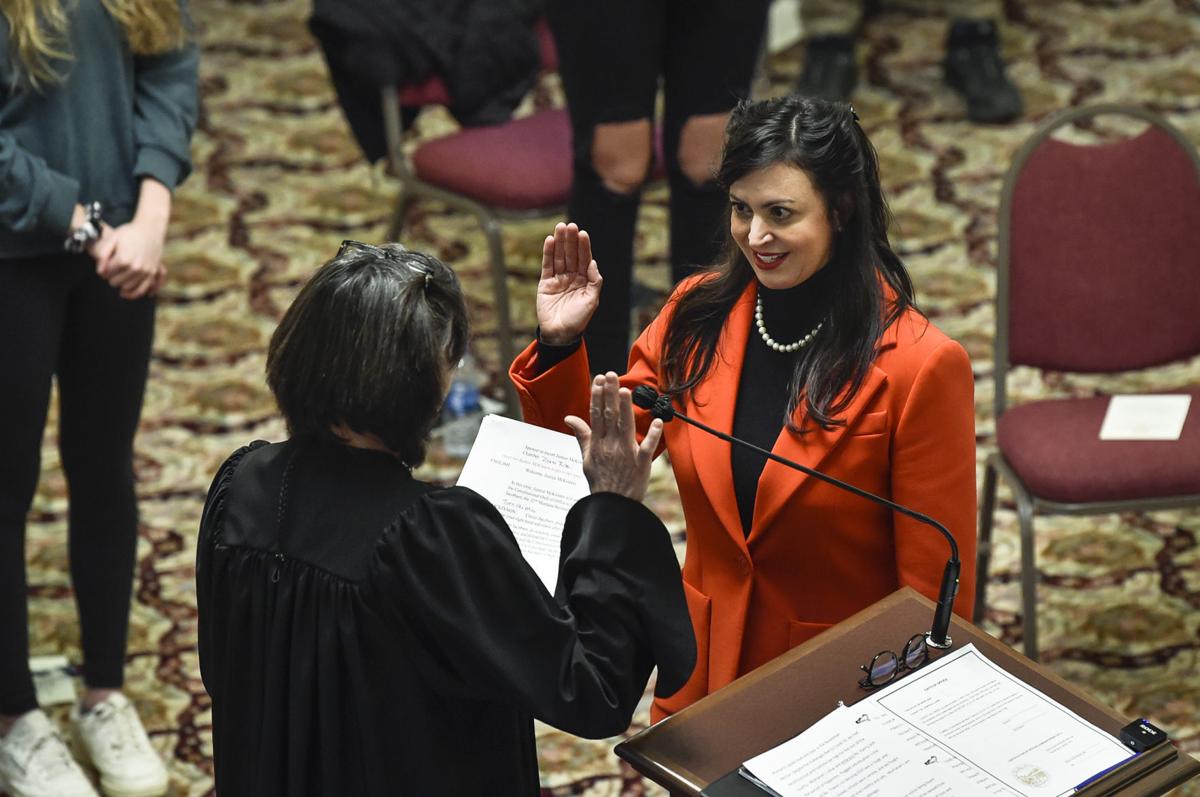 In an apparent reference to allegations of election irregularities from Republicans in Missoula County, Secretary of State Christi Jacobsen released a letter Thursday vowing to shore up the "integrity of elections" in Montana with new requirements for local elections offices.
The letter from Jacobsen, a Republican, was emailed by her office to media outlets and cites "a lot of discussion about voting irregularities across the country and recently in Montana" without offering further specifics. Richie Melby, a spokesman for the secretary's office, did not return phone messages and emails Thursday and Friday asking for clarification.
Missoula County Election Administrator Bradley Seaman has questioned the group's methods as prone to error, compared with the machine-counting process and system of double-checks employed by county election officials. Jacobsen's office has declined to answer questions related to the allegations, including whether she believes they have any merit, although members of Tschida's group were scheduled to meet with her earlier this month.
Melby did not respond when asked whether that meeting took place, and Tschida did not return phone messages left with him Thursday and Friday.
Seaman said Friday the Montana Association of Clerk and Recorders had sought to have one of its members join that meeting to provide expertise on county election procedures, but received no response to the request.
Allegations of irregularities
According to interviews last month with Seaman, Tschida and his attorney, Quentin Rhoades, the inspection of ballot envelopes took place Jan. 4 in a building at the Missoula County Fairgrounds. It consisted of 20 volunteers, led by Rhoades, hand-counting the affirmation envelopes. Those envelopes, in which ballots are sealed, include voters' addresses and signatures, are retained by the county and are considered public records. The ballots themselves are confidential and can only be viewed under a judge's order.
Missoula County held the November election by mail-in ballot only because of the pandemic, so the number of envelopes should be nearly the same as the total number of ballots counted — 72,491 — with a relatively tiny number of exceptions, such as overseas ballots that were cast electronically. After spending about five hours counting the envelopes, the volunteer group's total fell short of the official ballot count by more than 4,500 envelopes, according to Rhoades and Tschida.
"We're not talking about fractions of percentages, we're talking about huge numbers," Tschida said in an interview last month.
The Missoula Republican had also referred to the allegations a week earlier in a cryptic March 17 speech on the House floor, in which he asserted that "when we say there's no fraudulent activities, or activities of wrongdoing, in two weeks you're going to have a much clearer picture of how easy that is to take place."
Seaman, however, has said he remains fully confident in the county's election results. He noted that the volunteer group's effort did not include any measures to double-check for potential counting errors.
"If there had been this discrepancy, it would have been noticed at our canvass or at the Secretary of State level," he said. "We really feel this is due to an inaccuracy in the actual count of the envelopes during the [volunteer] records review."
The official vote count is a result of the election-night process of using tabulation machines to count ballots in full view of election observers from both parties; a subsequent public canvass by the county commissioners to ensure no ballots are missing or were counted more than once; and finally an audit by the Secretary of State's office, in which three precincts in the county are randomly selected for a hand count to double-check the tabulation machine results.
While giving less credence to claims by some members of his group that suspicious signatures were present on some of the affirmation envelopes, Rhoades pushed back against the idea that their tally could have been off by so many votes.
"I expected we would be off by 300 or 400," Rhoades said, "I did. I thought, when you have this many people counting this many envelopes over a period of time, fatigue sets in, that sort of thing. They're going to be off. But not by something statistically significant."
Seaman believes that's exactly why the numbers were off by such a large margin.
"People struggle with repetitive tasks, as people do repetitive tasks throughout time, their accuracy decreases," he said.
He added that he's seen that effect during the hand-counting process the county employs for the post-election audit, as well as recounts. That process requires three people counting the same ballots: one person reading the votes from each ballot, while the other two both record the result. After every five tallies, the two recorders compare their numbers. If they're different, they go back to see where they went astray in the last five ballots.
Next steps
It's unclear what, if any, next steps will be taken. Seaman has said he would welcome the opportunity to put the issue to rest in court, but Rhoades said last month that he won't pursue legal action until Jacobsen weighs in.
"Rep. Tschida has brought this to the attention of the Secretary of State," Rhoades said, "and we're standing down and deferring to the election official of the State of Montana as to what she believes is the appropriate remedy or investigation."
In her letter, Jacobsen suggested her office may create new requirements for counties, with references to record retention and "access to election materials," but no specifics on what administrative rules she may be considering. Her office did not respond to requests for more information.
While some other Republican lawmakers have suggested possible election irregularities, multiple lawsuits in recent years in the state have failed to turn up any documented cases of election fraud in Montana's modern history. Republican Rep. Wendy McKamey, of Ulm, reiterated that fact when asked about the Secretary of State's letter on Friday. McKamey chairs the House State Administration Committee, which deals with election-related legislation, and sponsored one of the bills Jacobsen identified as a priority earlier in the session.
"We do not have widespread problems, let alone fraud," she said, adding, "In Montana, if there's chatter about that, it proves to be unsubstantiated. It just doesn't hold water."
In her letter, Jacobsen also plugged legislation that she has advocated for throughout the session. Among her priorities are measures that would end same-day voter registration, require more frequent clean-up of the voter rolls and create new restrictions on the types of identification required to register and vote. Two of those bills, affecting voter ID and same-day registration, have passed both chambers and were awaiting action from the governor as of Friday afternoon.
Among legislation her office has opposed are bills that sought to provide return postage for mail-in ballots and to expand voting access on the state's Indian reservations.