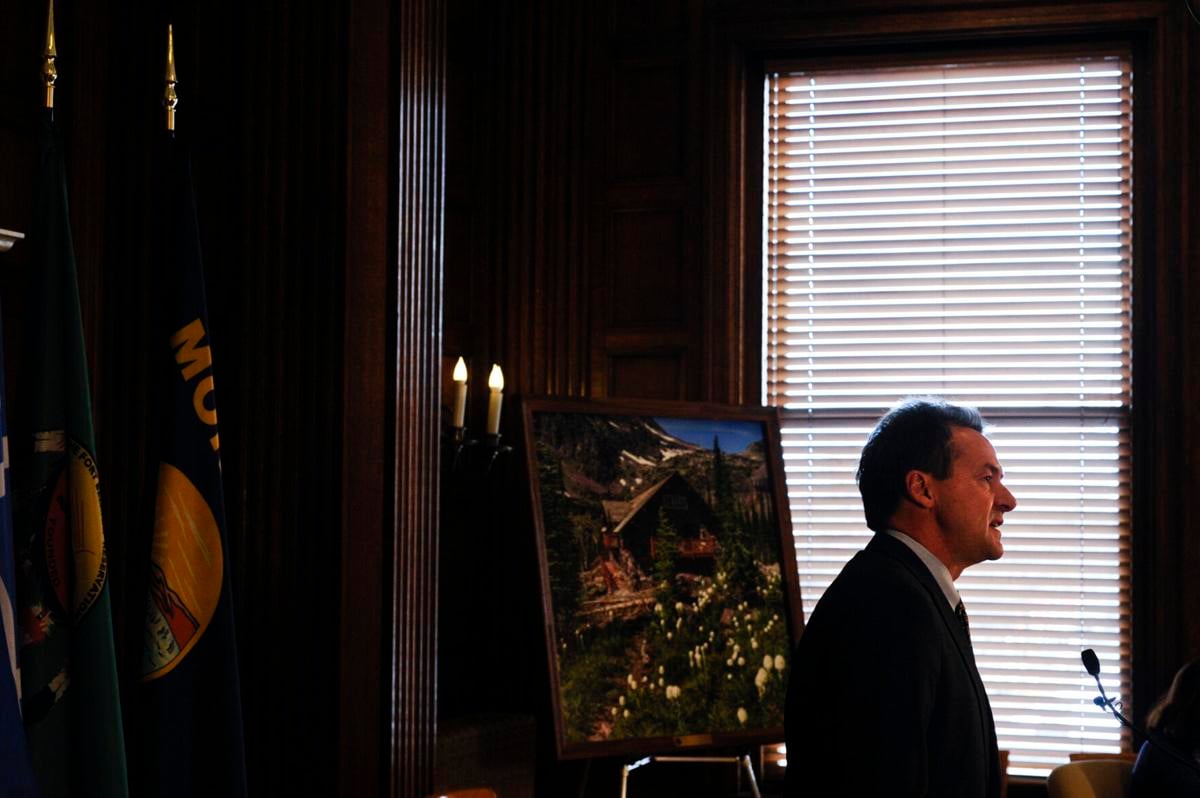 Montana will enact more measures in an effort to slow the transmission of the novel coronavirus, which has spread exponentially across the state through the fall and early winter.
More than half of the state's nearly 49,400 confirmed cases have come within the last month, as have more than half of the 543 deaths reported by Tuesday morning.
Under the new mandates from Gov. Steve Bullock, bars, restaurants, casinos, breweries and distilleries will operate at 50% capacity and must close by 10 p.m., except breweries, which must already close earlier. The size limit for public gatherings will be 25 people, if social distancing can't be maintained, although that does not include places of worship. And in advance of the upcoming Thanksgiving holiday, the governor strongly urged Montanans not to hold gatherings in their homes, though he stopped short of another stay-at-home mandate like the one he issued this spring.
The measures take effect Friday. Bullock said he developed them in consultation with public health and emergency response experts.
The news came in a press conference Tuesday afternoon. Bullock, a Democrat, is termed out of office at the end of this year. Incoming Republican Gov.-elect Greg Gianforte has made clear he favors the idea of "personal responsibility" over mandates, but has not said what sort of measures he would continue, add or remove as governor.
"These are decisions that I don't take lightly, but they are a necessity," Bullock said. "We are all sick of this virus. We all have to collectively recognize this virus will not stop spreading through our community any time soon unless we take active steps to stop its spread. The responsibility for doing that rests with each and every one of us."
The governor also extended the state's mask mandate to all counties, not just those with four or more active cases of COVID-19. The mandate had in practice applied to nearly everywhere in Montana, as all but two of the state's 56 counties were at the four-case threshold Monday afternoon.
During the call Tuesday, Bullock said about 70 health care workers at Kalispell Regional Healthcare had tested for the virus and were home in isolation and unable to work. He also said the state is working to contract 100 or more medical staff from all around the country within the next week.
On Tuesday, Bullock said he would use the remainder of the $1.25 billion Montana received from the federal Coronavirus Aid Relief and Economic Security Act this spring to provide $25 million in additional unemployment benefits to those who are out of work because of the virus. The payments would amount to an extra $200 a week for a total of four weeks.
Earlier this year the federal government supplemented payments with $600 a week, which was intended to make up for the gap between what unemployment insurance pays a person and what their lost wages are. In some states and for some workers, the payments ended up giving people a boost over their regular earnings.
Some Republicans in Congress said that could serve as an incentive for people not to return to work, and the additional benefits expired. 
Bullock is also now making available $75 million for an additional round of business stabilization grants that have already been awarded money in previous rounds of funding. To be awarded money, businesses must show they are losing revenue and also must follow public health measures in place.
It's unclear if Congress will reach any sort of aid before the end of the year. Democrats in control of the House want at least $2.4 trillion in a new package, more than the majority Republicans in the Senate would vote for.
Earlier this week the state Department of Labor and Industry reported making just less than 20,000 unemployment insurance payments totaling more than $8 million. Payments do not represent individuals receiving benefits, as one person could have multiple payments included in the total or one payment could represent several weeks of benefits.
Bullock also announced an additional $3 million to support food banks.