The Montana National Guard has emerged from the fire season as a growing chorus is calling for renewed help combating the COVID-19 resurgence.
The guard's active duty mission on wildland fires ended on Sept. 4. The deployment included training 600 men and women of the guard for their red cards — an interagency certification to join firefighting efforts. Of those 600, roughly 400 served on fires during the summer wildland fire season, according to the guard.
The timing of the mission's end is crucial as Montana faced down dueling threats in summer's waning months. As the smoke lingers across the state from the remaining fires, hospitals, the larger medical community and city officials have begun calling for renewed assistance at health care facilities as the delta variant wages another wave of COVID-19 cases and deaths. The Governor's Office told the Montana State News Bureau this week the Montana Disaster and Emergency Services anticipates Montana National Guard soldiers will be available to support hospitals in the coming weeks. 
With a fire season that stretched resources thin, in between the first COVID-19 crisis and the ongoing delta surge, the Montana National Guard has stepped up to challenges like few years in recent memory, said Major Rob Allinson, public information officer for the Montana National Guard.
"The National Guard is being utilized more and more," Allinson said. "A lot of our soldiers have already done some, if not a significant amount of time, on these state orders for either COVID or fires or even at the first of the year, the Capitol response."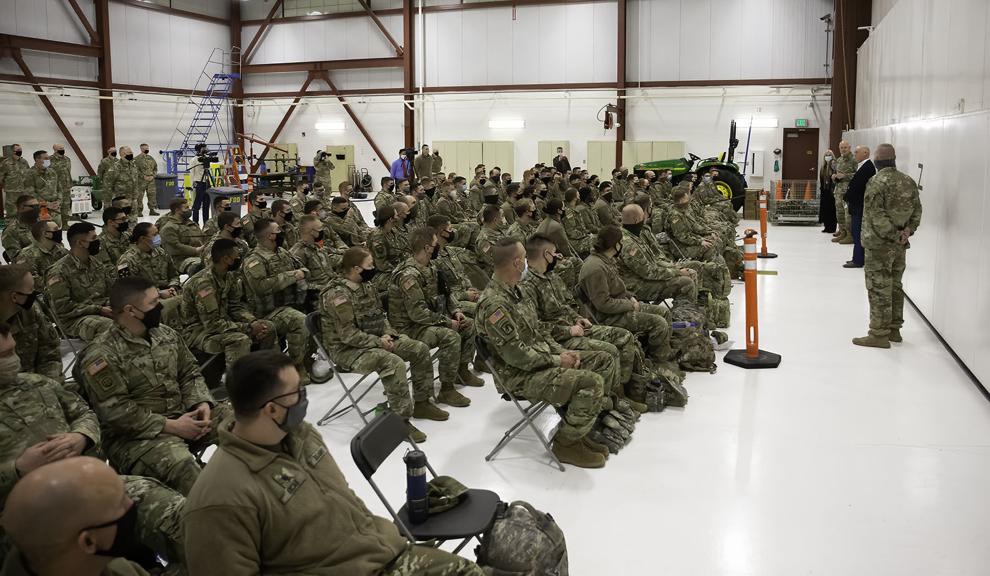 That deployment followed nearly a year of campaigns around Montana to help stave off the pandemic as it diminished workforces at hospitals, homeless shelters and the state prison. The guard constructed a temporary patient facility at MetraPark in Billings and conducted screenings at  airports and train stations. Soldiers assisted with distribution of orders from hospitals, nursing homes and local public health offices for personal protective equipment and COVID-19 test kids, and the day-to-day operations related to the State Public Health Laboratory's testing efforts. 
Then came the fire season, teed up by a bad drought that set in statewide.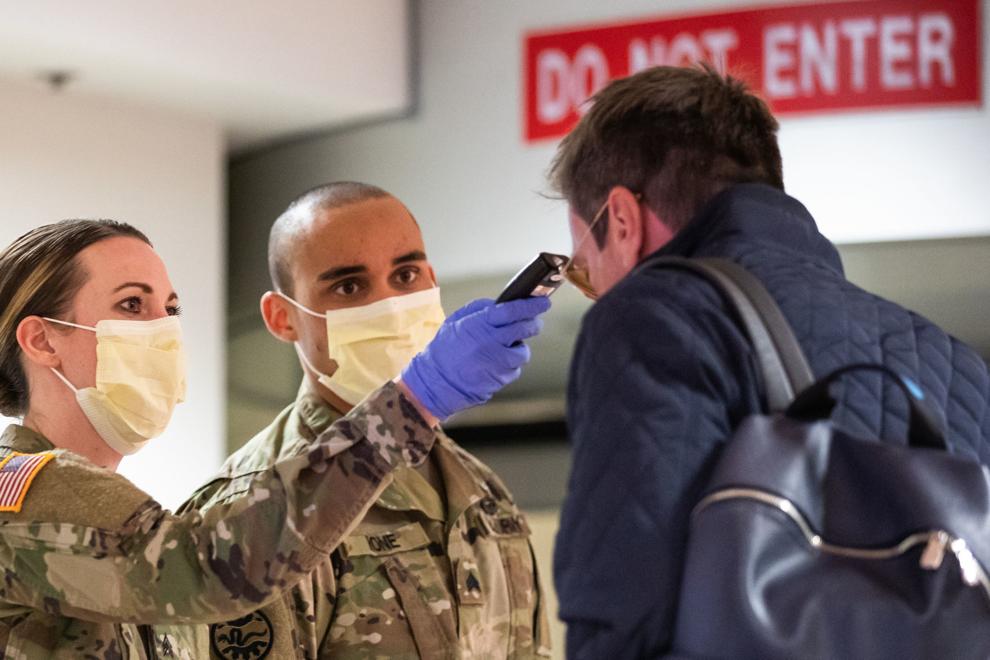 The Montana Department of Natural Resources and Conservation said Friday that National Guard helicopters flew over 128 flight hours and delivered hundreds of thousands of gallons of water to fires across the state in 2021. Additional efforts included security, ground fire suppression and logistical support. 
"The Montana National Guard routinely answers the call to help us with fire suppression efforts and this year was no exception," Acting Fire Protection Bureau Chief John Monzie said in an email. "This additional support during periods of severe resources shortages was invaluable."
"Firefighting is a team effort," Forestry Division Administrator Sonya Germann added. "In challenging years like this one, it is more important than ever to rely on the strength of our partnerships. I'm proud of how we have worked under difficult conditions to suppress wildfires impacting Montana's communities and ways of life. In particular, I want to thank the Montana National Guard for their help this summer. The surge capacity they provided enabled us to continue succeeding during initial attack and protect our communities and natural resources."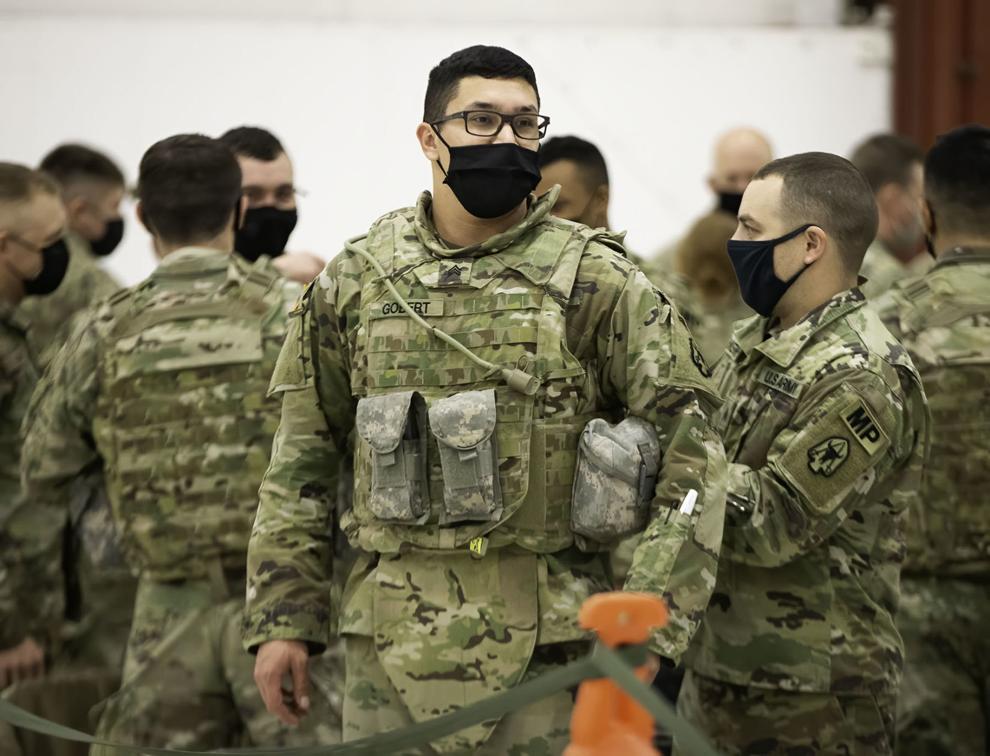 The guard's fire season appears to have ended just in time for the second act of a once-in-a-century pandemic.
A spokesperson for Gianforte said Wednesday the Governor's Office has in recent weeks received one request, from Billings Clinic, for the National Guard to augment staffing shortages. 
The guard came under a vaccine mandate three weeks before Biden announced a plan for sweeping vaccination requirements in the private and public sectors. On Aug. 24 U.S. Defense Secretary Lloyd Austin, after the U.S. Food and Drug Administration approved the Pfizer vaccine, mandated vaccination for all service members, including the National Guard. The Department of Defense memo did not set a hard deadline to accomplish the vaccination rate, but said secretaries of the military departments should "impose ambitious timelines" for implementation.
"To defend this nation, we need a healthy and ready force," Lloyd wrote. "After careful consultation with medical experts and military leadership, and with the support of the President, I have determined that mandatory vaccination against coronavirus disease 2019 (COVID-19) is necessary to protect the Force and defend the American people. … Our vaccination of the Force will save lives."
The medical community, once bolstered by the expedited resources that come with a state of emergency, has also asked for those measures to be set back in place in light of the festering caseloads. The Montana Hospital Association, in an Aug. 18 letter to the governor, requested two different types of emergency declarations to fortify healthcare providers against the delta surge. A state of emergency for essential workers would restore the expedited licensure procedures that allowed hospitals to fast track new employees into their ranks. A state of emergency for transportation and logistics would use the National Guard as an instrument in transporting oxygen, food and linens between suppliers and hospitals, a need Montana Hospital Association President and CEO Rich Rasmussen said has been created by infections among employees in the supply chain.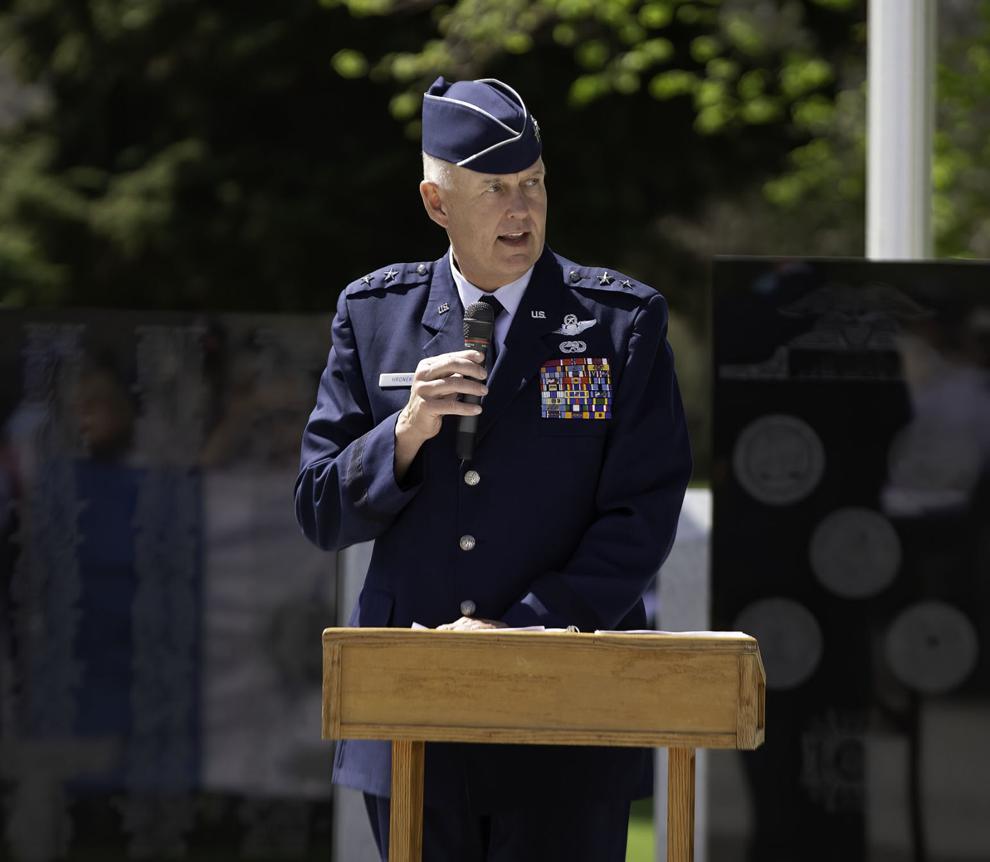 Three weeks after the hospital association sent its letter to Gianforte, the governor had not declared states of emergency or deployed the guard to assist hospitals, but Rasmussen said Thursday the governor and Montana National Guard Adjutant General Peter Hronek have come through with resources to assist hospitals. Those include identifying contract staffing and assisting healthcare providers in applying for and receiving federal reimbursements. 
"It's a good thing and we applaud the governor and his team for doing that," Rasmussen said. 
The Governor's Office told the Montana State News Bureau this week the National Guard is expected to be available to assist hospitals in the coming weeks, but 800 soldiers are meanwhile preparing to deploy in October for overseas support missions.
To fill the need for additional staffing at Montana's hospitals, the state has begun turning to volunteers to fill non-clinical roles in staffing requests.
Rasmussen said hospitals have received documentation from Montana Disaster and Emergency Services to guide them through the process of vetting volunteers and putting them to work.
"Our hospitals are going through the process right now of requesting staffing assistance and they're following up with other needs and putting it through the appropriate request portals," Rasmussen said. "The only way we're going to be able to flex through this is the continued relationship between our large hospitals and critical access hospitals and our ability to load balance patients."
A spokesperson for the Governor's Office did not respond to an email asking if Gianforte is considering a new declaration of emergency that would put National Guard soldiers on highways to connect gaps in the supply chain. 
"We are working through those needs and we'll continue to do that," Rasmussen said. "Prioritization of our needs is clearly on the staffing side. … Every state is going through the same exercise of trying to identify staffing and bring them in."
Billings Clinic — the only hospital in the state to request National Guard assistance, according to the Governor's Office — is expected to see some relief this week. Allinson, spokesman for the guard, said 10 personnel are scheduled to arrive at the Billings Clinic on Sept. 15 to assist with the hospital's lab support. Another seven will be deployed to a Montana Department of Health and Human Services lab in Helena on the same date.
"The Montana Army National Guard has played a major role in the state's response to COVID-19 and has been an excellent partner with DPHHS," spokesman Jon Ebelt said in an email Friday. "We appreciate this continued partnership, and welcome their assistance once again beginning on 9/15."