Montana Gov. Greg Gianforte said he'll lift the statewide mask mandate Friday, during a ceremony where he signed legislation aimed at creating a liability shield for businesses, nonprofits, churches, health care providers and other organizations over exposure to COVID-19.
Senate Bill 65 was carried by Great Falls Republican Sen. Steve Fitzpatrick. The bill was part of Gianforte's requirement to lift the statewide mask mandate that has been in place since July. The other part was starting the vaccination of vulnerable people. 
"I've ... emphasized that to combat the virus, providing incentives and promoting personal responsibility are more effective than imposing impractical government mandates," Gianforte said Wednesday in the bill signing ceremony.
Gianforte cited holding at least a first vaccination clinic at all the state's assisted living centers and nursing homes as meeting that threshold to lift the mask mandate. 
"On Jan. 5, I laid out a clear path to rescinding the statewide mask mandate," Gianforte said. "First, we need to start getting the vaccine to our most vulnerable. We have done that. Second, we need to protect businesses, nonprofits, places of worship and health care providers from lawsuits if they make a good-faith effort to protect individuals from the spread of the coronavirus and follow the public health guidance. We have done that too."
By Wednesday, 41,539 Montanans had been been fully vaccinated and 149,263 doses have been administered.  
At the start of his term, Gianforte changed the population in Phase 1B of the state's vaccination plan to include those ages 70 and older, people ages 16-69 with specific health conditions and Native Americans. He estimated then about 250,000 were in that category. Earlier estimates put about 40,000-60,000 people in Phase 1A. The state is in Phase 1B now.
Gianforte also cited "great strides" in combating the pandemic. The New York Times' tracker of state data shows the 14-day change in new cases added daily in Montana is down 17%. The state is adding an average of roughly 273 new cases every day. The number of deaths reported and people hospitalized over the 14-day average period has also decreased.
Local communities can still implement their own, more restrictive mandates. Local school districts can also enact their own masking measures if they decide to.
Gianforte acknowledged Montana was "not out of the woods yet" and said he would continue to wear a mask and encourage others to do so. While on the floor of the state House before their daily session Wednesday, Gianforte was not wearing a mask when speaking with Republican representatives, who generally do not wear mask in the Capitol, but put one on to talk with a Democratic lawmaker.
Gianforte also encouraged people to get vaccinated and said he will when it's his turn.
"We know that universal masking works," John T. Brooks, the medical officer for the CDC's virus response team, told the Washington Post. "And now these variants are circulating … whatever we can do to improve the fit of a mask to make it work better, the faster we can end this pandemic."
On Wednesday, Matt Kelley, the public health officer for Gallatin County, said the rescinding of a statewide mask mandate was not welcome news.
"It's very concerning and very confusing," Kelley said. "We have thousands of vulnerable Montanans who can't get a vaccine and now he's dropping the mask rule. I'm worried this puts Montanans at greater risk. And it's happening on a day when the CDC is releasing guidance doubling down on the use of masks to slow transmission and emphasizing the use of masks."
When the county's first round of about 100 vaccine doses became available, all the slots were filled in six minutes. About 8,000 people have signed up for notifications of when there are more opportunities.
"We have thousands of vulnerable people in this county who are waiting for a vaccination and the state doesn't have enough vaccine to get them vaccinated," Kelley said. " ... In the state it's in the tens of thousands, and these people are seniors, people with serious underlying health conditions, teachers ... "
Gianforte said this week he was on a call with the White House and was told Montana will see modest increase in the vaccine doses it gets from the federal government over the next few weeks.
Gallatin County has a local mask mandate that will remain in place when the state order lifts, but the patchwork nature of some communities requiring masks and others not can put local businesses left to enforce the rules in a bind, Kelley said. He added that he didn't know about the governor's plans to lift the mask mandate until the press conference Wednesday afternoon.
While Gianforte said he still encourages the use of masks, Kelley said the change between when Montana recommended their use last summer to requiring them in July was "absolutely dramatic."
"I remember when the (former) governor's directive went into place, driving home, and it was almost immediate that businesses had signs on their doors," Kelley said.
When signing SB 65, Gianforte said the legislation was supported by the Montana Chamber of Commerce, the National Federation of Independent Businesses, the Montana Retail Association, the Montana Restaurant Association, the Montana Building Industry Association, the Montana Bankers Association "and many others."
The head of the state GOP also praised the move.
" ... It's clear that our new governor's promises made will continue being promises kept," said Chairman Don Kaltschmidt. "The pandemic devastated our economy, and I'm glad to see Helena Republicans pave the way in reopening our state and giving Montana businesses the lifeline that they so desperately need right now. This is great news for all Montanans and will go a long way in putting personal responsibility first and defending our Montana way of life."
Democrats, who are a minority in the Legislature, were sharp in their criticism of the mandate lifting.
"Despite touting his commitment to vaccinating Montana's most vulnerable before lifting his mask mandate, Gov. Gianforte is now going back on his word and endangering the health and safety of those he has a duty to protect," Rep. Kim Abbott, minority leader in the House, and Sen. Jill Cohenour, minority leader in the Senate, said in a joint statement. "By passing the buck on public health, Gov. Gianforte is putting Montana businesses and workers in an impossible position and undercutting our economic recovery. Montanans deserve better."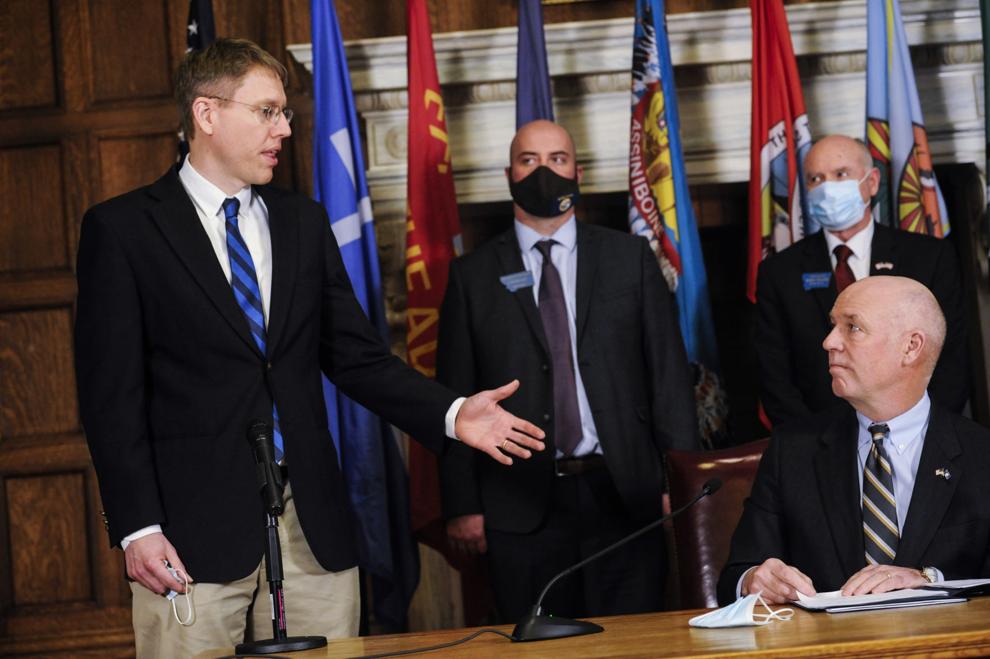 Republicans who passed SB 65 said it guards from frivolous lawsuits, as a legal action can only be brought in the case of gross negligence and point out businesses would still have to follow public health guidance, though they are not required to enforce compliance. Democrats who opposed the legislation said the state already offers those protections and that the bill would allow for bad actors to harm Montanans without consequences.
"This is a significant step in getting Montana safely open for business," Gianforte said. "These protections are common sense and they'll go a long way to getting our economy going again, promoting the public health and shielding businesses, nonprofits and places of worship and health care providers from coronavirus-related lawsuits."
Democrats pointed to lawsuits filed against assisted living centers who have been sued following patient deaths as the virus spread through the facilities and argued the operators of other facilities would not be held accountable going forward if the bill became law. So far, three assisted living facilities in Montana have seen lawsuits.