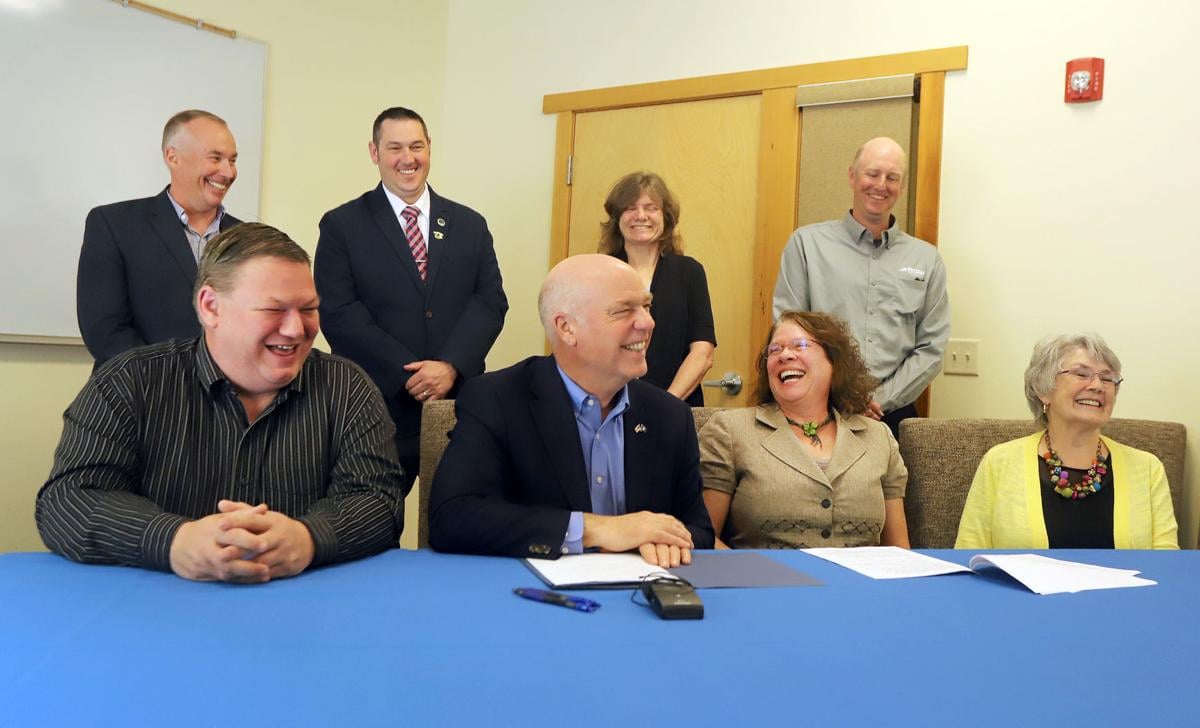 In Montana, one in three residents doesn't have broadband access. That's three times the national average.
The numbers are worse in rural Montana where three in five lack broadband access.
On Tuesday, Gov. Greg Gianforte said he planned to help close that gap by signing the "ConnectMT Act" that will tap $275 million from the federal American Rescue Act to subsidize the expansion of broadband throughout the state.
Montana is the 46th ranked state for broadband access according to FCC data published in January. Only 12 of the state's 56 counties have a rate of broadband access that's equal to the national average.
"Now we have a fund that will allow us to wire the state and close the digital divide," Gianforte said at the signing ceremony held in Hamilton's Ravalli County Economic Development Authority building. "This is truly a huge milestone."
Sponsored by Sen. Jason Ellsworth, R-Hamilton, the legislation passed both chambers with wide bipartisan support.
The bill will create a grant program under the Department of Commerce to fund broadband projects statewide. Ellsworth said a task force will begin meeting in June.
"Thanks to Governor Gianforte signing Senate Bill 297 into law, Republicans' promises to create jobs, increase access to high-quality education, and improve our broadband infrastructure are being kept," Ellsworth said. "With the potential for additional matching funds still on their way, this could be the largest broadband investment in Montana's history — worth around half a billion dollars. There's no doubt that this investment in Montana will pay major dividends for the state of Montana."
RCEDA executive director Julie Foster said improved broadband is vital to Ravalli County in moving the community forward.
Ravalli County is already the state's biotech hub with GSK, Rocky Mountain Laboratories and a new vaccine production facility that will be constructed not far from the RCEDA building.
Foster took Gianforte on a tour of the RCEDA building that's currently filled with 22 businesses. She said the county has a strong foundation in agriculture, manufacturing, construction, contracting and other businesses that all need broadband, as well as stable electrical power, sewer, water, road improvements and housing.
"Our community is really resilient," Foster said. "I think we've proven that."
As a result of the pandemic, Gianforte said residents across the state have placed more reliance on the internet for telemedicine, education and access to the job market, and students taking classes.
The governor said the need to improve broadband access was foundational for the state.
"Too many of our communities, particularly in rural and frontier Montana, don't have access to reliable broadband," Gianforte said. "Greater access to broadband will increase opportunities for Montanans, whether in ag or high-tech or other Montana industries, but we need to get more cable in the ground. Today, we make a historic investment to close the digital divide."