U.S. Rep. Greg Gianforte went on the attack last week in his first ad against Democrat Kathleen Williams, accusing his challenger of being soft on immigration and a candidate of the radical left.
Several of those claims don't match what Williams has said while campaigning. The ad's talking points do line up with accusations leveled against all Democrats by President Donald Trump. A recent ad in Montana's U.S. Senate race uses similar attacks against Democratic Sen. Jon Tester.
"Trump has made this a major theme of his presidency, and Republicans have moved with him, including Rosendale and Gianforte," said Jeremy Johnson, political science professor at Carroll College.
There's little backing up the allegations in the ad, which aired last week in Billings and Great Falls. 
Gianforte's ad against Williams opens with black-and-white footage of protesters calling for abolishing U.S. Immigration and Customs Enforcement. Abolishing ICE became a battle cry for the far left this spring as children on the U.S. southern border were separated from their immigrant families and detained, pending deportation.
Republicans took that message from protesters and ran with it, arguing that an end to ICE meant open borders and a threat to national security. Vice President Mike Pence drew a thunderous response in Billings in July when he announced ICE wasn't going anywhere. President Trump has scheduled a medals ceremony for ICE agents Monday at the White House, just days after the government revealed 2,500 children had been separated from their parents. There are at least 350 children who still haven't been reunited with their parents, many of whom have been deported.
Democrats want Open Borders and they want to abolish ICE, the brave men and women that are protecting our Country from some of the most vicious and dangerous people on earth! Sorry, we can't let that happen! Also, change the rules in the Senate and approve STRONG Border Security!

— Donald J. Trump (@realDonaldTrump) August 6, 2018
In appearances on conservative talk radio shows, Williams this week told listeners that she doesn't support abolishing ICE. She also said she supports strategic barricades to stop illegal immigration along the border with Mexico, but not a continuous wall from coast to coast, which she described as expensive and impractical.
Speaking for the Gianforte campaign, Kevin Gardner said the far left group Indivisible supports abolishing ICE and supports Williams.
"We just know the people who want to abolish ICE support her," Gardner said. "Has she denounced them?"
The Williams campaign told The Gazette last week they weren't aware of Indivisible. Montanans don't denounce one another for their opinions, said Neal Ullman, a Williams spokesman.
"Kathleen especially doesn't denounce anyone, even when she disagrees on the issues," Ullman said.
The ad also dings Williams for supporting the 2015 Iran nuclear deal, in which the U.S. agreed to lift sanctions on Iran, which in turn agreed to inspections of its nuclear program and the dismantling of its weapons program. The agreement allowed Iran to continue its nuclear development for peaceful purposes.
President Trump pulled the U.S. out of the agreement, while other partner nations are still in it.
In May, Williams posted on Facebook that "the President's decision to walk away from the Iran nuclear agreement continues a dangerous, unpredictable foreign policy that makes America less safe.
"The best nuclear inspectors in the world confirm the Iran Deal is working," the post continued. "It's certainly the best avenue we have currently available to keep Iran years away from a nuclear weapon."
The nuclear agreement is a blip in the 29-second commercial that mostly focuses on immigration.
There's a reason Montana's Republican Congressional candidates have locked in on immigration, Johnson said. Despite only minor immigration activity in Montana, there are voters still concerned about it.
"There is some scholarship that has shown that some people, where it's least important, they can get most scared about it," Johnson said of immigration concerns.
On Facebook, where the analytics on political ads can be tracked, immigration is one of the best ad subjects for both Gianforte and Rosendale.
For Gianforte, a $100 ad on building a border wall was displayed in front of Montanans of all ages up to 10,000 times, according to Facebook.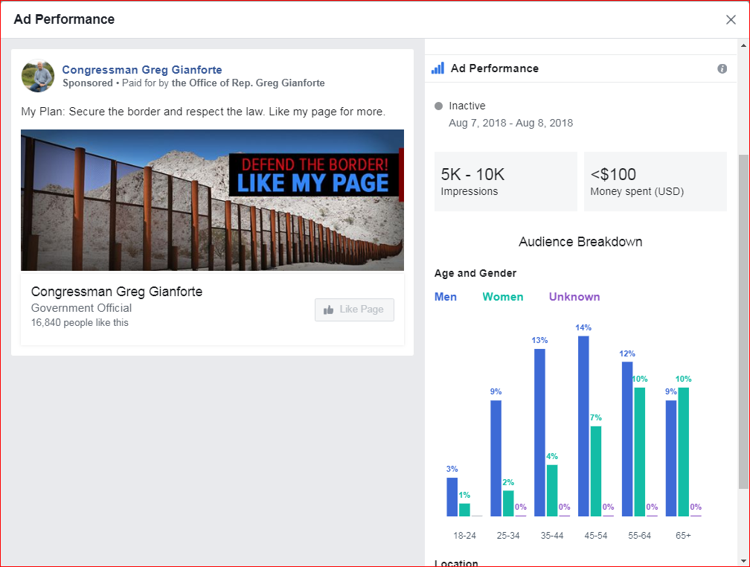 More often than not, those Montanans were men, who tend to vote Republican. However it received almost equal impressions in front of men and women 55 and older.
To put immigration's ad power into perspective, a $100 ad supporting military veterans drew less than a thousand impressions for Gianforte.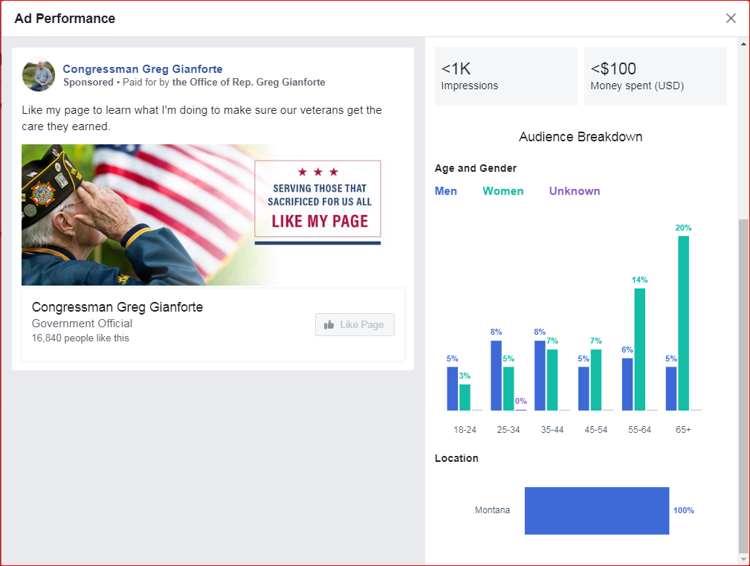 Rosendale has similar success with his immigration Facebook ads, which feature President Trump speaking in Great Falls.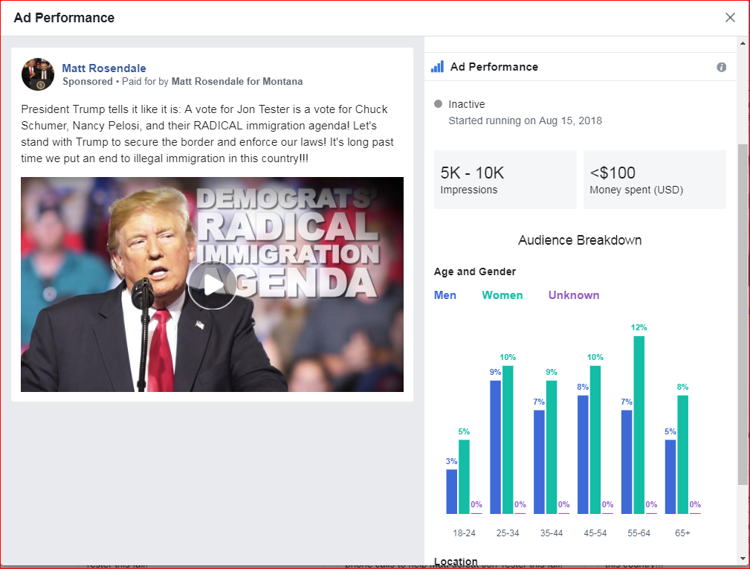 The $100 run for the ad received 5,000 to 10,000 impressions, but that was a smaller buy.
When Rosendale boosted exposure by paying $500 to $999, the ad garnered 50,000 to 100,000 impressions. It was a top performer for the candidate on social media.
"Montanans want our laws enforced, a secure border, to see an end to crime/violence/destruction that drugs and human trafficking have brought to this nation, and they see President Trump taking action to finally bring security and the rule of law back to this country," said Shane Scanlon, of the Rosendale campaign, in an email.