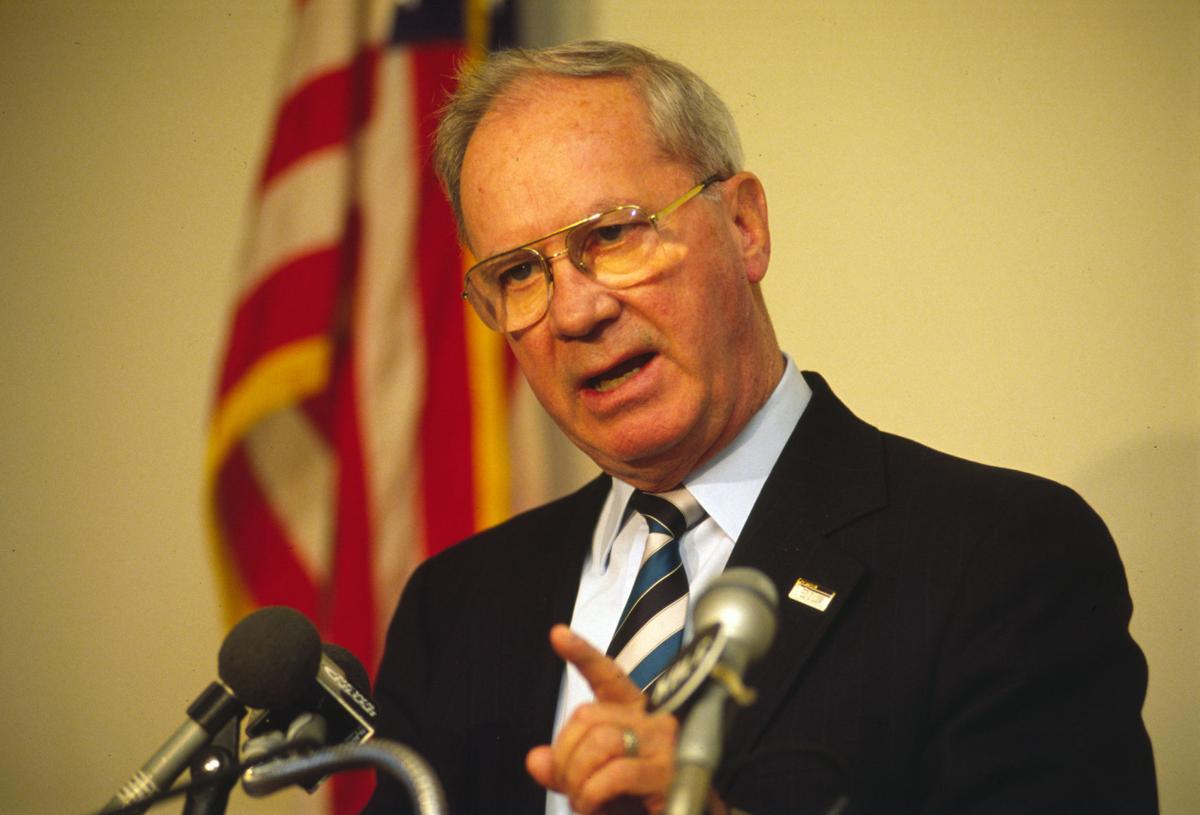 Former Montana Gov. Stan Stephens, a longtime state legislator and 1996 inductee to the Montana Broadcasters Association Hall of Fame, died April 3 in Kalispell after a period of declining health. He was 91. 
Stephens was remembered Monday for his unflinching optimism, skills as a communicator and bitter fights with the Democratic legislative branch. Stephens had broken a 20-year string of Democratic governorships when he was elected in 1988.
He served one term in the governor's office, bowing out of his reelection bid in 1992 due to health concerns. In his wake, Republican governors Marc Racicot and Judy Martz followed, while the GOP flourished in the Legislature.
"The Republican Party became on par with Democrats, if not the majority party," Rick Hill, former U.S. congressman for Montana and chair of the state GOP during Stephens' time as governor, said in a phone interview with the Montana State News Bureau on Monday. "He had a lot to do with that enthusiasm, that Republicans could win again and had a good plan for Montana.
"I don't think he got a lot of credit for that," Hill added. "But his optimism for what Republicans could do stayed with the party even after he didn't run for reelection."
Stephens was a Republican from Havre who was born in Calgary, Alberta, but made his way to Montana through a custom-cutting combine operation. He landed a job announcing and writing at KOJM in Havre, the station he came to co-own with with partner Lyle Leeds in 1965. Stephens broke some new ground in Montana broadcasting with his on-air editorials.
"A radio station or television has a moral interest to ingratiate themselves into the community in which they serve," Stephens told the Greater Montana Foundation. "We made a strident effort to do that, to be the voice of the community."
Havre elected Stephens to the state Senate in 1969, where he had a 16-year run that included terms as majority leader and Senate president. Bob Marks, a Clancy Republican who was Stephens' counterpart in the House, recalled Stephens as a very intelligent and courteous public servant. 
"He didn't play politics," Marks said Monday. "He was doing what was best for the interest of the people in the state."
As Stephens held office through the 1970s and '80s, Denny Rehberg "grew up" in the state Capitol, as Rehberg described it in a phone interview Monday, during a time when Rehberg's father was a state representative and then a senator before becoming a lobbyist.
"Stan and I go back through most of my youth and adult life and that's where I gained the respect of him," Rehberg said. "The best way to put it is he was a slight man who was well respected as a large individual."
Stephens hit all the high notes for Republicans in his term: trying to keep taxes low, rein in state spending and bring new business opportunities to Montana. He also held a hard line on being a gentlemen. 
"Somebody said a swear word one day," Rehberg remembered. "Stan looked at them and said, 'There are 20,000 words in the English language and you have to use that one?' It was his way of saying, 'Why do you have to swear? Is it really necessary?'"
Many remembered Stephens on Monday for breaking out his trumpet on his gubernatorial campaign while on the debate stage. Rehberg, who once ran campaigns for a living, said he told Stephens he thought playing a trumpet on stage was "the dumbest idea I have ever heard."
"He said, 'No, no, stick with me. I know what I'm doing,'" Rehberg recalled. 
Stephens won with 52% of the vote in 1988, defeating former two-term Democratic Gov. Thomas Judge to declare the executive branch as Republican real estate for the first time in 20 years. 
Hill became chairman of the state Republican Party during Stephens' time as governor, and said Stephens had included him often in decisions.
"That was the kind of guy he was," Hill said. "He included a lot of people in the decision-making and liked to get input from a lot of people. That was certainly one of his strengths."
Stephens had long been a student of the issues as a lawmaker and in the governor's office, Hill said. As a successful businessman, expanding his radio enterprise to bring cable television to Hi-Line communities, he believed Montana ripe for further prosperity. 
"Rather than trying to figure out a way to slice the pie, our economy, into more pieces, we had to make a bigger pie," Hill said. "That was the core of his philosophy."
But bitter battles with Democrats overshadowed successes, Stephens told the Great Falls Tribune in an exit interview 1992. His budget director resigned after it surfaced that he had made false claims on his resume and was illegally married to two women at the same time in 1984. His director of the Department of Family Services withdrew after claims that he made some harassing phone calls, the Tribune reported. His commerce director and revenue director both resigned, as well. Much of his remaining term was scarred by fights with the Democrat-dominated Legislature, which made no secret of their distaste for Stephens.
"I ended up having to take on the job of defending him, politically," Hill said. 
News outlets reported in 1992 Stephens bowed out of his reelection campaign after collapsing with "stroke-like symptoms" nearly two weeks earlier. Stephens made a public bid for Rehberg's nomination to the GOP ticket, but ultimately it was popular Republican Attorney General Marc Racicot who won the governor's office; Rehberg served as his first lieutenant governor. 
Chuck Johnson, a veteran of Montana's political journalism scene, remembered Stephens struggling with the appointments and with the back-and-forth with the Legislature. But, all the same, Johnson said Stephens' sunny disposition often shone through.
"He was a nice guy who struggled some as governor and withdrew from the reelection race with health issues," Johnson said. "Probably a wise decision in retrospect because he went on to live for 28 years. But as someone to cover he was always a gentlemen, a nice guy."
"Stephens' reign wasn't all that bad," was the Helena Independent Record editorial board's headline in the final days of Stephens' run as governor. His tenure included 25,000 additional jobs in the Montana economy; he worked with legislators to squeeze the business equipment tax from 16% down to 9%; a scattered cadre of transportation services came under one department and he built business relationships with both Japan and his home country of Canada. 
"It's just a great opportunity, and I'm very honored," Stephens told Johnson of the Helena IR in December 1992. "I walk out of here feeling we've accomplished a lot and very interested in what's going to follow."