Montana candidates began filing Thursday to get their name on the ballot at the start of a massive election year, which will see voters decide all five of the statewide elected officers, as well as who fills Montana's lone U.S. House seat and one of the state's spots in the U.S. Senate. 
All 100 seats in the state House and half of the state Senate are also up for election this year, as are seats on the Public Service Commission and state Supreme Court. And, of course, voters will pick who becomes president of the United States.
State Rep. Mary Ann Dunwell, a Helena Democrat, was first in line at the Secretary of State's office before 8 a.m. to file. Raph Graybill, a Democratic candidate for attorney general and Gov. Steve Bullock's chief legal counsel, was also an early filer, as was Donavon Hawk, who is running for House District 76 in Butte as a Democrat. 
Graybill said in a busy election year, it'll be a challenge to keep voters focused on the attorney general's race.
"You have to make a case for it. And you have to argue why this office matters and that's incumbent on every candidate to make the case why their office matters," Graybill said.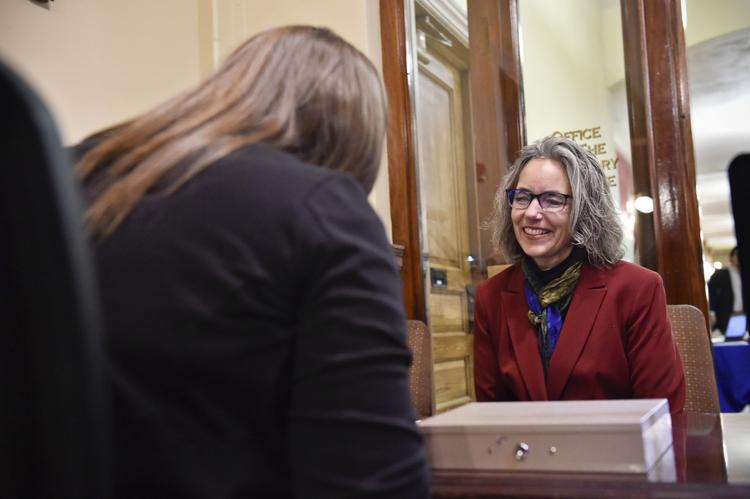 One race that's sure to draw attention is the U.S. House contest. The seat will be open, as U.S. Rep. Greg Gianforte is running for governor. Kathleen Williams, who lost to Gianforte in 2018, is again seeking the position, along with two other announced Democrats. Williams said she expects to come out on top this time by winning support from Republicans and Independents.
"We've got a good foundation that we built the last time around, a stronger team, we have better resources and we've got more time and Montanans are ready for honorable, responsive representation," Williams said.
Debra Lamm, a Republican running in her party's primary for the House seat, also filed in person Thursday. Four other Republicans besides Lamm have announced they are running in the primary, and another Republican, John Evankovich of Butte, filed Thursday, too.
You have free articles remaining.
Lamm, former head of the state GOP, said she's been traveling the state and brings a different perspective than the other candidates.
"I have been a citizen activist," Lamm said. "I haven't been a career politician. The first work that I become involved in were big issues that I care about and helping my friends and neighbors in the state and serving where I saw a need, not saying, 'What's the next big job?'"
By Thursday afternoon, 22 people had filed for statewide seats and 63 candidature had filed for legislative races. Many more people filed online than in person, continuing a trend of recent years.
Montana Republican Party Chairman Don Kaltschmidt said in a statement he expects 2020 to be a good year for Republicans.
" … Montanans are grateful to have an opportunity to vote for individual liberty, the Second Amendment, economic opportunity and fiscal responsibility once again," Kaltschmidt said. "With so many strong Republican candidates running to be a voice for our Montana values, today's filing is an exciting day for Montana."
The Montana Democratic Party also released a statement from Chairwoman Sandi Luckey saying the party is gearing up for a busy year.
"Democrats are focused on the issues that impact the daily lives of our neighbors and families across Montana, like creating good-paying jobs, lowering the cost of prescription drugs, defending and expanding access to health care, and protecting our public lands," Luckey said. "Democrats know that the needs of every district are unique and our candidates are prepared to hit the ground running, knocking on doors and earning the votes of Montanans."
The filing deadline runs through March 9 and Montana's primary election is June 2. The general election is Nov. 3.