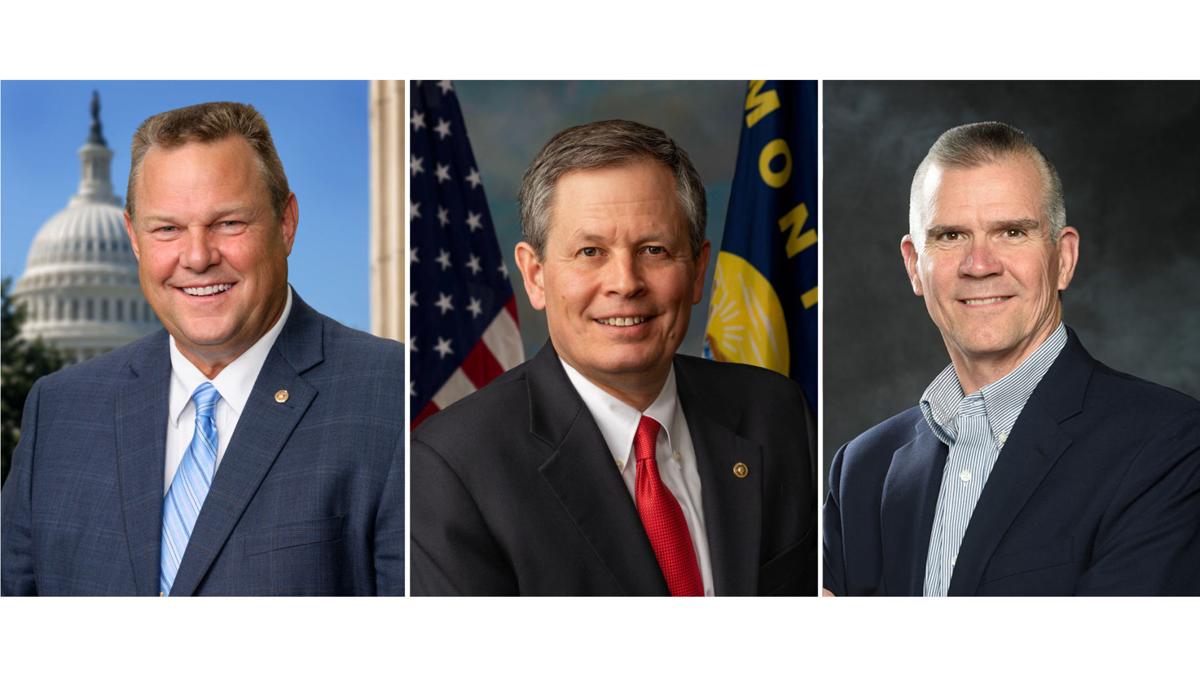 Montana's congressional Republicans are opposing the confirmation of Interior secretary nominee Deb Haaland, the first Native American selected for a Presidential Cabinet.
U.S. Sen Steve Daines announced late Friday he wouldn't support Haaland's confirmation to lead the Department of the Interior, saying the U.S. Representative from New Mexico would be bad for oil, gas and coal.
Daines met with Haaland on Wednesday. As a member of the Senate Energy and Natural Resources Committee, the Montana Republican will be among the first lawmakers to vet the enrolled member of the Pueblo of Laguna.
"After our conversation, I'm deeply concerned with the Congresswoman's support on several radical issues that will hurt Montana, our way of life, our jobs and rural America, including her support for the Green New Deal and President Biden's oil and gas moratorium, as well as her opposition to the Keystone XL pipeline," Daines said in a statement.
"I am also concerned by the responses I received about the role of the Department and lack of appreciation for issues that impact Montana such as wildlife management and hunting and sportsman access. I'm not convinced the Congresswoman can divorce her radical views and represent what's best for Montana and all stakeholders in the West. Unless my concerns are addressed, I will block her confirmation."
The group Western Native Voice, which advocates for Native American leadership in government, said Saturday in a press release the Montana senator's remarks were misleading.
"For the Indigenous people of Montana, this will be the first time we will have representation in a high-rank position at the federal level. We hope that Sen. Daines will reach out to all Montanans and reconsider his position. I encourage everyone to reach out to Sen. Daines' office and tell him to support this historic nomination," said Keaton Sunchild, Western Native Voice political director.
Haaland would bring a Native American point of view to issues concerning tribal lands, which are overseen by the Department of the Interior. Interior has a substantial influence on Native American life, it plays a role in natural resources leasing on tribal lands, manages the Indian Health Service and the Bureau of Indian Affairs. Many of the concerns Indigenous Montanans have about law enforcement's handling of missing and murdered indigenous persons cases start with the BIA.
"Biden's nomination to fulfill the DOI and Office of Indian Affairs' mission is a step in the right direction toward repairing relationships with tribal nations and the federal government. Rep. Haaland is someone that understands our communities because she is from them and has first-hand experience with the issues we face," said Ronnie Jo Horse, Western Native Voice executive director.
"As it states in the letter, Rep. Rosendale is opposed to many of Rep. Haaland's policy goals, especially the Green New Deal. This policy would be devastating to the people of Montana and its economy," said Harry Fones, a Rosendale spokesman.
In the letter, Rosendale suggested Haaland wanted to eliminate air travel and would be harmful to mines, paper mills and the American way of life. Included in the letter were links to a blog post by Democratic Rep. Alexandria Ocasio-Cortez, of New York.
Key to Republican concerns about Haaland is the Keystone XL pipeline, for which former President Donald Trump failed to complete permitting. On his first day in office, Biden cancelled Trump's Keystone permit. Biden had said oil from a completed pipeline would be bad for the climate.
The resolution called for creating a "Green New Deal" that brought greenhouse gas emissions to net-zero, created high-paying jobs and compelled a change to clean manufacturing practices. It also called for investing in energy conserving infrastructure improvements.
Haaland has repeatedly cited the Green New Deal as beneficial to Indian Country, saying the green energy jobs and a focus on public health and the environment would help Native Americans.
"Indian tribes can have such an amazing role in moving the Green New Deal forward," Haaland said in an interview with Lakota's People's Project in 2018. "It's our responsibility to leave the earth better than the way we found it. And it's the government's responsibility to move our country forward in this new clean energy era. Otherwise suffer the detriment of climate change."
U.S. Sen. Jon Tester met with Haaland ahead of confirmation proceedings. He told Lee Montana Newspapers there would be a learning curve for the New Mexico Democrat as Interior secretary, given her limited time in Congress, but Tester said Haaland would adapt.
"She's a really good person. I think she will be fine at Interior. I think she brings a Native American perspective, which I don't think is a negative thing to have at Interior," Tester said. "If she has any downside, her first election was in '18. She got re-elected in '20. Her learning curve is going to be straight up for a while. But I think she's capable of learning and I think she's capable of doing a really good job."