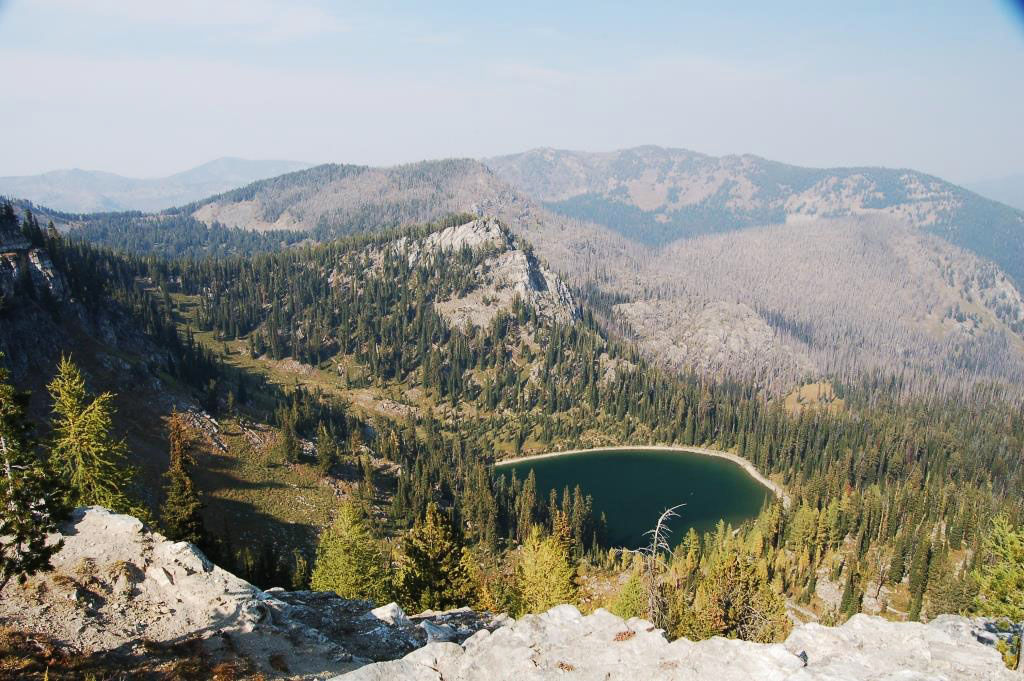 Bills authored by Montana Republicans U.S. Sen. Steve Daines and U.S. Rep. Greg Gianforte to remove Wilderness Study Area designations from wildlands in Montana are dead for this Congress, parties on all sides of the issue acknowledged.
Daines and Gianforte both said they intend to refile measures in the next Congress, although it is unclear whether they will modify their measures to increase chances of passage.
"As with any bill dealing with public lands in Montana, there's a process of building consensus and getting input from Montanans and key stakeholders, and that will continue into the next Congress," Daines said.
"The bill I introduce next Congress will depend on the ongoing feedback I've gathered."
Daines stressed that his bill, which would have removed Forest Service wilderness study designation from approximately 450,000 acres of land — including the West Pioneer, Blue Joint, Sapphire, Middle Fork Judith, and Big Snowies wilderness areas — was introduced "at the request of Montanans, county commissioners and the Legislature," adding that he "received public input during the process."
Gianforte's two WSA bills would have had much broader effect because they included removing designation from Bureau of Land Management WSAs as well as Forest Service areas. In all, Gianforte's bills would have stripped wilderness designation from 29 areas in the state totaling more than 800,000 acres.
"At the encouragement of state and local leaders, I introduced legislation to restore public lands, which have been found unsuitable for wilderness designation, to the active management of the U.S. Forest Service and BLM," Gianforte said last week when questioned about the fate of the bills.
"I appreciate the ongoing feedback I've received from county commissioners and Montanans, from private meetings to public forums, on how to improve the legislation. As the new Congress approaches, I'm looking for ways to work with the Montana delegation and members of Congress from both parties to advance Montana's interests."
The next Congress could be tougher for those trying to remove wilderness designations. In the November midterm elections, Democrats — generally less likely to loosen environmental restrictions — picked up 40 seats in the House of Representatives and gained the majority.
Daines said he would continue to coordinate with Gianforte in the next Congress "on what to do with the areas not deemed suitable for wilderness to protect Montanans from losing access to their public lands."
Conservation groups, meanwhile, mostly applauded the demise of the WSA measures.
"We're delighted that these bills won't be moving forward," Ted Brewer, communications director of the Montana Wilderness Association, said Friday. "We believe Montanans have made it clear that this is not the right way to approach the resolution of our wilderness study areas. We certainly hope Rep. Gianforte and Sen. Daines change their approach and involve the public should they try to resolve these WSAs in the future."
Tony Schoonen of Butte, longtime campaigner for access to public lands and waters of the state, said Friday: "The thing those guys don't know back in Washington D.C. is that these wilderness study areas contain headwaters for your watersheds. If they are degraded, there go your fisheries, there goes your tourism. Montana can't afford that."
As the effort to remove the Wilderness Study Areas' designations became more widely known, conflicts developed across the state between organizations advocating retaining wilderness management and those pushing to allow more motorized access to the areas and potentially mineral exploration and other development.
County commissions from several rural counties sent letters of support for the Daines and Gianforte legislation. Many of those decisions became contentious. In Beaverhead County, a letter of support was sent before the commission even took the matter up, which sparked protests. The commission later held a public hearing, adopted a new policy calling for public input in the de-listing process, and sent a new letter of support, including a request that this new policy be incorporated in legislation.
Asked about the death of the bills, Tom Rice, chairman of the Beaverhead County Commissioners, said Friday that "basically, since the election, we haven't really talked about it. We'll have to wait and see when they reconvene. Since we sent that letter off, we haven't had five minutes of discussion about it. So I'd have no comment at this time."
Last May, a public lands poll commissioned by the University of Montana found that Montanans from every political leaning support national policy that protects and expands public land access.
Lori Weigel, a Republican pollster with the firm Public Opinion Strategies, asked voters what should be done with the WSAs, and the results ran counter to the Daines and Gianforte legislation.
"The majority, 57 percent, indicate that they prefer to keep things as they are now," Weigel reported. "One in four are telling us that they would examine these and add protections in some areas while eliminating those in others."
Daines and Gianforte pushed back on the poll, saying it was worded so broadly that it failed to give a true picture of views on WSAs, and they reemphasized the support of county commissioners.
Rep. Liz Cheney, R-Wyo., in September introduced a similar bill to remove Wilderness Study Area designations from approximately 800,000 acres of Wyoming wildlands. That bill, while it passed out of committee, also appears to be dead.
Schoonen said those interested in removing the WSA designations seemed to work without seeking true public input. "They tried to do this without allowing much real comment," he said, "and it backfired. People got really excited and motivated" to oppose the legislation.
Daines did receive criticism earlier in the year when a meeting in Hamilton on the bill took place an hour earlier than announced and only included supporters, including the Ravalli County Commissioners, frustrating a large crowd of people who came to participate in the discussion. Similarly, in Philipsburg, a meeting on the bill was limited to supporters.
The Wilderness Association's Brewer pointed out that Daines has voted for the designation of some 1.3 million acres as wilderness — in other states.
"Daines has so far refused to support the Blackfoot Clearwater Stewardship Act, which would add about 80,000 acres to the Bob Marshall, Scapegoat, and Mission Mountains wilderness areas," Brewer said. "Nonetheless, he voted in favor of five bills during that hearing that would have designated, in total, around 1.3 million acres of wilderness in California, Nevada, New Mexico, Oregon, and Utah."
Keith Kubista of Stevensville, a board member of Montana Sportsmen for Fish and Wildlife, has fired back at conservation groups on the WSA issue, saying, "These public lands are essentially locked up. With hunting and fishing access becoming more precious each year, it only makes sense to review the WSAs in Montana and release those that are not suitable to become full-blown wilderness. Sen. Daines and Congressman Gianforte have proposed just that — and surprisingly, they've caught hell for it from groups that normally support increasing public access."
Andrew McKean of Glasgow, hunter and the editor of Outdoor Life, one of the nation's premier hunting magazines, said Friday, "Participation in a public process is essential for resolution of the 'Study Area' part of Wilderness Study Areas. I think most people, on both sides of the issue, long for some clarity about this ambiguous classification of land. And that's what both Daines and Gianforte are missing — the opportunity to do real, lasting, and meaningful work by engaging local communities in these local and lasting land-use decisions."
He added, "It's simply not enough to talk to county commissioners. … Instead of keeping the conversation contained to a small and vocal minority of citizens, I encourage our congressional delegation to hold public and widely promoted listening sessions to solicit a spectrum of opinions about the local values and future use of WSAs."
Get Election 2020 & Politics updates in your inbox!
Keep up on the latest in national and local politics as Election 2020 comes into focus.