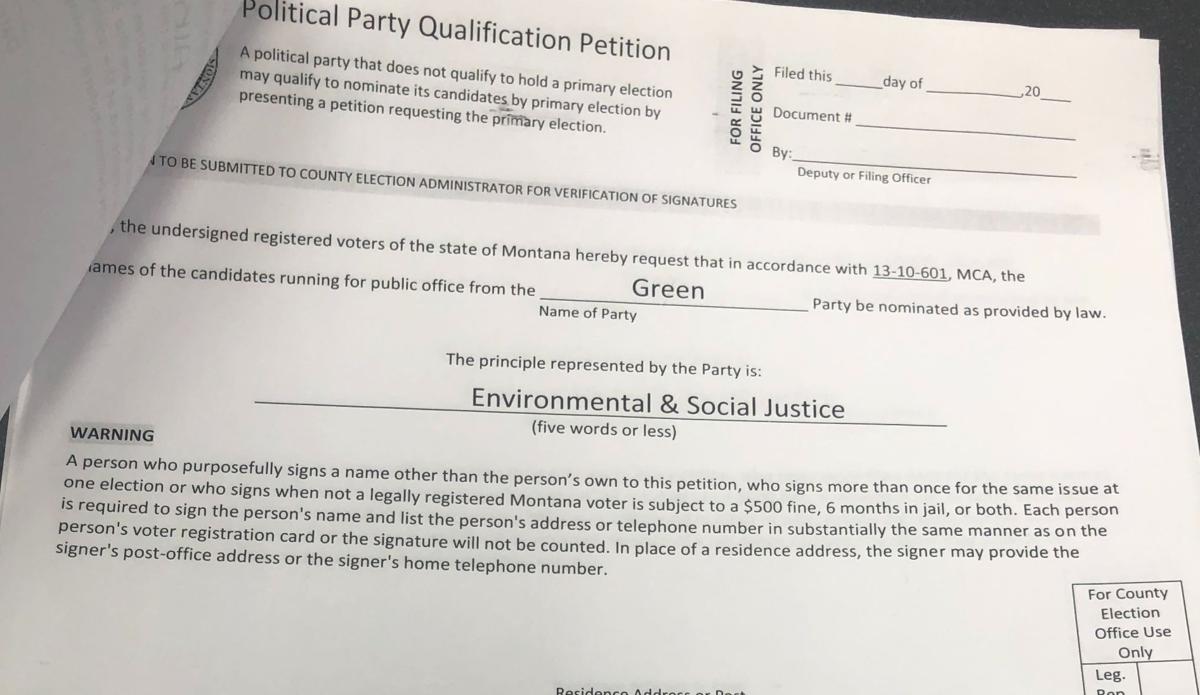 Packets with signatures have been dropped off around the state in an effort to try to qualify the Green Party. In Montana, a minor party must submit enough signatures from enough areas of the state to gain access to the ballot. Third-party candidates can draw votes from the major parties, with the Green Party seen as siphoning votes from Democrats while Libertarians, who are qualified to appear on the ballot already, can take votes that might otherwise go to Republicans.
Club for Growth Action, a national political action committee that backs conservative candidates, is the only organization that has registered to raise and spend money to qualify the Green Party for the ballot here. But it told the Commissioner of Political Practices office this week it had ended that effort Feb. 5, well before many of the signatures were gathered or dropped off.
"Club Action is no longer gathering signatures to help the Green Party qualify for the ballot in Montana," chief financial officer and treasurer Adam Rozansky wrote to the commissioner Thursday. "Our vendor acknowledged our request to cease gathering signatures on our behalf on Feb. 5 and stopped work for us on that same date."
Rozansky also wrote that Club for Growth Action "determined that we would not submit any signatures already gathered on our behalf to state officials."
But people have dropped off petition packets in several of Montana's largest counties, with signatures gathered both before and after Feb. 5.
In Lewis and Clark County, a review of the 73 petition packets submitted so far showed a majority have signatures collected after Feb. 5. A group of several people, all reporting addresses out of state, collected the signatures from registered voters. It appeared that only one person from Montana submitted a packet.
Out-of-state petition-gatherers could indicate a paid operation. While the people who gathered petitions must sign an affidavit with their home address, they do not have to provide contact information like a phone number.
Yellowstone County reported receiving 75 petition packets and Missoula County had 80 dropped off earlier this week. Most of the packets in Missoula had signatures gathered as early as January, though some were dated Feb. 12. Gallatin County has also received a large amount of petition packets dropped off Feb. 18.
Petition packets can include as few as one signature and up to 250.
Once a group has either spent or raised $500 in its effort to qualify a minor party for the ballot, it must register its spending to the Commissioner of Political Practices within five days. Another report with details about how much money the group has raised or spent would be due April 15.
Third-party candidates playing a role in Montana elections is not a new concept: In the 2012 Senate race featuring Tester and former U.S. Rep. Denny Rehberg, a Libertarian candidate benefited from $500,000 worth of advertising from a group that also supported Tester.
Get Government & Politics updates in your inbox!
Stay up-to-date on the latest in local and national government and political topics with our newsletter.