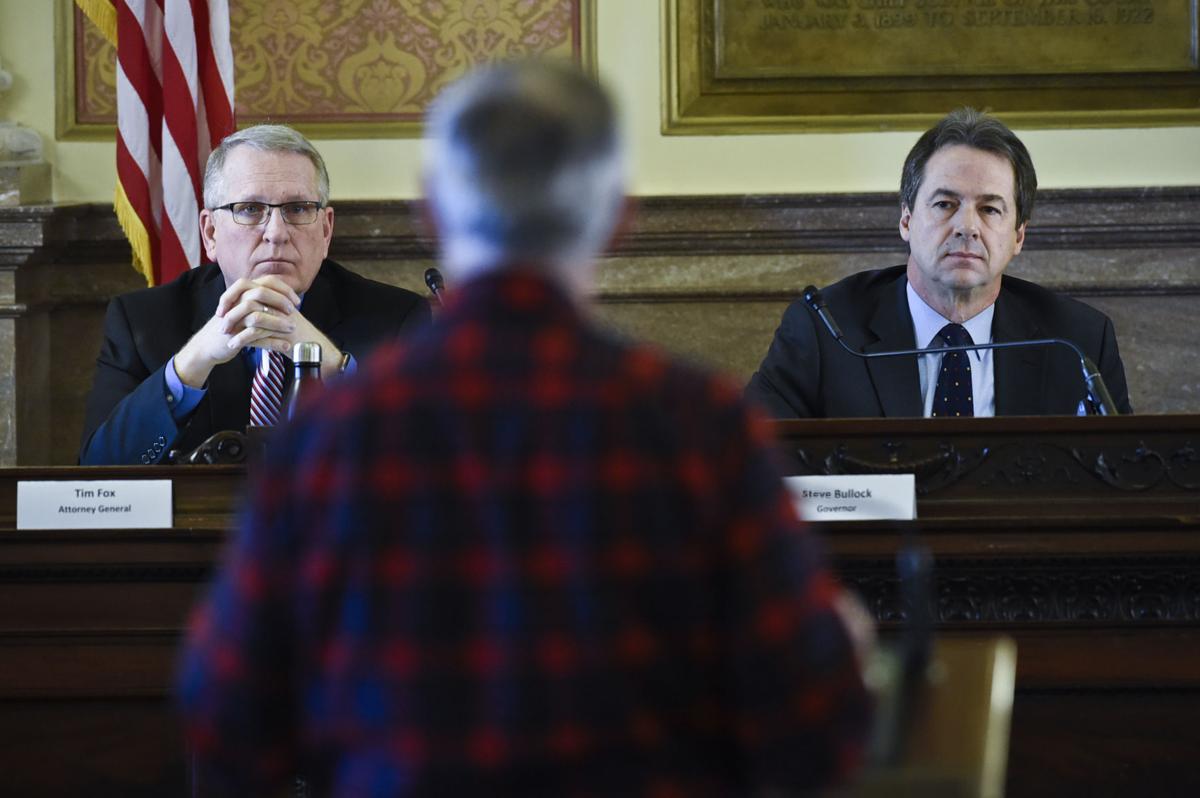 The Horse Creek Conservation Easement was negotiated between Montana Fish, Wildlife & Parks and Glendive-area ranchers the Stenson family. In exchange for giving up subdivision rights, allowing public hunting access and implementing a grazing plan, the family would be paid $6.1 million. About $4.3 million would come from the Habitat Montana program funded by hunting and fishing license sales.
The Land Board is made up of Bullock, who is the lone Democrat, and Republicans Secretary of State Corey Stapleton, State Auditor Matt Rosendale, Superintendent of Public Instruction Elsie Arntzen and Attorney General Tim Fox. Last month, Bullock and Fox threw support behind the easement while Rosendale and Arntzen said they would need more time to consider it. Stapleton indicated his opposition to easements that go into perpetuity, saying they unfairly saddle future generations with permanent restrictions.
The easement became embroiled in a property rights debate when owners of the mineral rights brought concerns about impacts to potential oil and gas development and the easement's value.
The easement has seen support from access advocates and the Stensons, and others have said invoking their surface rights cannot affect mineral development.
Since the vote to delay, Bullock says mediation has taken place between the parties and some progress has been made. 
On Monday, the board was scheduled to again take up the easement, but Bullock, under his authority as chairman, removed it as an agenda item. The reason, he said, was a request from Arntzen for additional time and questions from Rosendale about the appraisal and a legal review to see if the Land Board has jurisdiction over FWP easements.
Delaying the easement again risks 20,000 acres of hunter access as well as predictability and certainty for landowners willing to forego development in the interest of wildlife and agriculture, he said.
"I think there is a real, legit question before the Land Board when it comes to FWP easements," he said in a subsequent interview.
Bullock cited a statute covering state easements and land acquisitions, which reads in part "the department, with the consent of the commission or the board and, in the case of land acquisition involving more than 100 acres or $100,000 in value, the approval of the board of land commissioners, may acquire by purchase, lease, agreement, gift, or devise and may acquire easements upon lands or waters for the purposes listed in this subsection."
If the easement does come back before the Land Board, Bullock believes separate mineral and surface rights questions have been answered and the project could serve as a model demonstrating compatibility of oil and gas development with hunting and agriculture. Although the Land Board is made up of partisan officials, politics has traditionally taken a back seat to the long-term interests of raising money for schools through state lands and the obligation of ensuring greater access for the public.
Arntzen said Monday she was pleased to hear about the mediation, but had not received relevant documents, including language in the easement suggested by the Montana Petroleum Association. An Arntzen spokesman said she was also interested in more information on the appraisal and has been proactively reaching out to involved parties.
Rosendale spokesman Kyle Schmauch says additional language clarifying the mineral and surface rights has resolved that issue, but he has ongoing concerns about the appraisal.
"Matt has been asking for additional details about the appraisal because the property was bought for approximately $4 million in 2011, but the 2017 appraisal now has the value at about $10 million -- a massive increase," he said. "Matt supports the Habitat Montana program and FWP's ability to acquire easements on private property for conservation and access, and property owners' rights to enter into easements if they so choose."
Adele Stenson pointed out that the proposed conservation easement includes an additional five sections over the original ranch, and other improvement has been made to the property including construction of a new home. The additional land alone contributes about $2 million in the appraisal, she said. 
"The current Land Board is dinking around buying private working farms, and attempting to permanently lock up privately-owned lands forever," Stapleton wrote. "Not only is this an inappropriate focus for the Land Board, but it generates less money, disrupts real estate markets and shortchanges public school funding."
Stapleton's motion was ruled out of order, but Bullock as the chairman said he would consider bringing it before the board. Rosendale and Fox encouraged Bullock to bring Otter Creek to a future agenda.
Stapleton's chief of staff, Christi Jacobsen, said following Monday's meeting that he is not opposed to the Land Board taking up conservation easements.
"Sec. Stapleton does believe that easements can and should come before the Land Board," she said. "His position is that we need a better balance of issues being brought forward on the agenda. He would also like to introduce additional priorities (like his motion today to allow Otter Creek coal tracts to be on next month's agenda) to complement the existing priorities of Gov. Bullock and his staff."
Reporter Tom Kuglin can be reached at 447-4076 @IR_TomKuglin
Get Election 2020 & Politics updates in your inbox!
Keep up on the latest in national and local politics as Election 2020 comes into focus.