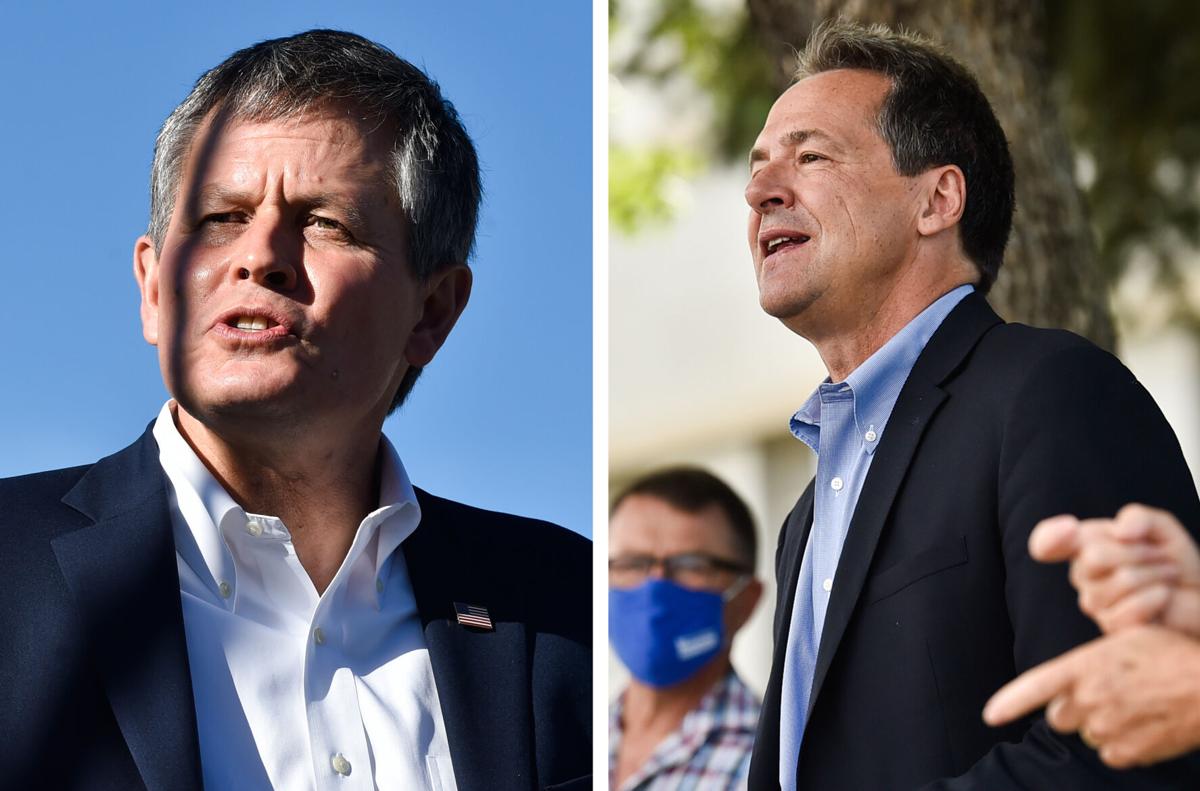 On the same day in late March that Gov. Steve Bullock issued a statewide stay-at-home order, he noted a sad statistic: Montana's first death from COVID-19. In just two weeks, Montana had gone from its first four cases to 90 cases — a rate deemed so serious as to justify extreme measures to protect Montanans' health.
On Friday, the state reported 715 cases in a single day, and surpassed 200 deaths. Bullock issued a statement noting a 240% increase in deaths from the last day of July, adding, "The path forward is simple if only Montanans follow the guidelines and restrictions we have in place."
Left unsaid was the obvious: Those restrictions aren't working. Yet two days earlier Bullock — a Democrat in a neck-and-neck race with Republican incumbent U.S. Sen. Steve Daines — said he wouldn't impose new restrictions, or revive old ones, insisting those are the purview of county and local administrations and calling out those flouting the protective measures.
"Where we have challenges isn't statewide. It's places where people aren't following the directives we have in place already," he said in a Thursday interview in Butte with Lee Montana newspapers.  I'm not sure what another statewide directive would do when people aren't following the rules. …
"If I shut down the whole state again, it would devastate a lot of businesses and communities like here in Silver Bow where the local officials are doing a great job and the growth in cases has not been as big," he said.
It could also devastate his Senate campaign in the three and a half weeks remaining before the election.
"I think he would suffer substantially if he were to impose a statewide mandate. That just wouldn't be popular at all in Montana," said Larry Sabato, executive director of the University of Virginia Center for Politics. " … It absolutely would be a loss for him if he went in another direction. He knows that."
In the early days of the pandemic in Montana, Bullock scored political points, holding near-daily briefings on different aspects of the state's response, traveling to Indian reservations — their populations especially vulnerable — for mass surveillance testing, and instituting a phased reopening in May to ease the effects of the shutdown.
His actions dominated daily news coverage, even as the virus forced Daines to limit in-person campaign events. In the space of three months, from March to June, the nonpartisan Cook Political Report moved the Montana's U.S. Senate race from its Solid Republican status to "tossup," where it's remained ever since.
"You all had such a low case rate in the very beginning, something that was certainly helping Bullock going into the summer. Montana looked like more of a success," said Jessica Taylor, Cook's Senate analyst. "You saw governors across the board getting largely high approval ratings for how they handled it, which stood in stark contrast to how the White House mismanaged it."
But to return to any form of statewide shutdown now, despite the leap in case numbers, "would be hard. Montana, like many states, is struggling financially. Businesses are struggling," she said.
Daines, who briefly faded from the limelight when the pandemic first made its appearance in Montana, now takes potshots at the governor's actions — in particular, he criticizes Bullock's measured distribution of federal CARES Act funds, saying all $1.25 billion should immediately go to local jurisdictions — and touting his own support for federal aid, which Bullock castigated as inadequate.
"The federal government hasn't gotten its act together to provide more relief," the governor said of the on-again, off-again negotiations for a relief package. "So I'd be closing businesses with no PPP (Paycheck Protection Program) money available and putting people out of work who have no additional unemployment or stimulus money coming."
Montana House Majority Leader Brad Tschida, R-Missoula, paid the governor's no-new-restrictions stance a barbed compliment. "I'm glad to hear he's making a more sensible decision, from my perspective," Tschida said.
Tschida was among GOP legislative leaders who signed a letter to Bullock three weeks after his shutdown, terming it unconstitutional and calling on him to lift his orders and let counties make decisions on letting businesses reopen to stave off a steep decline in the state's economy.
Rather than looking at Montana's skyrocketing COVID-19 case count, Tschida said Friday, anyone eyeing restrictions should consider the relatively low number of Montanans who have succumbed to the disease.
This week, the White House Coronavirus Task Force listed Montana (along with North and South Dakota, Wisconsin and Utah) as among the top five "red zone" states for new coronavirus cases. But federal Centers for Disease Control and Prevention statistics rank Montana 42nd in terms of its death rate of 18 people per 100,000 residents — far below a state like New Jersey, with 181 deaths per 100,000, or the devastating number posted by New York City of 284 deaths per 100,000.
"We know the virus is serious," Tschida said, "but if we are able to shield the most vulnerable from getting it and have facilities to treat them — I think adding more restrictions now would raise the ire of people in Montana."
The question of facilities gained urgency this week with the release of the state COVID-19 Hospital Occupancy and Capacity in Montana Status Report, which said 26 of Montana's 56 counties were nearing maximum total capacity.
Ravalli County is one of those. "We're here for the community and we will do the best that we can, but I do have significant concerns regarding the trend that we're seeing right now," said Marcus Daly Memorial Hospital CEO John Bishop.
Even so, said UVA's Sabato, conditions would have to worsen substantially for Bullock to impose new restrictions without destroying his Senate bid.
"If you can't fit all of the critically ill patients in your hospitals, that would be a point at which I think most people would think something has to be done — if bodies are piling up in refrigerator cars, if patients are having to be put in hallways of hospitals without intensive care," he said, referencing the dire conditions in New York City in the pandemic's early days.
The balancing act likewise applies to Republicans, with any push to ease restrictions still further — the state remains under Bullock's mandatory mask order for people over age 5 in counties with four or more cases — carrying its own political risk.
"Republicans overall are seen to have mismanaged this, with President Trump at the top," Taylor said. "We're seeing tighter presidential numbers than 20 points," the margin by which Trump won Montana in 2016. She expects Trump to win the state again, "but I think it's going to be in the single digits."
"Bottom line," she said of the Bullock-Daines matchup, "this is still a very competitive race."
Concerned about COVID-19?
Sign up now to get the most recent coronavirus headlines and other important local and national news sent to your email inbox daily.