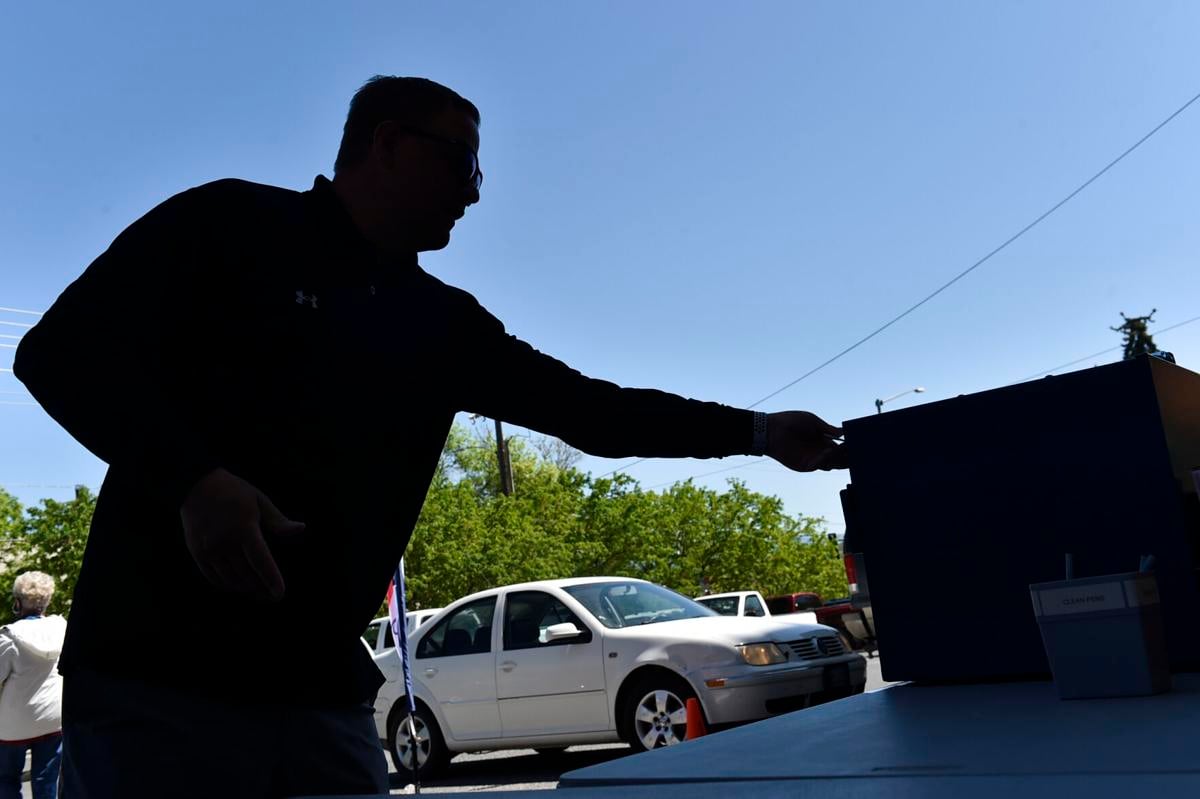 Gov. Steve Bullock said Thursday that he'll let the state's counties decide on holding the November general election by mail, while expanding early voting and preserving options to cast a ballot in person.
"It only makes sense that we start preparing now to make sure no Montanans will have to choose between their vote and their health," Bullock said in a press conference Thursday. "They didn't have to in June and they shouldn't have to in November."
Bullock said ballots would be mailed to registered and active voters by Oct. 9 for the general election, and as it was in June, the return envelope will be pre-paid. Local elections administrators attributed the pre-paid return envelope to the high return rate in June.
In his directive, Bullock said that COVID-19 cases have increased in Montana since the primary, and that it is "increasingly unlikely that the pandemic will have fully abated by November." The state reported an additional 173 case of the novel coronavirus Thursday, with 1,573 active. There were 44 active cases when Montana held the June 2 primary.
Allowing counties to hold the Nov. 3 election by mail, Bullock said, protects the right to vote while easing pressure and crowding on Election Day. Montanans have increasingly cast their vote by absentee ballots before the pandemic this year, with absentee turnout reaching 73% in 2018.
In their letter to the governor, elections administrators raised concerns about the safety of poll workers, many of whom are older and at-risk of severe outcomes from the virus because of age. Polling places often have large crowds and long lines. Paper, pens and other items can also be vectors for the virus.
A spokesperson for the Montana Republican Party said the party opposes limiting options for voters if there aren't traditional polling places. Bullock is a Democrat.
"If Montanans are able to safely go to the grocery store, they should be able to safely go to their polling location to vote on Election Day," the spokesperson said.
Bullock's directive allows counties to choose to hold the vote by mail, but also allows for an extended early voting period and options for voting in-person, as well as ballot drop-off locations.
Counties are encouraged to publicize all options and work with nonprofit groups to advertise to voters how they can cast a ballot. Any in-person location for registration or polling must have proper social distancing measures in place.
The directive also calls for designated ballot deposit locations to be posted online in addition to places where people can vote in person, and recommends voting machines be at polling locations from Oct. 2 through Nov. 3.
Under the directive, regular voting registration is extended until 10 days before the election, instead of 29 days, which means people can register to vote by mail until Oct. 28. Ballots will be made available Oct. 2.
In Yellowstone County, elections administrator Bret Rutherford said voting by mail there would likely be discussed at the Monday Board of County Commissioners meeting.
Rutherford is a proponent of all-mail ballot elections and will recommend the county opts to go that route for the general election. Many elections in Montana, such as school elections, are already held by mail.
Either the commission can pass a resolution to do all-mail ballots, or Rutherford himself can initiate the process, although commissioners could choose to reject Rutherford's suggestion and set it for a polling place election.
Rutherford said costs to the county to pay for postage in the primary election were roughly $46,000. Counties can seek reimbursement from the state for the cost.
The governor's announcement Thursday met "all the criteria we wanted in it," Rutherford said.
"We're thankful to have the directive this year so each county can push forward," Rutherford said.
Counties including Yellowstone, as well as a website and ad campaign by elections administrators around the state have helped voters be aware of if they need to update their addresses or get off the inactive voter list, Rutherford said.
Missoula County Elections Administrator Bradley Seaman said Thursday that his county was "really excited about the governor's directive" and that his office was ready to work with county commissioners to pursue plans to hold the vote there by mail.
"With the governor's directive, we're given a clear path toward the safest, healthiest way to run an election, where we'll send every active voter a ballot in the mail," in addition to in-person options, Seaman said.
Lewis and Clark County public information officer Jeni Garcin said county election officials were preparing a set of options for the county commission to consider. She expected the commission to take up proposals next week and would make a decision by Aug. 25.
While Republican President Donald Trump has raised claims without evidence of voter fraud from mail elections, Seaman said he's seen no evidence of any fraud in Missoula County. The letter clerks sent to Bullock in July dismissed the idea that mail ballots are less secure, saying that "mail ballot elections have security features that polling place elections do not, and anti-fraud measures are written into Montana law."
In the primary, a legal challenge led to the suspension of the Ballot Interference Protection Act, which placed limits on how many ballots a person can collect and return from others. It also temporarily pushed back the date ballots could be received at elections offices to be counted, though less than a week before the vote the state Supreme Court declared ballots had to be received by by 8 p.m. on Election Day in order to be counted. Both issues are still pending in a district court, however.