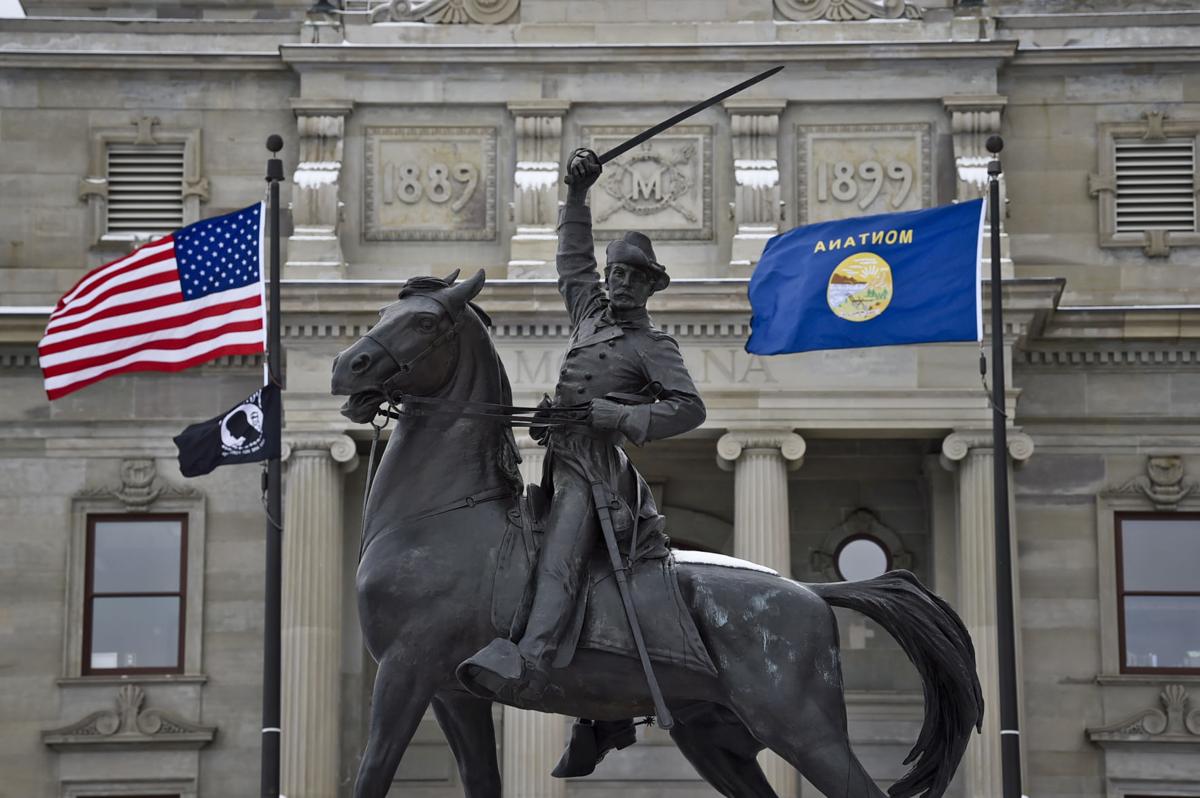 Lawmakers offered passionate arguments on both sides of the bill, with those supporting it saying celebrating Columbus Day is demeaning to the state's Native population, that Columbus is not a historic figure worth honoring and that legislators needed to stand in support of Native Americans.
Opposition said history is complicated and Columbus' legacy can't be dismissed entirely.
"This is a difficult subject to broach, but there's really no way to talk about this without talking about the negative implications Columbus Day has had on myself and so many other Montanans," said Rep. Shane Morigeau, a Democrat from Missoula who is carrying House Bill 219. It passed second reading in the House on a 62-38 vote, meaning it will likely move to the Senate. Similar bills died in the 2017 session.
Rep. Sharon Stewart Peregoy, a Democrat from Crow Agency who voted for the bill, said it could serve as a rallying point.
"This is a point to heal. In this atmosphere today of intolerance at times, in this atmosphere of having to justify who you are, our existence, I think it's important to look at this as a rallying point of healing," Stewart Peregoy said.
There are a record number of Native lawmakers this session, tallying 11 of the 150 lawmakers. About 7 percent of the state of Montana is Native, and there are seven reservations and eight tribal communities. A package of bills moving through the Legislature seeks to address the issue of missing and murdered Native women, something lawmakers referenced when supporting the bill Wednesday. 
Saying Columbus wasn't perfect but shouldn't be stripped of recognition, Rep. John Fuller, a Republican from Kalispell, opposed the bill.
"Christopher Columbus is one of the most important figures in human history and world history. He changed the world. You can deny history, you can re-write history and you can condemn it, but you cannot change it," Fuller said.
Fuller called Columbus an "equal opportunity tyrant," saying his "routine cruelty" extended to Natives and Spaniards.
Rep. Forrest Mandeville, a Republican from the town of Columbus, said he wants to keep the holiday "not to celebrate an individual or the man but to celebrate our town."
Rep. Barry Usher, a Republican from Billings, said Montana couldn't change the federal holiday, and voted against the bill. He suggested picking a different day to celebrate Indigenous Peoples Day instead of replacing Columbus Day. Usher said it's also difficult to agree on what is the accurate version of history.
"Were any of us there? No. All we have is folklore and maybe some documents we found and we interpret them. History is only what the person was taught. And maybe it was taught to lots of people, but it could still be wrong," Usher said.
Morigeau said when he was in school he learned a distilled version of the history surrounding Columbus and that knowing what he does now, he doesn't want to keep a holiday in his name.
"We don't have to celebrate this person. This is an individual at a time where some say slavery was happening. Maybe it was," Morigeau said. "But what we know is that what he was doing was so atrocious, so horrible that he was shackled up and brought back to Spain. And this is a person we want to continue to celebrate and say that was OK?"
Get Government & Politics updates in your inbox!
Stay up-to-date on the latest in local and national government and political topics with our newsletter.