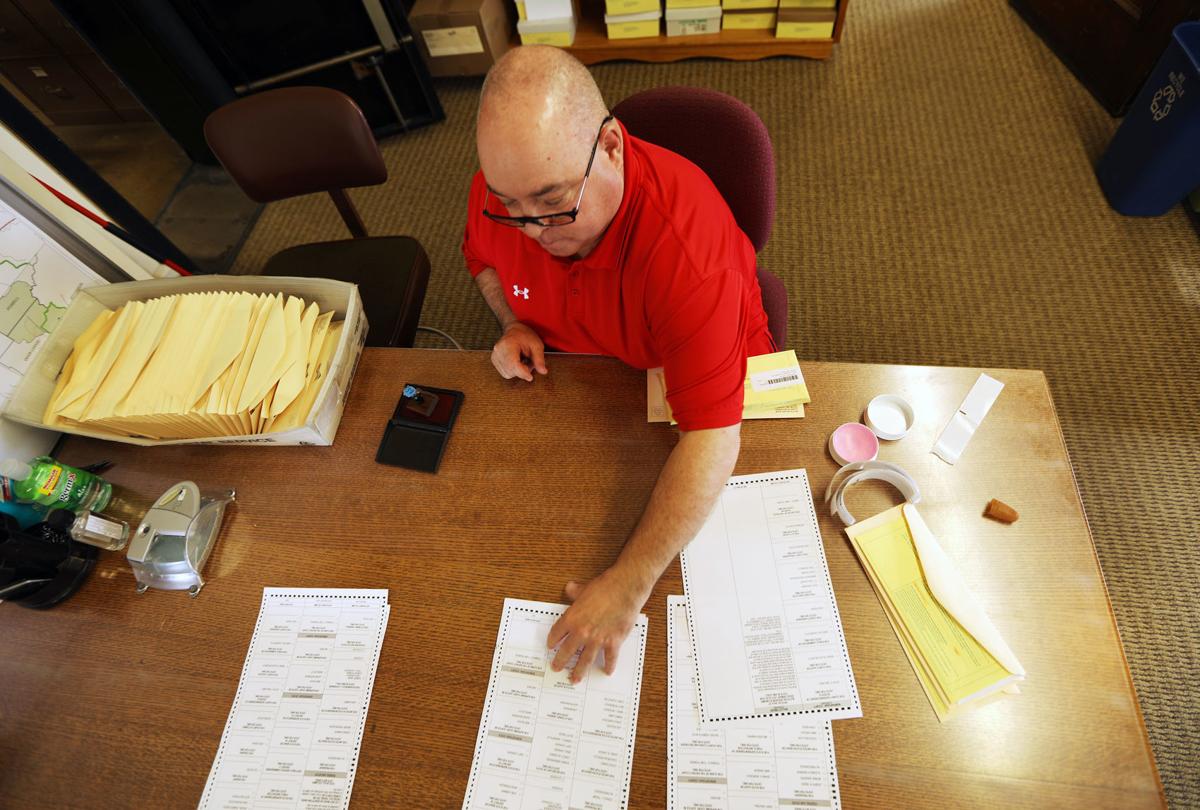 If it weren't for a smattering of yard signs, you might never know there's a primary election coming up in Montana that will eliminate some candidates in local and legislative races and all but assure ultimate victory for some others.
Instead of hobnobbing at fundraisers and hitting neighborhoods to shake hands and deliver personal pitches, many hopefuls have been kept at home by the coronavirus, like everyone else.
And it's hard to stir interest during a pandemic and mandated restrictions that have sidelined businesses, put people out of work and altered almost every aspect of everyday life.
"You're not supposed to be going out and interacting with people so it's been tough to really go out and go door-to-door," said Brian Wilkins, who is running for the District 5 Butte-Silver Bow commissioner seat against Justin Fortune and incumbent Dan Olsen.
"I've been trying to utilize a little bit of social media just to let people know who I am and why I'm running but it's been difficult," he said. "I've reached out to people I know in the district and told them if they see their neighbor to tell them a little about me."
This is not your normal election season.
Even the primary election itself, set for June 2, isn't normal. Because of the pandemic, Gov. Steve Bullock said counties could conduct all primary voting through the mail this year, and all 56 counties have taken him up on it.
There are contested primaries in statewide races at the federal and state levels, with different choices based on which ballot you're using — Republican, Democrat or Green Party. You get to choose which to use, but you can only use one.
Ballots are to be mailed out by Friday.
In legislative primary races ...
There are a few legislative races where the primary matters in Butte-Silver Bow and surrounding counties that include Anaconda-Deer Lodge, Beaverhead, Granite, Jefferson, Madison and Powell.
In Senate District 38, state Sen. Edie McClafferty, D-Butte, moves to the November general election because she faces no party opposition. Two Republicans are running, Jim Buterbaugh of Whitehall and Jane Hamman of Clancy, with the primary winner advancing.
McClafferty, with a strong showing in Silver Bow County, defeated Republican Glenn Rosenbaum in 2016 by about 700 votes in a district that also includes parts of Jefferson County.
Two current Democratic state representatives, Gordon Pierson Jr. of Deer Lodge and Mark Sweeney of Philipsburg, are running for the open seat in Senate District 39. Only one will get past the primary to face Republican Suzzann Nordwick of Butte.
The district includes parts of Anaconda-Deer Lodge, Silver Bow, Granite and Powell counties and clearly leans Democrat. Gene Vuckovich of Anaconda beat Nordwick in 2016 by about 1,200 votes.
In mostly red House District 71, Rep. Ray Shaw, R-Sheridan, can't run again due to term limits. Banker Kenneth Walsh of Twin Bridges or retired attorney Cindy Younkin, a former legislator, will win the Republican primary to face Democrat Ian Root of Ennis.
In House District 75, freshman Rep. Greg DeVries, R-Jefferson City, is facing a party challenge from Marta Bertoglio of Clancy. DeVries won the 2018 general election with 57 percent of the vote against Democrat Bryher Herak of Basin, who is running again this year.
At the local level ...
In many counties in Montana, there are more local positions on the ballot in non-presidential election years, but that is not the case in Anaconda-Deer Lodge and Butte-Silver Bow — the only consolidated city-county governments in Montana.
While five people are running for chief executive in Butte-Silver Bow, with the top two vote-getters on June 2 advancing to November, nobody is challenging incumbent Bill Everett for that job in Anaconda-Deer Lodge.
He believes it's the only time since the city and county merged in 1977 that someone has run unopposed for the post.
"Hopefully it means people are happy with what we have done," said Everett, who won 57 percent of the vote in defeating then-incumbent Connie Ternes-Daniels in 2016. "We've done a lot for the county and I think it shows — our road construction, removing blight, economic development and then the progress made with Atlantic Richfield."
Everett said he's approaching the job the same way this year as he always has.
"Basically you live the job," he said. "It is seven days a week, 18 hours a day, no question about it."
Four people are hoping to replace Tim Barkell, who is not seeking a third term as the county's law enforcement chief. They are Bill Sather, Kyle Staley, Tom Oberweiser and Kurt Tarkalson, with the top two finishers on June 2 moving to November.
Like Butte-Silver Bow, local races in Anaconda-Deer Lodge are nonpartisan, so only those with three or more candidates are affected by the primary. Only two advance.
Kevin Hart and Mary Kay Eldridge are running for District 3 commissioner in that county; their names are on the primary ballot and their votes will be tallied, but both head to the November ballot with a clean slate.
Six people ran for chief executive in Butte-Silver Bow four years ago. Incumbent Matt Vincent finished first in the primary with 28 percent of the vote, followed by Dave Palmer at 25 percent, so they advanced.
But it was clear that a lot of support for the other candidates went Palmer's way in November, since he got 59 percent of the 16,352 votes cast then.
Palmer is seeking a second, four-year term this year, with four others also running. They are bar and casino owner Ted Deshner, businessman and restaurateur Tom Cronnelly, Parks Director J.P. Gallagher and District 8 Commissioner Brendan McDonough.
No incumbent running again for county-wide office in Butte-Silver Bow is being challenged. They include Sheriff Ed Lester, County Attorney Eileen Joyce, Assessor Dan Fisher, Auditor Wendy McGrath, City Judge Jerome McCarthy, Justice of the Peace Jimm Kilmer, Coroner Lori Durkin, Superintendent of Schools Cathy Maloney, Treasurer Lori Baker-Patrick and Public Administrator Janice Casarotto.
Three people are hoping to replace Clerk and Recorder Sally Hollis, who is not seeking a fourth term. They are Deputy Clerk and Recorder Linda Sajor-Joyce, Keith Seyffarth and Rachel Roberts Boyd.
Three people are running for District 5 commissioner, as noted earlier, and four-term incumbent John Sorich faces two challengers in District 4. Terry Schultz held the seat years ago and lost bids against Sorich in 2012 and 2016. Matt Moore, a professional engineer who used to oversee the county's wastewater system, is seeking the seat in his first bid for public office.
Voters in Butte-Silver Bow will also decide whether the county should continue to collect an annual one-mill levy for economic development for the next four years. It brings in about $65,000 a year and currently costs $1.31 on houses worth $100,000 and $2.62 on those valued at $200,000. 
In November local match-ups, Hattie Thatcher faces Mike Maesar in a bid to replace longtime District 3 Commissioner John Morgan, who isn't running again. Norma Duffy and John Riordan hope to replace McDonough in District 8, who is running for chief executive.
District 6 Commissioner Jim Fisher is being challenged by Mary Booth. Incumbent District 12 Commissioner Dan Callahan is unopposed in the primary and general elections.
Additional local races
In a local race in Madison County, incumbent District 1 Commissioner Dan Allhands of Sheridan is being challenged by David Bacon, Robert "Dude' Erdall and Ellis Thompson, all of Virginia City. Only two advance past the primary.
Some offices in red-soaked Granite and Powell counties are partisan and the primary will likely determine the winner. Both candidates for Powell County Commissioner District 1 — Dan Sager and Jarita Neckels — are Republicans and only one moves on from the primary.
The same scenario is set for the District 1 Commissioner seat in Granite County between Republicans Blanche McClure and Tim Oujhte. People can still run for those seats as write-in candidates after the primary, but write-ins face serious obstacles and rarely win.
Powell County voters will also decide on June 2 whether to approve an 11-mill property tax increase to help fund law enforcement. It would raise about $202,000 over five years. The hike would be $14.85 on houses worth $100,000 and $29.70 on those valued at $200,000.
Other fall match-ups already set
In legislative races this fall, Republican Marjory McCaffery of Butte is challenging longtime Democrat legislator Jim Keane in House District 73. Republican Jim Kephart of Butte is taking on incumbent Democrat Derek Harvey in District 74.
Butte residents Donavon Hawk, a Democrat, and Andy Johnson, a Republican, are running for an open House District 76 seat. Democrat Ryan Lynch of Butte, who held the seat for eight years, is running in Senate District 37 against Republican Aaron Meaders of Butte.
In a now-open House District 78, Democrat Sara Novak of Anaconda faces Republican Heather Blom of Missoula in November. In the open District 77 seat, Republican Gregory Frazer of Deer Lodge faces Democrat Cindy Hiner of Deer Lodge.
Get Government & Politics updates in your inbox!
Stay up-to-date on the latest in local and national government and political topics with our newsletter.