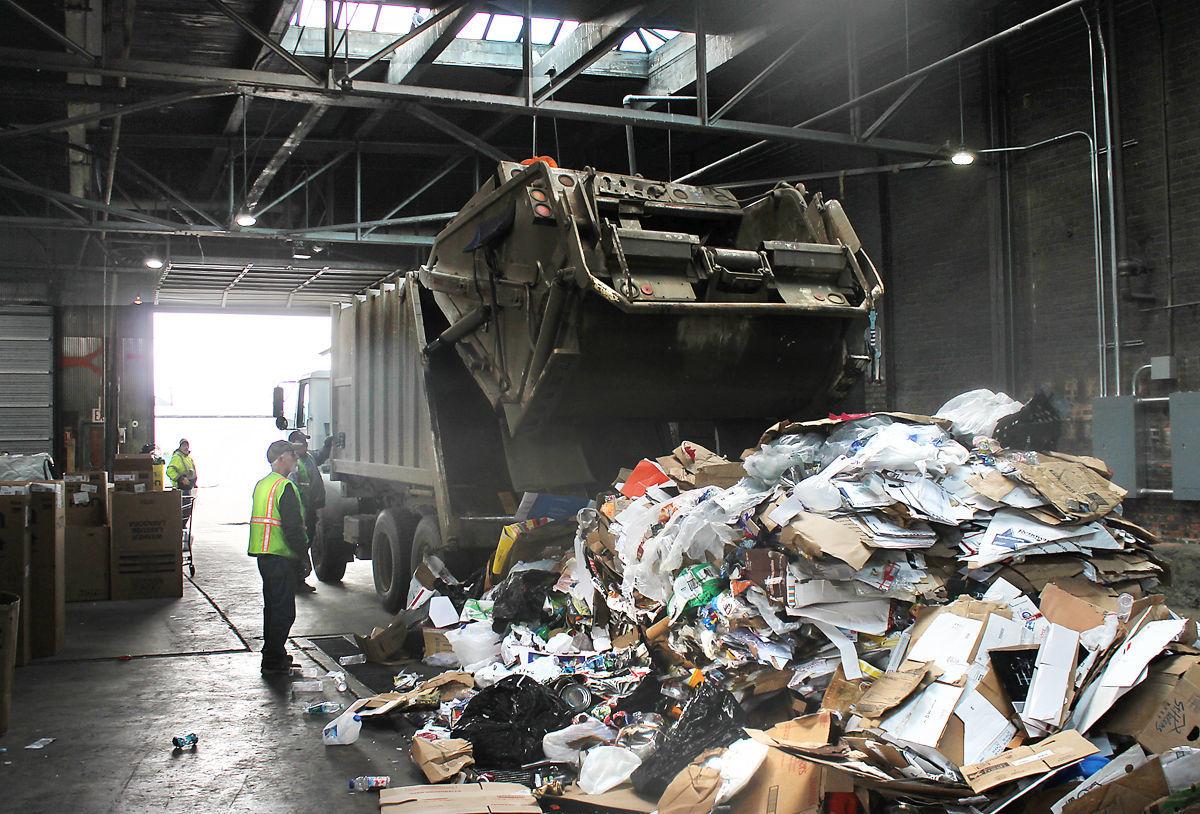 AWARE Inc. is shutting down its recycling operations in Butte, citing a combination of state budget cuts and a "catastrophic drop" in recycling commodities prices for the move.
The nonprofit human-services organization will phase out its recycling operations over the next several weeks, including its processing center at 640 E. Arizona St.
Community recycling bins at three locations in Butte will be shut down, too, at least temporarily.
"Our goal is to have everything at Recycling wrapped up by April 30th," Richard Saravalli, AWARE's chief executive officer, said in a news release Friday.
It was not immediately clear whether a curbside recycling program that McGree Trucking takes part in would continue in any fashion, but there would be no AWARE facility to process the cardboard, plastics, and other items it takes in now.
Only about 300 households signed up for the curbside service at a cost of $15 per month – far fewer than AWARE and McGree hoped for when the program began in late 2015 in conjunction with a new garbage-collection system using uniform bins.
The county pays McGree $6,470 a month to pick up materials from the community bins and haul them to the AWARE processing center, but the curbside program is an arrangement between the two private entities.
Dave Palmer, Butte-Silver Bow's chief executive, said he plans to sit down with representatives from AWARE and McGree on Monday to talk about that and other unknowns.
McGree Trucking referred questions to Jim McGree, its vice president, who was out of town. For one, what will happen to all the recycling bins that residents have now? The Montana Standard left a phone message for Jim McGree and sent an email seeking comment Friday.
John Cote, a business development specialist for AWARE, said its role in the curbside program would stop. But AWARE would talk with anyone interested in buying or leasing the processing center and/or equipment.
"We believe in recycling," he said, adding that AWARE processed 1.8 million tons last year -- material that did not end up in the landfill. The organization simply could not sustain its role in it, he said.
Recycling benefits the county by diverting materials from the landfill, thereby saving space. The county might be able to step in somehow, Palmer said, but he and other officials need more information to determine if it's even plausible.
Among other things, he wants to know more about AWARE's decision, including how much money they were losing.
Also, he said, "We have to find out if there is someone out there that will take the recycling and how we could make it work."
But commissioners will be asked to eliminate the monthly payment to McGree for picking up material from the community bins next week, Palmer said. If the council goes along, that service would stop immediately.
There are still limited recycling opportunities in Butte at the following locations, county officials say.
• Pacific Steel & Recycling, 905 Gaylord St., accepts cardboard and metal.
• H&H Trading, 804 S. Arizona St., accepts metal.
• The Butte-Silver Bow Landfill on Brown's Gulch Road has onsite bins that take cardboard and metal. That material is taken to Pacific Steel and H&H, but it's accepted at the landfill as a convenience to residents.
Although the curbside service never took off, the community bins were a hit and so were drop-offs at the processing facility. But while volume at the center increased, so did prices to have the material shipped out.
AWARE didn't become a partner in recycling here to make big money. It provides community-based services for people with mental, emotional, and physical disabilities and has eight disabled workers among its staff at the recycling center.
State budget cuts have affected case-management services at AWARE and other human-services organizations in Montana, it says, so it must focus more on its core operations.
But the recycling market has taken a dive, too, in large part because China has cut back drastically on accepting recycling materials. It was a major importer of the materials but now bans 24 types of solid wastes, including some plastics and unsorted mixed papers.
"The recent collapse of recycling markets due to new policies in China left us with no choice but to shut down recycling operations," Saravalli said.
AWARE's processing center makes some money by selling aluminum cans it takes in, but much of the material it collects is co-mingled and baled as "single stream" because it takes too long to sort.
AWARE actually pays for that material to be shipped to a facility in Tacoma, Washington. Because the market for recycled plastic and cardboard has dropped dramatically in recent months, the shipping costs have gone up.
It used to cost $35 per ton to ship co-mingled material via large semis. Now it costs $117 a ton.
At the same time, AWARE's volume of materials has gone up. It took in eight tons of material from the community bins in January 2016. This month, it received 28 tons of material from them.
When other sources are added in, including drop-offs, curbside collections, and picking up items from businesses, the volume was 38 tons in January 2016. It was 70 tons this March.
Get Election 2020 & Politics updates in your inbox!
Keep up on the latest in national and local politics as Election 2020 comes into focus.