Lawyers for a man who was held in Lincoln County on a request from U.S. Customs and Border Protection in 2018 told the state Supreme Court on Wednesday justices should weigh in on the case to give clarity to public officials and law enforcement about how they should respond to detainer requests. 
Agustin Ramon, who was arrested on a burglary charge in August 2018, has since been deported to France. Alex Rate, a lawyer with ACLU of Montana, said though Ramon's situation can't be altered by whatever the state's high court decides, it's important for county sheriffs, detention centers and others to know how to respond when facing an ICE detainer request. 
A detainer request is issued when the U.S. Department of Homeland Security thinks a person in local custody may be subject to deportation. It asks a jail to keep a prisoner for up to 48 extra hours past when they would have been released.
The state's high court did not make any decisions Wednesday. Rate said he expected something in the next six months.
In Ramon's case, a jail staffer told a bondsperson that Ramon would not be released even if bond was posted because of the detainer request. Ramon argued in District Court his detention after that point was illegal and asked for a temporary restraining order and preliminary injunction.
The District Court denied that, saying Ramon was legally detained. That decision is what Ramon is appealing to the state Supreme Court.
Lawyers for the Lincoln County sheriff and administrator of Lincoln County Detention Center, as well the U.S. Department of Justice, told the court Wednesday that Ramon's appeal is moot because he is no longer detained. They also argued immigration detainers are lawful under federal law and must be recognized by Montana when interpreting state law.
Dan Galindo, a staff attorney for the ACLU Immigrants' Rights Project based in New York City, is representing Ramon. He argued Wednesday that Montana law does not give jails the power to arrest someone named in a civil detainer request and that Ramon was re-arrested when he was told posting bail would be pointless because he wouldn't be released.
Galindo also argued that to extend a person's detention beyond the time it would normally last requires a new justification under state law.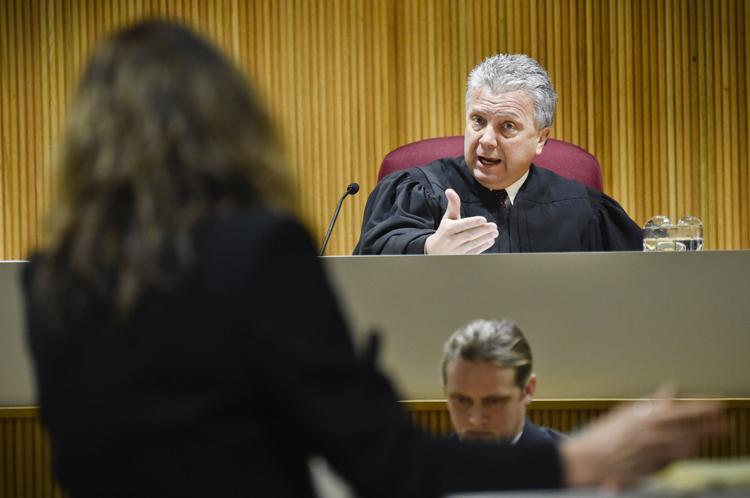 You have free articles remaining.
Maureen Lennon, with the Montana Association of Counties Defense Services, is representing Sheriff Darren Short. She argued that Ramon was not re-arrested.
Lennon also said the case is moot because Ramon has been sentenced and deported and the preliminary injunction and temporary restraining order no longer applies.
Rate did not disagree that Ramon's situation can't be changed, but said it's important the court give clarity because this is an issue Montana law enforcement will continue to face. There were 135 detainer requests in 2017 and 2018 in Montana, Rate said, and there have been three known cases involving people who challenged being detained.
Rate said it's unclear what has happened in other detainer requests, but that many defendants are not aware of their rights or do not have interpreters who can help them understand the process.
In Montana in 2017, the state Supreme Court dismissed a petition from Arturo Valerio-Gonzales, who was placed on a detainer in Gallatin County while awaiting trial on misdemeanor sexual assault charges. The court said that because Valerio-Gonzales was in federal custody, his appeal was moot. Another case, also from Gallatin County and involving Luis Suto-Lopez, is also pending.
Lennon says it's impossible to know what would have happened if Ramon posted bond or if he would have been picked up by border patrol agents. She also argued that on volume alone, there were not enough detainer requests to make the issue qualify as of significant public concern, which would spur the court to weigh in. Justice Laurie McKinnon, however, said that one individual who is detained and deprived of freedom is of significant public interest.
Rate and Galindo did not try to argue about the legality of ICE detainers generally, but Lennon said the case fits within an overall effort by the ACLU to oppose detainers.
"I don't think it's any secret that this is a whistle stop along the way, (that) the ACLU is going from state to state to get state courts, based on state law, to find these immigration detainers unlawful," Lennon told justices.
Rate responded after the hearing, acknowledging there are several cases pending around the country but saying the ACLU is trying to assist people.
"If we're going to be faulted for representing people in need and marginalized folks who are being held illegally, then I'm perfectly happy to take that fault," Rate said. "Yes, there have been multiple challenges across numerous states across the country, some of them brought by ACLU, some of them brought by others. ... Whether or not this is a whistle stop, we're just trying to do right by folks who need help."