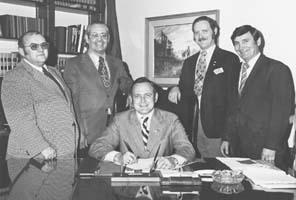 HELENA — Former Gov. Thomas L. Judge, the youngest person ever elected governor of Montana and its chief executive when the state enacted a number of tough environmental protection laws in the 1970s, died early Friday.
Judge, 71, died at the Chandler, Ariz., Regional Hospital at 1 a.m. of complications from pulmonary fibrosis related to the rheumatoid arthritis he had suffered, his son, Patrick, said Friday from Arizona.
Judge's body will lie in state in the Montana Capitol rotunda on Wednesday. The funeral Mass is set for 10 a.m. Thursday at St. Helena Cathedral, with burial at Resurrection Cemetery.
The family suggests memorials to the Montana History Foundation, which raises money for Montana Historical Society projects, P.O. Box 863, Helena, Mont. 59624; Montana Shares, P.O. Box 883, Helena, Mont. 59624 or to any other charities of donors' choice to help benefit Montana's people, place or culture.
Gov. Brian Schweitzer ordered state flags to fly at half staff until sunset Thursday.
After serving in the state House and Senate for eight years, Judge, a Democrat, was elected lieutenant governor in 1968. Judge defeated Ed Smith, a legislator and farmer from Dagmar, in 1972 to win the governor's job when he was 38.
"It was a time the liberal movement was at its glory, and I was a moderate-conservative, so I guess that didn't fit much at the time,'' Smith said, adding that he never got to know Judge very well, but calling him "a good campaigner.''
Four years later, Judge was handily re-elected in an unusually bitter race against Republican Attorney General Robert L. Woodahl.
In 1980, Judge failed in a try for a third term as governor, losing to his own lieutenant governor, Ted Schwinden, in the Democratic primary. Voters thwarted his bid for a political comeback in 1988 by electing Republican Stan Stephens, a Havre legislator and broadcaster, as governor.
After leaving politics, Judge sold real estate and securities, although declining health forced him to live part of the year in Arizona.
Judge presided over Montana at a time when its economy was booming from natural resource development and agriculture. Besides signing a number of environmental laws, Judge pushed for a large increase in spending in the state's long-neglected institutions, where critics said the mentally ill and developmentally disabled had been "warehoused.'' He used federal revenue sharing funds to build the new men's prison outside of Deer Lodge, ending the use of a dungeon-like fortress downtown.
At the same time, personal controversies dogged Judge. He came under withering attack from critics who questioned his ethics, his frequent out-of-state and out-of-country travels and his unbridled ambition and self-promotion. He turned himself in for illegally shooting an elk in 1974. Judge's first marriage broke up in the late 1970s, and the couple divorced.
A cloud hung over Judge because he was never able to account for $94,000 in donations and $81,000 in expenditures that went unreported in his 1972 campaign. Judge said it was a bookkeeping error by the campaign, that all money was spent on the campaign and that "there was not one nickel that ever went into my pocket.''
Judge was proudest of Montana's coal severance tax he signed into law in 1975. It set the tax rate at 30 percent of the value of the coal the highest rate in the country and set aside half the proceeds for a permanent coal tax trust fund. The coal severance tax trust fund and related funds created from it now total more than $706 million. Interest from these funds helps many state and local government programs.
Midwestern utilities that bought the coal challenged the severance tax in the courts and before Congress. The U.S. Supreme Court ultimately upheld Montana's right to levy the tax.
Judge later called the enactment of the 30 percent coal severance tax "the most significant piece of legislation enacted in Montana in this (20th) century,'' historians Michael P. Malone, Richard B. Roeder and William L. Lang wrote in their 1991 book, ''Montana: A History of Two Centuries.''
As governor, Judge also signed a number of significant environmental bills into law to implement the 1972 Montana Constitution's right to a clean and healthful environment and to protect the state during the energy boom of the 1970s. They included: the strip mine reclamation act; major utility siting act; subdivision regulation act; stream bank protection act; tougher clean-air and clean-water laws, hard rock mining act, Montana water use act and the Montana Environmental Protection Act.
Schweitzer said Judge was governor "during one of the most transformative eras in Montana.''
"He was an aggressive and progressive leader,'' Schweitzer said. "It was a time when things were happening.''
Schweitzer called Judge "a mentor to a lot of us.''
"Tom Judge was the most aggressive governor in my lifetime,'' said Pat Williams, a former nine-term Democratic congressman. "He came along in the heyday of progressives and was one. Interestingly, Tom was able to unite some of Montana's conservatives, particularly business conservative factions with progressives in order to get his policies accepted.''
Schwinden said, "Tom ought to be recognized as one of the more progressive governors of Montana.''
He said Judge led Montana during the second phase of the transformation of Montana's governmental structure that began under Gov. Forrest H. Anderson, "continuing that progressive wave that swept Montana in the late '60s and early '70s.'' While Anderson had pushed for passage of the 1971 executive reorganization law and 1972 constitution, Schwinden said, Judge signed into law the list of environmental laws.
Stephens, who defeated Judge in 1988, remembered Judge as "a real gentleman'' in the campaign.
"Our friendship continued long before and long after that,'' Stephens said. "He'll really be missed. He made his mark on Montana, and I think it was a good one.''
U.S. Sen. Max Baucus called Judge "a good man who served Montana well for many years.'' As the youngest governor, Baucus said Judge "helped draw more young people into public service, many of whom are still serving today.''
Former Chief Justice Jean Turnage, a Republican who served with Judge in the Legislature, called the former governor "a reasonable person who was good to work with.''
Jim Murry, who headed the Montana AFL-CIO then, said, "Tom Judge had some problems, but all in all he was one of the best governors Montana ever had for workers.'' Under Judge, Montana had some of the nation's best workers' compensation and unemployment compensation laws.
Former Secretary of State Bob Brown, a Republican legislator when Judge was governor, said, "He was very approachable. He was a philosophical liberal, but he was more open to solutions than confrontations.''
A Helena native, he was son of Thomas P. and Blanche Judge. His father was a civil engineer, while his mother was a dance instructor.
Judge was a 1953 graduate of Helena High School and a 1957 graduate of the University of Notre Dame. He served as a
officer in the Adjutant General Corps of the U.S. Army. When he returned to Helena in 1960, Judge set up an advertising and public relations firm that he owned until 1980.
Judge married Carol Anderson in 1966 and they divorced in 1979. The couple had two sons, Thomas, 39, now of Menlo Park, Calif., and Patrick, 36, of Helena.
The former governor married Suzan Koch in 1981, and they separated in 2003.