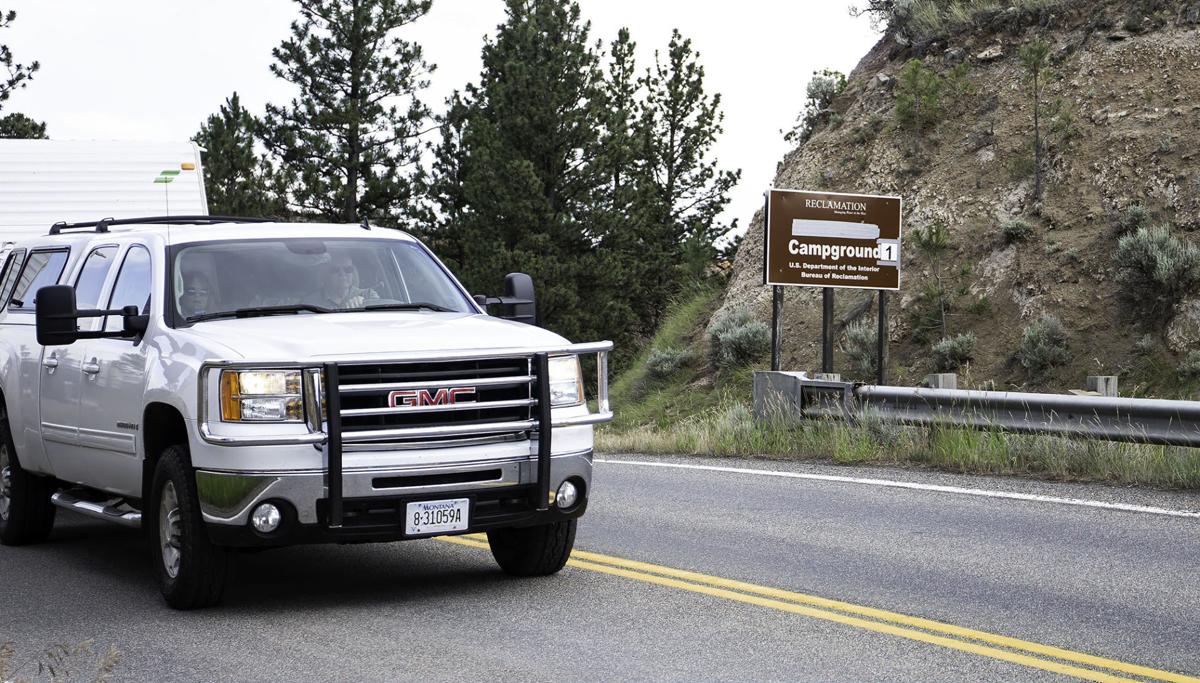 Documents released by the U.S. Bureau of Reclamation on Thursday say that agency leaders including Commissioner of Reclamation Brenda Burman ordered the renaming of two campgrounds on Canyon Ferry Reservoir and that local officials were inundated with comments and complaints but not permitted to release a statement until the agency reversed its decision.
"We have reviewed public inquiries concerning the names of two campgrounds. Considering today's national conversation on race, we want to be sensitive and responsive to these concerns and take the correct steps to rectify any outdated and offensively named locations," an internal bureau memo states.
On its website in early July, the bureau said it temporarily changed the names to Campground 1 and Campground 2 until new names could be decided but made no announcement about the decision.
"The Bureau of Reclamation will be retaining the historical names of Chinamen's and Confederate campgrounds in the Canyon Ferry Recreation Area based on local feedback. We are conscious of the recent national dialogue on inclusion and consider diverse perspectives to ensure our facilities are welcoming for all visitors," Regional Director Brent Esplin said in a July 8 statement.
The bureau denied a request for an interview and spokesman Tyler Johnson said the agency would be making no further statements on the matter. However, documents released Thursday show Johnson earlier recommended the bureau release a statement after the initial decision to rename the campgrounds was issued and offices were inundated with calls and emails.
Most of the correspondence opposed the measure to rename the campgrounds citing their history or criticized the process which did not include pre-decision public feedback. Documents show a handful of supporters for the renaming.
"A short description of the name change process we are planning, that includes public input, would help tamp down the growing negative public sentiment," Johnson wrote in an internal email. "We remain in a high reputation risk, low public trust environment on this issue."
In another internal email, Davies noted that local employees were receiving backlash due to local media reports, saying, "They continue to be in a bad situation."
Documents say that after the decision to retain the names, the bureau proposes placing interpretive signage.
"For now, based upon local input and the historical and geographic references of the campground names to locations, the original names will remain," an internal memo states in relation to whether the names will be reconsidered again. "Reclamation has an interpretive sign at Chinamen's Campground and will develop an interpretive display for Confederate Campground that tell the story of how these were named."
While the term "Chinaman" is defined as a native of China, its use has been considered racist in some contexts due to historic derogatory references to Chinese people or people of other Asian descent. Dictionaries note the term as offensive.
The term is used for several area place names near Canyon Ferry, including Chinaman Gulch and Chinaman Cove.
The Chinese were one of the largest groups of immigrants that came to Montana largely as laborers after gold was discovered in the 1860s. That included mining on a number of Helena-area gold strikes.
By 1870, Chinese numbered in the thousands and made up nearly 10% of Montana's population, former Montana Historical Society historian Ellen Baumler told the Independent Record in 2015.
By 1882 the Chinese Exclusion Act prohibited not only Chinese workers from immigrating to the United States, but also prevented Chinese men who were already here from bringing their families, Baumler said. It also greatly limited the number of Chinese women immigrants to the United States. The law remained on the books until 1943.
The area at one time included Diamond City, the county seat of Meagher County and home to more than 10,000 people. It wasn't uncommon while panning in the area to come away with more than $1,000 of gold in a single pan, according to a previous Independent Record story.
When the gold ran out, the people left. By 1880, there was virtually no one left living near the gulch or seeking gold there. Today a small service road, Confederate Gulch Road, runs parallel to a small creek that empties into Canyon Ferry Reservoir near Confederate Campground.
Reporter Tom Kuglin can be reached at 447-4076 @IR_TomKuglin
Be the first to know
Get local news delivered to your inbox!