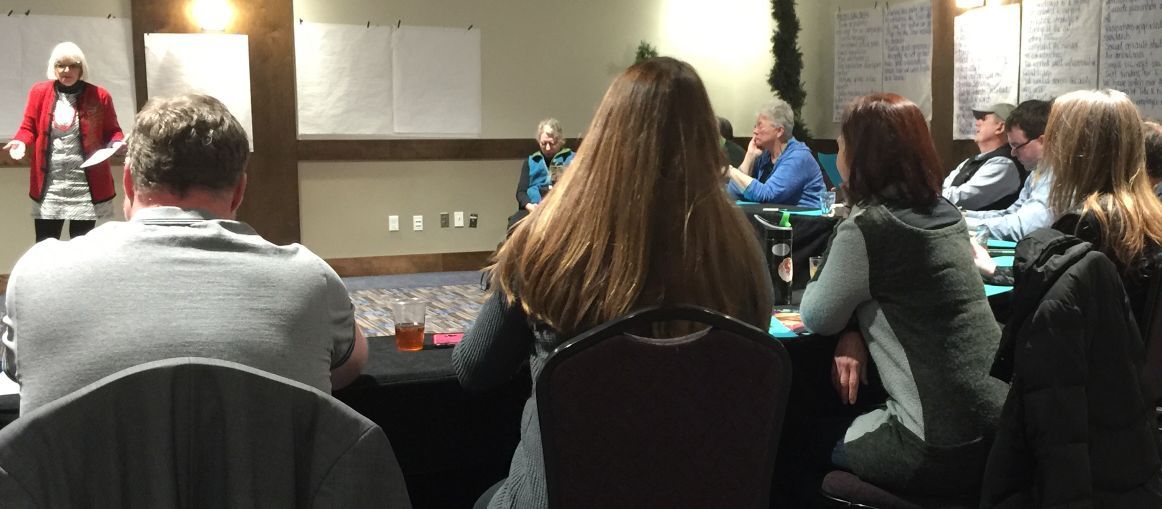 When Democrats in the Montana Legislature started talking about goals for the 2017 session on Saturday, the first word to go up on the flip board was — predictably — "Infrastructure."
But it was not the only word. The minority legislators were not short on ambition as they enumerated dozens of potential legislative goals — amounting to a full-throated endorsement of government as a force for progress.
The hard work would come later, as the group — consisting of about two dozen of the 41 House Democrats and half a dozen of the party's 21 senators — began to whittle the laundry list into a more focused set of priorities.
The six most urgent subjects for legislative action they came up with by Saturday evening: infrastructure, energy policy, business assistance, education, the justice system and workforce development/investment.
As the Democrats gathered at Fairmont Hot Springs Saturday morning, the vibe at first was more like a class reunion than a work session as members exchanged hugs and asked after each other's families. Many had not seen each other since the Legislature adjourned last April.
The session began with a greeting from Lt. Gov. Mike Cooney, who congratulated the legislators on what they accomplished in the last session and exhorted them to "partner with us in the governor's office" to make the next session a success.
"Look at all we accomplished," Cooney said, then corrected himself: "I shouldn't say 'we,' because I didn't have a damn thing to do with it." Cooney was appointed a little more than a month ago as Lieutenant Governor after the resignation of Angela McLean.
"You have to run. You have to get elected. And nobody knows better than you the issues you have to focus on to do that," he said. "But remember, in 1992 when he was working on Bill Clinton's campaign, James Carville had a little sign in his 'war room' that said, 'It's the economy, stupid.'
"Currently, our economy is very strong," he said. "More Montanans are at work than ever before. We have been raising wages, and we've seen very strong business and labor growth. The state is No. 1 for entrepreneurial activity per capita for the third year in a row … We're no. 1 for fiscal prudence … We're the best state in which to pursue the American Dream."
Cooney said, "I'm sick and tired of the negative tone of politics. It's easy to be critical and hard to be thoughtful.
"We Democrats take governing seriously. There is a role for government. We want government to do good things for people."
Ali Bovingdon, Gov. Steve Bullock's deputy chief of staff, and Dan Villa of Anaconda, the state budget director, also spoke briefly. To Cooney's list of accomplishments, Villa added the fact that the state has seen a 0.8 percent reduction in the growth of government. "We're moving toward the session revenue-strong," he said.
The legislators then drew up a lengthy list of accomplishments to build on from last session and another list of assumptions regarding external factors they would be dealing with between now and the 2017 session before getting around to listing goals.
Among the accomplishments: "Health care reform, dark-money bills, water compact, mental-health funding, holding our ground on charter schools, froze college tuition, balanced budget — state in the black." Also, the Dems said, they "worked across the aisle," but also "dominated the messaging on infrastructure, even though we lost the bill."
They also listed: "Civil asset forfeiture reform, fended off assaults on reproductive rights, upgraded vaccination standards, guns on campus disallowed, suicide prevention bill, study on concussions, bill to preserve Native languages, Jonathan Motl confirmed," among others.
"The R's can't make a list like this," facilitator Beki Brandborg said.
Then came the list of goals: After infrastructure, the suggestions came thick and fast as Brandborg struggled to write them down in real time:
"Support labor, reform justice system, fund public education, early education, workforce development investment, economic security for all, preserving access to public lands, equal pay for equal work, investment in Montana business, an energy policy to benefit the state, quality affordable child care, mandated paid leave, access to justice, extended education eligibility for children with disabilities, rural broadband, tax relief for low-income families, a clean and healthful environment," on and on.
While there was wide agreement on many goals, regional priorities occasionally came to the fore.
When Brandborg asked, "Have you listed all the goals that you are most passionate about?" Sen. Jim Keane shouted out, "Economic development for Butte!"
The Democrats' caucus will wrap up with a three-hour session Sunday morning.
"We Democrats take governing seriously. There is a role for government. We want government to do good things for people."

— Lt. Gov. Mike Cooney