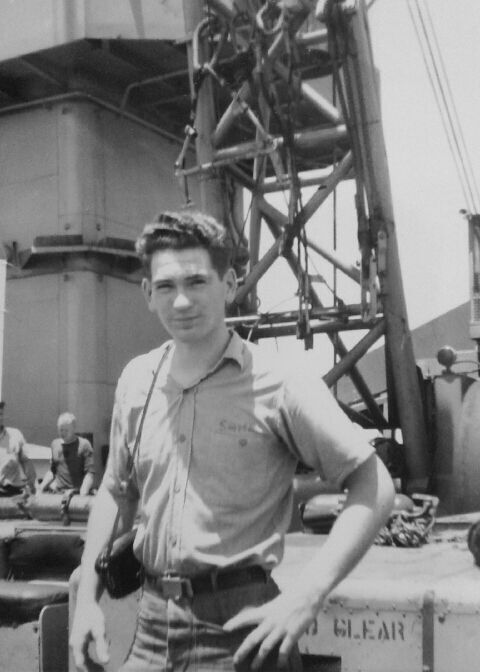 James Gordon Smith doesn't have COVID-19, but his daughter is convinced it's killing him anyway.
"There's going to be a lot of veterans like my dad dying in hospitals who are not going to get the care they need to prolong their lives or even save their lives," Stephanie Smith said.
Her problem: She knows her dad served on Navy ships before and probably during the Vietnam War but can't prove it in order to get him into the state veterans system. James Smith never filed for veterans' benefits that would have verified his service.
The National Archives' National Personnel Records Center in St. Louis probably has the proof Stephanie needs. But the pandemic closed it down in March, and it's only slowly reopening.
"If he didn't use benefits, he's not in the online system, and with the National Archives being shut down, it's a real problem to get them," Stephanie said.
James Smith and his ex-wife raised three children in Missoula. He worked for years at area lumber mills. Like many war veterans, he shared few details of his service in the Navy. At 76, he suffers from Alzheimer's disease, a form of dementia, and, his daughter suspects, from post-traumatic stress disorder.
Studies have shown that victims of PTSD have a nearly two-fold higher risk of developing dementia than those without it.
Smith has been committed to the Montana State Hospital in Warm Springs twice in the past 3½ months. The first time was on April 20, more than a month into the coronavirus scourge in the U.S. It's neither the place he wants to be nor where Stephanie believes he needs to be for proper treatment.
"Warm Springs is not a place for recuperation," she said. "The doctor's report when he was going in the first time was that he was perfectly ambulatory and had a steady gait. He came out in a wheelchair."
Tests at St. Patrick Hospital indicated that Smith had several strokes while at Warm Springs. Yet when he became delusional and combative at the Missoula hospital, he was sent back to the state facility in early July.
"Obviously people don't want to be in a hospital," Stephanie said. "In his mind he thought he was being kidnapped (at St. Pat's) and so he yelled out he was being kidnapped. That's when they took him away to Warm Springs. I think he's going to die this time around. He almost died the first time."
She does not fault caregivers at St. Pat's or at Warm Springs, who she said are doing yeoman's work to keep COVID-19 outside their doors.
The National Archives' National Personnel Records Center in St. Louis ceased operations on March 23 due to the pandemic that hammered the area.
One of its many services, and the one Stephanie Smith is looking for, is verifying military service as a central clearinghouse for all branches of the Armed Forces.
Kate Hahn, veterans service officer in Missoula for the Montana Department of Military Affairs, helped her file two records requests to the NPRC earlier this summer. One was for his discharge papers and the other for his personnel file. James signed off on both requests when he was in Missoula.
Now, viewing the COVID situation and staff scale-back in St. Louis, they're trying for an emergency request, a DD-214, but need his authorization again. Hahn faxed Warm Springs last week to see if they could get it. Stephanie Smith said Friday she hadn't heard if the fax was successful.
"There are more than 1,000 federal employees and contractors from multiple agencies working in densely populated office space," the full-page statement says. "Cubicles are in close proximity to each other; work processes required frequent, close interactions with coworkers; and the servicing of most requests requires access to over 60 million paper records that are (1) stored onsite and (2) unable to be accessed remotely."
The records center was closed from March 23 to June 23. A limited number of essential staff reported on-site during that time to service urgent requests, "such as those involving homeless veterans in need of shelter, medical emergencies, and funerals for deceased veterans," the statement says.
In June, the NPRC entered into Phase One of a gradual reopening. Still, only 10% of the vast staff is back at work, and the center said operations "have been disrupted on multiple occasions due to exposures of staff. As the pandemic continues to spread in the local community, additional disruptions are expected."
Stephanie Smith was encouraged last week to learn that services will be expanded on Monday, Aug. 3. Now they'll include time-sensitive requests from veterans seeking VA home loan guarantees and jobs. And the Department of Veterans Affairs can obtain records on a temporary basis it needs to adjudicate benefit claims.
The records center says it doesn't have an estimate on when it will enter into Phase Two of reopening, at which time it expects to expand services to include all requests for military discharge papers.
"These are the documents most often needed by veterans for benefit claims and normally represent nearly half of the NPRC's workload," it says.
Even when Phase Two is entered, the center warns, it will take several months to catch up on the backlog of requests.
"We regret we are unable to provide a more optimistic forecast for the resumption of normal service levels," the records center message concluded.
Stephanie Smith holds no illusions that it'll be a simple process even when the center returns to full service. She has pursued other avenues, with clerks and recorders in Musselshell County, where she believes her father enlisted, as well as Missoula and Ravalli counties.
She's trying to contact by mail and email the naval base in San Diego, where her father has told her he was discharged. So far no luck.
Compounding the situation is Stephanie Smith's own health issues. She is recuperating from injuries she said she received while helping her father around his house in Missoula, and she's doing it in Allentown, Pennsylvania, where her ex-husband is battling cancer.
Smith has praise for her father's caregivers at Warm Springs and at St. Patrick Hospital. She's able to visit him by phone but not in person because of COVID-19 restrictions.
She doesn't feel it's an exaggeration to say her father is in danger of dying if she can't get him into Veterans Administration care.
"I know my dad," Smith said. "This is certainly causing him to lose his will to live, being there. He is bedridden and his prognosis is not very good. He feels like he's on his last legs.
"I just told him he has to survive this until I can get him into a veterans' home. It's totally tough. He said he's really having a hard time having to be stuck there. He doesn't want to die out there."
Stephanie is determined to get him the care he deserves.
"I've had people telling me to give up, to forget it, to just shut down" because of the coronavirus, she said. "I've just kept plugging away no matter how hard it is. I keep believing I'll get through to the National Archives, so I'm glad they're opening it up again. I was feeling so negative, like people really don't care."
Be the first to know
Get local news delivered to your inbox!