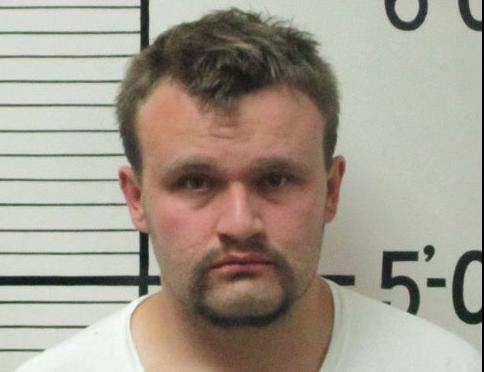 A man accused of fatally stabbing his grandmother in 2017 and later freed from a state hospital has been released from jail in Anaconda after being arrested this week for allegedly trying to strangle his grandfather.
Tyler Daniel Smith, 24, was bonded out by his mother Thursday night, but not before he was formally charged with attempted strangulation of a family or partner member. A conviction for the felony carries a maximum five-year prison term and fine up to $50,000.
The mother previously told police Smith tried to strangle his grandfather during an altercation over burned popcorn late Monday night, and referred to her son as a "ticking time bomb," according to charging documents.
The grandfather gave the same account, but on Tuesday, when officers talked to them again, they changed their stories.
"When (the grandfather) was asked about how the assault had occurred, he seemed upset about newspaper articles about the incident and denied that Smith had tried to strangle him," Ben Krakowka, the prosecutor in the case, said in an affidavit.
"This contradicted his statements and descriptions from the evening before," it says. The mother also "modified her version of events" to say no attempted strangulation occurred, which was "different than the explicit description she had provided the night before."
The charge was filed and Smith has been assigned a public defender in Anaconda. The Montana Standard left a voicemail at that office on Friday seeking comment.
Authorities and many residents in Anaconda were dismayed when Smith was released from the Montana State Hospital in Warm Springs in January. State officials said they couldn't lawfully comment on the situation, but said they only release people when doctors have determined they are not a danger to themselves or others.
But police say Smith, 24, assaulted his grandfather late Monday night in the same house where the grandmother was killed.
When informed of the developments, the Montana Department of Health and Human Services, which oversees the state hospital and its patients, said Friday the matter was no longer in its hands and it had no obligation to act.
"Montana State Hospital (MSH) does not hold jurisdiction over individuals until they are committed to us by the Courts, even if an individual is a former patient," DPHHS spokesman Jon Ebelt said in an email to The Montana Standard. "An individual would have to be re-committed by the Courts. Individuals are admitted to MSH through a court order issued by a judge.
"For someone to be re-admitted to MSH, there would have to be a court proceeding requiring a mental health evaluation or court-ordered treatment," he said.
Meanwhile, some residents in a Missoula neighborhood say Smith and his mother at times have been staying in neighborhood there.
"As the board president representing the residents of the Country Crest Home Owners Association, I am concerned regarding the current PFMA (partner-family member assault) allegations regarding Mr. Smith in Anaconda and the previous deliberate homicide charges," Philip Keating said in an email to the Standard.
According to the new charging documents, Smith called police late Monday night to say he had an altercation with his grandfather and officers met him on a street corner to talk more.
Smith said he was cooking popcorn at a house in the 400 block of Oak Street, burned it, and his grandfather "started to raise his voice" about how long he cooked it. Smith said he then had a panic attack and an altercation started.
The mother told police Smith had gotten upset, thrown popcorn all over the living room, threw a plastic bottle and knocked over a lamp. When the grandfather went to call police, she said Smith grabbed him by the neck trying to choke him.
The grandfather said when the altercation spilled to the floor, Smith ripped his shirt. The grandfather said he was concerned the attack would continue so he hit his grandson.
The mother said Smith eventually walked out of the house, slamming salt and pepper shakers on the sidewalk. She told police her son was a "ticking time bomb."
Authorities and many residents already were concerned about previous events.
Vicki Smith, 64, was stabbed to death at her residence in Anaconda on May 22, 2017. Tyler Smith, who was 21 at the time, was arrested soon after the stabbing and charged with deliberate homicide.
But defense attorneys for Smith sought a mental health evaluation of their client which was completed in November 2017. Its findings were confidential but pursuant to a judge's order, Krakowka had to drop the criminal complaint and pursue commitment through the Montana DPHHS.
Smith returned to Anaconda in January and was living in a house two blocks from an elementary school and a middle school. State officials said by law, they couldn't even confirm Smith was at the hospital in Warm Springs, but did spell out some release protocols.
"Once MSH medical staff determine it is safe for a civilly committed patient to be released — meaning they are no longer a danger to themselves or others through extensive mental health treatment, then they are released," the agency said in an email to the Standard in January.
Krakowka was among several officials in Anaconda-Deer Lodge County who were dismayed when the state released Smith in January.
"Apparently, they have made the decision to release him," Krakowka said then. "I strongly disagree with their assessment of his dangerousness and their decision to allow him back in the community."