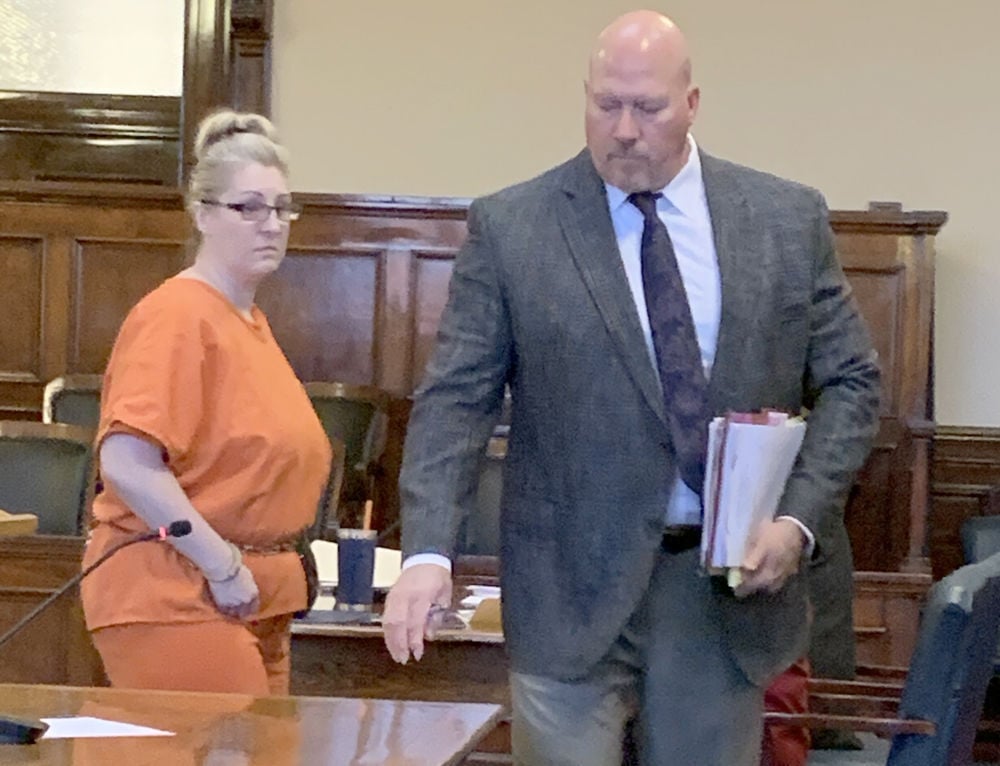 A prosecutor says she agreed to reduce criminal charges against a Spokane woman accused of stabbing a Butte woman last year, but the defendant has still taken "zero responsibility" for the crime.
So Prosecutor Kelli Fivey recommended that 42-year-old Shelley Marie Kroum get the maximum sentence allowed for assault with a weapon — 20 years in the Montana Women's Prison — and District Court Judge Kurt Krueger imposed it Thursday.
"She takes zero responsibility for what she did," Fivey said just before sentencing, with Kroum appearing from jail via videoconference. "She believes she was set up by the victim in this matter, which is disgusting."
Krueger sentenced Kroum to 20 years, with none of that suspended, but her attorney said she would be eligible for parole after serving a quarter of that time.
"You display no remorse in relation to this crime," Krueger said. "This was a very serious crime."
Kroum was initially charged with attempted deliberate homicide after allegedly stabbing a 39-year-old woman in the chest outside her Butte home the night of Sept. 1, 2019. That charge is punishable by up to life in prison.
According to charging documents, the victim said her boyfriend used to date Kroum but they had broken up about two months earlier. The man was jailed in Gallatin County when the stabbing occurred, and Kroum is married to someone else.
Kroum said she received a message from the victim about wanting to meet and talk, so she drove to Butte. The victim said she didn't send a message but agreed to meet anyway.
At the vicitm's apartment, Kroum said she still loved the man in question, "but the talk never got heated and no threats were made by either party," the victim told police.
The two prayed together and after about 30 minutes, walked outside along Jackson Street. The victim said Kroum put her arm around her, said, "I am so glad we could be friends," and stabbed her in the chest.
The wound was about 3 inches deep but the knife did not penetrate her chest cavity, so after receiving stitches at the hospital, she was released. Police recovered a knife blade and handle near the scene of the stabbing.
Over the next month, police talked to the victim, several others and Kroum before bringing her to Butte from Washington state on an arrest warrant.
Kroum told police when the two were walking, "she saw a dark figure come out from behind the bushes and she got scared and took off running to her car and then drove as fast as she could to get away from the area," according to charging documents.
Prosecutors say interviews with others and physical evidence paint a different story and Kroum in June pleaded guilty to assault with a weapon.
Fivey said the victim was probably "the most forgiving" one she had worked with in her 12 years as a prosecutor, and had agreed to the reduced charge "because she wanted the defendant to have a life after this."
But Kroum still hasn't taken responsibility, Fivey said.
"She came here with a knife in her purse with the intent to stab the victim and that is what she did," Fivey said.
Krouum's attorney, Palmer Hoovestal, said he was OK with the sentence because his client could take a number of programs in prison and would be eligible for parole in five years.
The crime was "exceedingly out of character" for Kroum, he said, and as a result of falling in love with a guy, had "lost everything," including her freedom and marriage.