A second man has been charged in a shooting in Shepherd early Monday that injured two.
James Armstrong Higgins, 39, appeared in court Wednesday after his Tuesday arrest. Justice of the Peace David Carter set bond at $100,000 and required GPS monitoring prior to release.
Higgins and Gregory Allen Johnson, 40, both face two counts of assault with a weapon.
The two are charged with shooting a 22-year-old and a 15-year-old who were inside a home Monday morning on the 8200 block of Bea's Lane in Shepherd. 
Sheriff's deputies were called to the scene shortly before 5 a.m.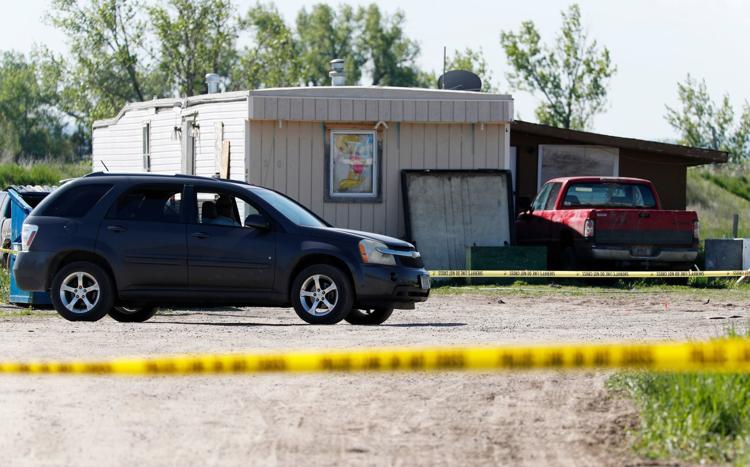 Johnson told investigators he was with Higgins, whom he called "Phatty," and one other person when he went to the Shepherd home to confront the 22-year-old man about a previous drug deal, charges state.
Five people, including a 2-year-old child, were in the home when Johnson's acquaintance entered and the shootout began, according to charges.
Johnson told investigators two other men with him had pistols and one of the men gave him a 9 mm gun, but he fired it only into the air during the shootout.
Johnson said one of the two men he was with went inside the Shepherd home and the 22-year-old fired at him, according to charges.
Johnson said his friend inside the home and the other man he was with returned fire. He said he only fired his weapon into the air but admitted to later stashing one of the weapons at his home.
The 22-year-old was hit by gunfire three times, according to charges: in the right arm, in the right chest or underarm, and in the back. 
The 15-year-old was shot in the left arm, by the elbow, charges state. The teen and his girlfriend were asleep at the time, his girlfriend told deputies. 
Police got a search warrant for Johnson's residence where they found a .40-caliber pistol matching the caliber and brand of a gun they believe was used in the Bea's Lane shooting, charges state.
Charges for Higgins do not indicate whether he made a statement to police.
The Yellowstone County Sheriff's Office said Tuesday it was following up on information that a third person ran from the shooting scene Monday.
On Tuesday, Higgins was arrested on the 100 block of Custer Avenue with a bullet wound to his left shoulder, charges state. A pickup parked in front of the residence had bullet holes, the charges note.