Butte police are looking for Marcus Sepulveda, 41, of Butte, who they suspect was the driver of a 2014 Subaru that hit and killed a 41-year-old male motorcyclist before fleeing the scene around 1:50 a.m. Friday.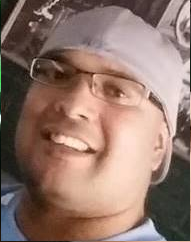 Police say Sepulveda is currently driving a Blue 2011 Ford F-150 pickup with Montana license plates 1-23955A.  
Police advise the public not to approach Sepulveda if he is located and to call them instead at 406-497-1120.
Earlier Friday, Lester urged the driver to turn himself in — and for anyone who knows who the driver might be to come forward. 
Police located the black 2014 Subaru XV allegedly involved in the incident early Friday afternoon after searching for it all morning. 
Police say a motorcycle and a passenger car were involved in the incident, which occurred on Dewey Boulevard just east of the intersection with Lexington Avenue at 1:53 a.m.
Both vehicles were reportedly travelling westbound when the car struck the motorcycle. 
Lester said there's no suggestion or information "either way" as to whether the victim and the Subaru driver knew each other. 
The male adult driver of the motorcycle was treated by fire rescue and ambulance personnel who arrived on the scene and was transported to St. James Healthcare, where he was pronounced dead shortly after arrival.
"There is quite a bit of evidence at the scene," Lester said, including pieces of the car that was involved. 
Lester said an eyewitness reported the accident. He also said police are seeking surveillance footage from business located near the site of the incident. 
Montana Highway Patrol is assisting in the accident investigation and reconstruction. 
"We're dealing with a death investigation," Lester said. 
And he urged anyone with information about what occurred to come forward.
"And of course, if there is anybody who's assisting this person in...concealing any evidence — obviously, it's a death investigation, so those offenses are serious offenses," Lester said.
Sign up for our Crime & Courts newsletter
Get the latest in local public safety news with this weekly email.