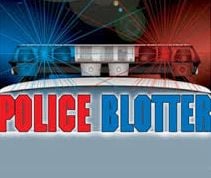 Privacy in communication
Police arrested a 58-year-old man on five privacy in communication warrants.
On Jan. 22, police said a woman reported that Michael Clifford, her ex-boyfriend, had sent her several unwanted text messages on two separate occasions. Four days later, the woman and a man reported Clifford had sent them more text messages, threatening to harass them by sending "gifts they would hate," police said.
Five privacy in communications arrest warrants, two misdemeanors and three felonies, were issued for the five separate series of text messages Clifford send to the woman and the man, police said.
On Tuesday, he was served with a restraining order and arrested on the warrants. Clifford was booked into the county jail that afternoon and released several hours later.
Meth in a pocket 
A 36-year-old woman was arrested Tuesday night after police found a baggie of suspected meth in her pocket.
Around 9 p.m., police assisted probation officers in a search of Joann Plummer, who was at the Town Pump on South Montana Street. Officers located a baggie of suspected meth in Plummer's left front pocket. She was arrested for felony possession of dangerous drugs and a probation violation.
Tobacco, marijuana in middle school 
Two East Middle School students were caught with tobacco products and marijuana on Tuesday afternoon.
According to police, the vice principal called officers down to the school to search a 13-year-old boy around 12:41 p.m., and a 14-year-old boy around 1 p.m. The 13-year-old had chewing tobacco on his person and the 14-year-old had a small amount of marijuana.
Both boys were cited for possessing the illegal items and their parents were notified, police said.
Sign up for our Crime & Courts newsletter
Get the latest in local public safety news with this weekly email.