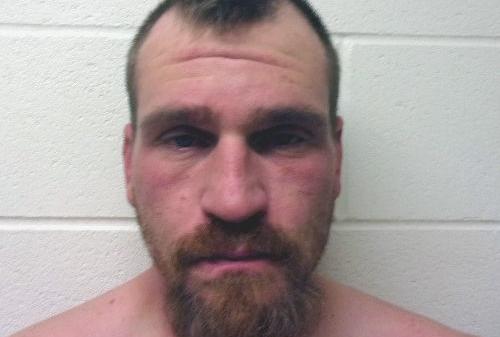 Police reports:
Out of control
A Butte man reportedly threatened someone with a gun, drove drunk, and then threatened officers and hospital staff before he was booked on five felony complaints.
Police were called to the 2800 block of Walnut Street around 3:10 p.m. Monday on a report that 37-year-old Jonathan David Carriger had just kicked in a front door and was yelling at a woman inside.
He was gone when officers arrived but they soon got a call about a man driving a tan truck recklessly on Grand Avenue and pointing a gun out the window. Carriger was behind the wheel and after first refusing to stop, did so in the 1200 block of Farrell Street.
While at the scene, another person told officers Carriger had threatened his grandson by challenging him to a fight and brandishing the gun. He was taken to jail but threatened officers there and refused to take a breath test, so he was taken to St. James Healthcare for a blood draw.
He threatened an officer there, said he would kill his family and threatened hospital workers. After the blood draw, he was taken back to jail and booked on five felony counts —three for intimidation, one for assault with a weapon and one for DUI, fourth or subsequent offense. He was also arrested for misdemeanor obstruction of a peace officer.
Assault in the street
An Anaconda man was behind bars Tuesday for allegedly assaulting and choking a girlfriend in the middle of the street.
Police responded to a reported fight between a man and a woman in the 900 block of 4th Street in Anaconda, but the man was gone when they arrived. During a follow-up visit around 2 a.m. Monday, officers heard yelling inside the house and knocked on the door.
A woman answered, said there was nobody else inside but allowed police to look for themselves. They found 37-year-old William Edward Johnson on the floor next to the bed and escorted him outside.
He admitted shoving his girlfriend but she told police he had thrown her down in the street and chocked her to the point of not being able to see. He was arrested for partner-family member assault and remained jailed late Tuesday morning with bail set at $25,000.
Wanted man from Wise River
Police were driving in the 700 block of South Washington Street around 9:40 a.m. Monday when they noticed a Wise River man working on a vehicle who was wanted for a parole violation. They stopped, arrested 37-year-old Tyler Bane Johnson for felony parole violation and took him to jail.
Sign up for our Crime & Courts newsletter
Get the latest in local public safety news with this weekly email.