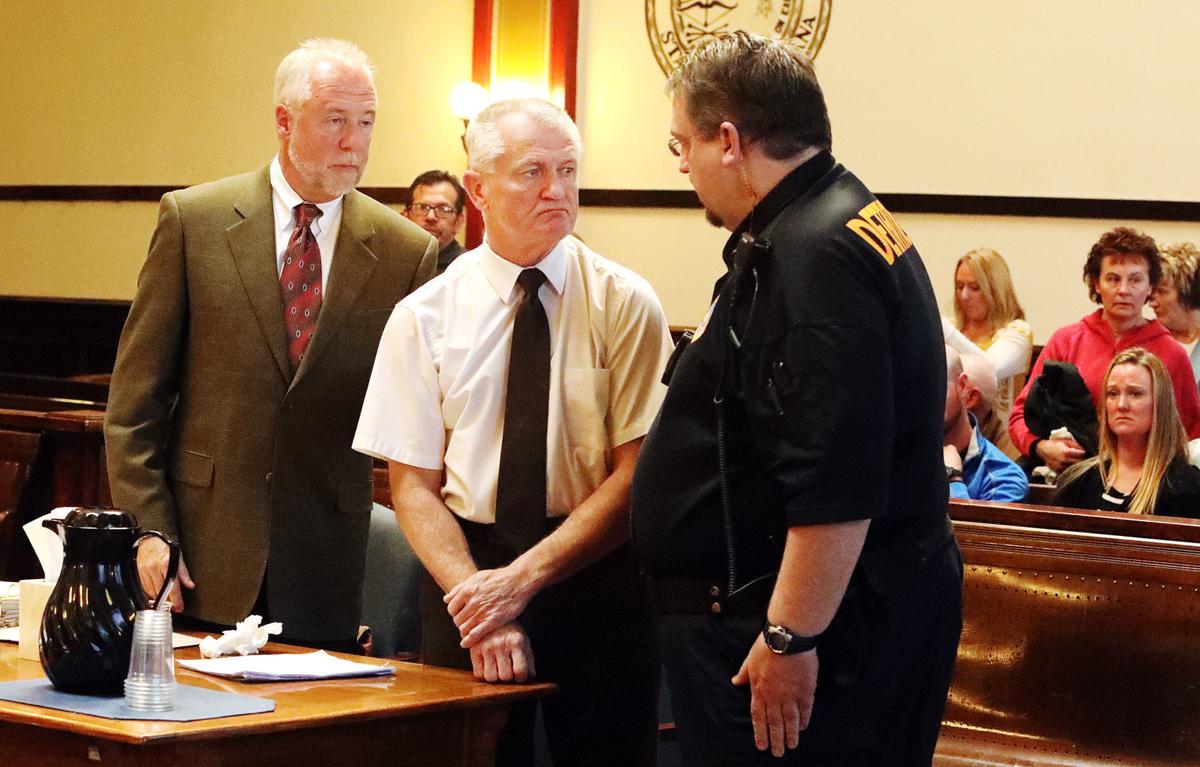 Before he was sentenced to 10 years in the Montana State Prison for sexually assaulting at least six women patients, longtime Butte physician Patrick McGree said he was sorry.
He apologized to everyone he hurt — his children, grandchildren, other family members, his profession and the whole community.
But he focused most of his apology on his victims, including three who were in the courtroom for Wednesday's sentencing hearing.
"I groomed you, I set you up over time and I misused you sexually," McGree said. "I used the faith and trust you had in me for my own self-pleasure. I misled you. I used your vulnerability to my advantage and I abused you.
"I want you to realize that I am the one responsible for these actions," he said. "You are not the reason for my actions. I wanted sexual activity. You did nothing to initiate or perpetrate my actions. It is not your fault."
District Judge Kathy Seeley, ruling from the bench in Butte, sentenced McGree to 20 years in prison but suspended 10 of those years. McGree will have to register as a sex offender when he gets out.
The sentence was exactly what was called for in a plea agreement between McGree and prosecutors and he was immediately remanded to custody and transported to the state prison in Deer Lodge following the hearing.
Mary Cochenour, a prosecutor with the Montana Attorney General's Office, said more than any other defendant in sex-offense cases she has handled, McGree accepted responsibility immediately. He also voluntarily spent 90 days in a sex-offense treatment program in Minnesota while his case was still pending.
But she said there had to be some prison time.
"You cannot go abusing people in your trusted position without some kind of punishment and seeing the inside walls of the Montana State Prison," she said.
"This was not a one-time crime," the judge said. "It was not one victim. It was not over five years. It was over many years that he did these things. I think there has to be punishment."
McGree, wearing a white, short-sleeved dress shirt and a black tie, spent most of the hour-long hearing at the defendant's table with his hands folded and his head down. He wept silently a few times.
Seeley is a district judge in Helena but oversaw the case because when charges were brought in late 2017, Butte's two district judges at the time — Kurt Krueger and Brad Newman — recused themselves.
McGree pleaded guilty to one count of sexual assault in January. He admitted to assaulting six women but as part of a plea deal, the assaults were consolidated into a single charge that carried a possible sentence of up to 100 years in prison.
McGree admitted to knowingly having sexual contact without the consent of the women during the course of treatment in an exam room, causing them to suffer forms of mental impairment.
He was charged in December 2017 with two felony counts of sexual intercourse without consent, three felony counts of sexual servitude for allegedly using prescription pain pills for coercion, and two counts of misdemeanor sexual assault. Those charges were based on interviews with three former patients.
In late December 2018, state prosecutors filed three additional felony charges against McGree after interviewing three more women who say he sexually assaulted them in his office. The assaults occurred between 2012 and 2017.
When initial charges were filed, McGree had been a physician in Butte for 31 years, working from an office on South Clark Street in recent years and also practicing at the North American Indian Alliance clinic in Butte.
In accusations that led to the initial charges, women patients said McGree felt and groped their private parts and penetrated two with his hands during exams that had nothing to do with those body parts, among other sexual acts.
The women, ages 37, 47, and 52, all had received prescriptions from McGree for pain medication. One said McGree groped her and was saying things like "Oh, so you need your prescription, you need your other refill," prosecutors said.
They said McGree told investigators he had become attracted to his patients and had felt breasts on six to eight occasions.
Two of the victims addressed the court Wednesday and one had a victim advocate read a letter she had written.
One who spoke said she had left a bad marriage because of sexual abuse, had sought help for that, gotten better over the years, "and now I'm back to square one." She also said she was not a drug addict and didn't believe any of the victims were.
Another victim said she went to McGree after an auto accident and trusted him only to be sexually assaulted. It still affects her, she said.
"I won't go into a doctor's office without someone with me and the door open and I still don't get out in public like I used to," she said.
She also told a courtroom packed with people, including many of McGree's relatives, that many in Butte simply could not believe he could commit such offenses.
"I knew better," she said. "I sat struggling with it. I feel vindicated that he has pleaded guilty and I feel like maybe now after three years we can start the healing process. But I think he needs to be punished."
Cochenour, the state prosecutor, said three victims who did not appear in court submitted letters but did not want McGree to do prison time.
McGree's attorney, John Smith of Missoula, said the word that best describes his client now is "contrition" and "being humbled by guilt." He said he accepted responsibility from day one, voluntarily sought treatment in Minnesota and was OK with prison time.
"Patrick accepts his punishment," Smith said. "He is ready to do his penance."
McGree's brother John said Patrick was a "good man who has made mistakes." Despite them, he said, his brother had been a dedicated doctor who gave physicals at schools, took care of the elderly in rest homes and took care of people who couldn't afford to pay.
"He was incapable of introducing himself as Dr. McGree — just Pat. Humility was his hallmark," John McGree said.
Patrick McGree's son, Kyle, said he was heartbroken for the victims, everyone in his family and the 40-year marriage between his mother and father that was now over.
"I want to make it clear that I don't condone the behavior that my father has admitted to and I'll never understand how it got to this point in his life," Kyle McGree said.
"He is a broken man. We want him to receive treatment and come out on the other side less broken."
Sign up for our Crime & Courts newsletter
Get the latest in local public safety news with this weekly email.