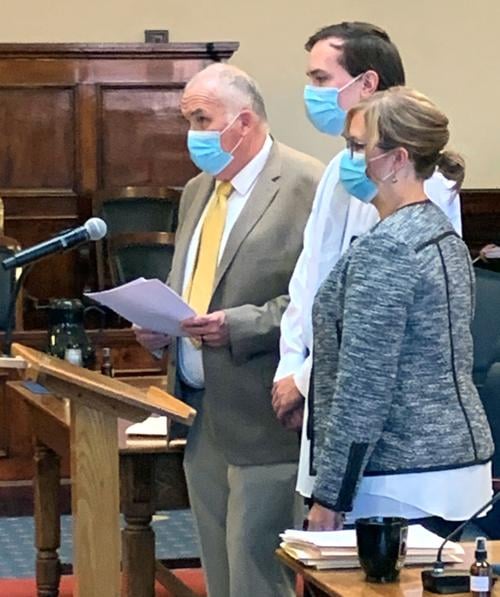 A Butte man behind an active-shooter ordeal in Uptown Butte pleaded guilty Thursday to kidnapping, assault with a weapon and criminal endangerment, but prosecutors dropped 11 other felony counts.
Travis Ian Hunter, 30, admitted to firing shots while inside the Synesis 7 building on Dec. 27, 2018, risking the lives of several people and police officers, and restraining at least one person by threatening physical force.
He was initially charged with 10 felony counts of assault with a weapon, three counts of criminal endangerment, and one count of kidnapping. He could have been sentenced up to 240 years if convicted on all those charges.
He pleaded guilty to three counts in a deal with prosecutors, and the kidnapping conviction carries a minimum two-year prison term and maximum of 10 years. Assault with a weapon is punishable by up to 20 years, with a 10-year maximum for criminal endangerment.
District Judge Kurt Krueger accepted the pleas, ordered a presentence investigation and allowed Hunter to remain free after previously posting $150,000 bond.
The incident in late 2018 began when Hunter entered the lobby area of the Butte-Silver Bow Law Enforcement building, pulled out a 9mm handgun and yelled that he was in danger and needed help, authorities say.
He then crossed the street, went inside the Synesis 7 building and pointed his handgun at a man, saying he was "being chased by three assassins and he was going to shoot anybody without a badge." He then fired the gun several times and jumped out the window.
Hunter took months to recover from his injuries and he eventually pleaded not guilty to the charges last December. He was released on his own recognizance but was later arrested for violating bail conditions by contacting a victim through Facebook.
Bail was then set at $150,000 and Hunter posted bond.
Sign up for our Crime & Courts newsletter
Get the latest in local public safety news with this weekly email.