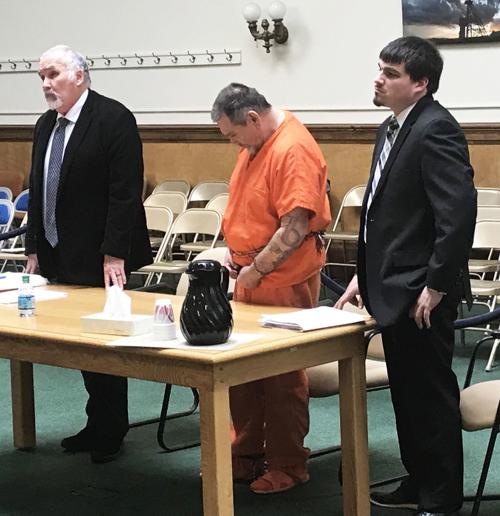 A judge sentenced a Lake County man to 30 years in prison Wednesday for sexually assaulting a 6-year-old girl in Butte and tacked the sentence onto remaining time for previous crimes, meaning Donald Dale Gingras will likely die behind bars.
That's what Samm Cox, the chief prosecutor in the case, wanted.
"He was already on parole when he committed this offense," Cox told District Judge Robert Whelan before the judge agreed to his sentencing recommendation.
Gingras, 60, pleaded guilty in February to sexually assaulting the girl when he visited the girl's grandmother in Butte on Oct. 25.
Whelan sentenced Gingras to 100 years in prison but suspended 70 of those years. But because of the girl's age, he cannot be paroled for at least 10 years.
He also had numerous years left on a previous 75-year sentence for attempted homicide in 1991 after a stabbing in a Kalispell bar. He already had violated parole on that conviction once before he did so again by assaulting the Butte girl.
His public defender, Walter Hennessey, asked Whelan to make the 30-year term concurrent to remaining time for the previous offense. But the judge added the years instead, which is what Cox wanted.
"I want him to be in prison the rest of his life," Cox said after Wednesday's sentencing hearing.
Gingras has a lengthy criminal record and and served more than 20 years in prison before last being paroled in 2014.
Prosecutors say Gingras was living in St. Ignatius, 75 miles south of Kalispell, when he visited the girl's grandmother last October. The grandmother said he was a family friend, so she let him sleep on the couch that night, with the girl in another room.
A few days after his visit, the 6-year-old girl described a sexual assault to her grandmother, who went to police with the information. The girl said Gingras told her not to say anything but she later told her grandma everything and also told a teacher, prosecutors say.
A Butte detective went to Polson on Nov. 9 to speak to Gingras with his probation officer present, prosecutors say. Gingras said that during the night in Butte, he awoke to find the girl on top of him "trying to kiss him like a woman would kiss a man and was naked."
Gingras initially denied all of the acts alleged by the girl and said he got out of the house as soon as possible the next morning because he was uncomfortable with the situation.
But he was ultimately arrested and charged and later pleaded guilty to sexual intercourse without consent.
Sign up for our Crime & Courts newsletter
Get the latest in local public safety news with this weekly email.