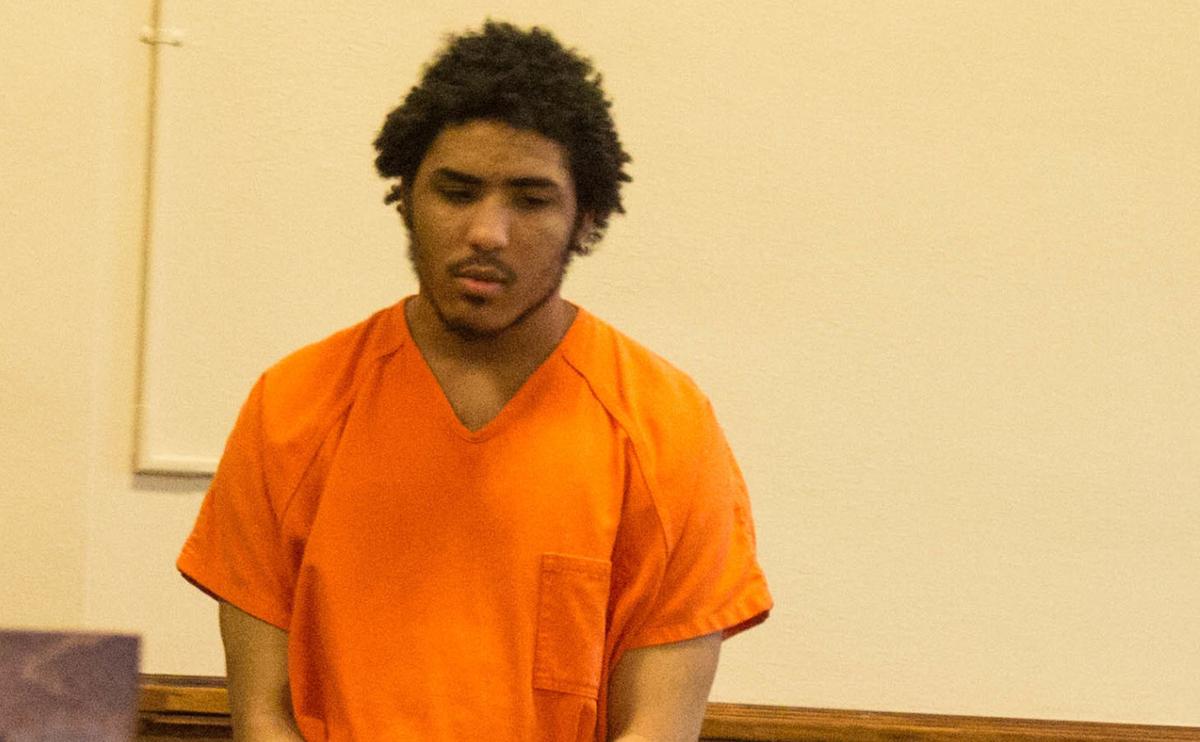 Baby Devine Wilkins appeared April 16 before Judge Ray J. Dayton to change his plea from "not guilty" to "guilty" of possession of a deadly weapon by a prisoner and two counts of assault on a peace officer or judicial officer.
On Tuesday, Wilkins appeared again in Powell County District Court for his sentencing hearing related to these three felony charges.
Last spring, Wilkins was a prisoner in the Montana State Prison serving time for crimes he committed in 2016, including robberies in Missoula and Idaho, and an assault on a Missoula County detention officer.
The new charges against him stemmed from an incident in May 2018, where he brandished a "manufactured weapon out of sharpened metal" and lunged it at corrections officers through the bars of an enclosed showering area. The corrections officers were not injured, but the three felony charges were filed against him.
During Tuesday's sentencing hearing, the court heard about other infractions involving Wilkins while at the Montana State Prison.
Deputy Powell County Attorney Patrick Moody called to the stand James Jess, an probation and parole officer at the Montana State Prison, who testified that over Wilkins' roughly 14 month stay at the prison, he was found guilty through internal hearing processes of 32 different violations, ranging from refusing to follow direct orders and covering his cell window, to being caught with detailed instructions on how to make a pipe bomb and having a note suggesting that prison inmates should start a riot.
"I've been doing this a lot of years and over 30 major infractions is pretty tough," Jess said to the court. He also noted it's an average of more than two every month Wilkins was at MSP.
Moody also called to the stand Jeffery Crowe, a lead DOC investigator, to talk about the shank Wilkins jabbed at officers last May.
"It's one of the better shanks I've seen," Crowe testified. "A lot of times you see smaller shanks made out of disposable razors. This was a piece of metal made into the shape of a long knife."
The metal shank was presented to the court in a clear, test tube-like container.
After Crowe and Jess testified, Moody and Wilkins' public defender, Sean Peterson, gave their sentencing recommendations before Judge Dayton made his final decision.
"This is one of the deepest, darkest paths I've seen in awhile … we have to acknowledge the severity of his crimes but also the potential for the human he can possibly be," Moody said.
Moody said he felt the sentence that would both acknowledge his past actions and potential future was 25 years in prison, with 10 of those years suspended. He explained with this sentence, Wilkins could be eligible for release on parole after serving about three years in custody, but if he "continues on an assaultive path," he could serve the full prison sentence.
Peterson's sentencing recommendation was similar to Moody's. He suggested Wilkins serve 15 years in prison with 5 years suspended, meaning he could be eligible for parole after serving about 2 years in custody.
But before he presented this recommendation, Peterson told the court about Wilkins' background of being in and out of youth facilities since he was 13-years-old. At 5-years-old, he was diagnosed with autism, cerebral palsy, and ADHD. At 13, he inflicted harm on himself, and two years later was diagnosed with bipolar disorder, Peterson said. 
"Mr. Wilkins has seemed to have had his mental health problems addressed haphazardly," Peterson said. "He's had no specific diagnosis, there's a new one every time he goes."
Peterson said he felt his sentencing recommendation was an appropriate measure of punishment and could also help Wilkins turn some of his problems around.
After a few minutes of silence, Dayton talked through his thought process.
"Wilkins is definitely a danger to the community at large. For as long as he's been able to project himself toward others, he's been violent toward others," Dayton said. "… Not to say Mr. Wilkins could not change."
Dayton said he believes Wilkins can make decisions for himself, and that so far in his life he's decided to commit crime. But the only evidence Dayton said he saw for Wilkins to live a more normal life was the fact that he's been a "model citizen" at the Powell County jail recently.
"I guess he's demonstrated he can go a couple of months in custody and not commit a crime, but that's as close to a shred of hope that I see," Dayton said. "No one asked to max this guy out, and I don't want that either."
Dayton took Moody's advice and sentenced Wilkins to 25 years "in a prison to be determined by the Department of Corrections," with 10 years suspended.
"Mr. Wilkins, I hope some day the light will go on for you so you can be a normal and free guy, but as long you continue to act the way you have, you're never going to get out. You're going to live rest of your life in prison," Dayton said before Wilkins was escorted out of the courtroom. "I do wish you good luck."
Sign up for our Crime & Courts newsletter
Get the latest in local public safety news with this weekly email.