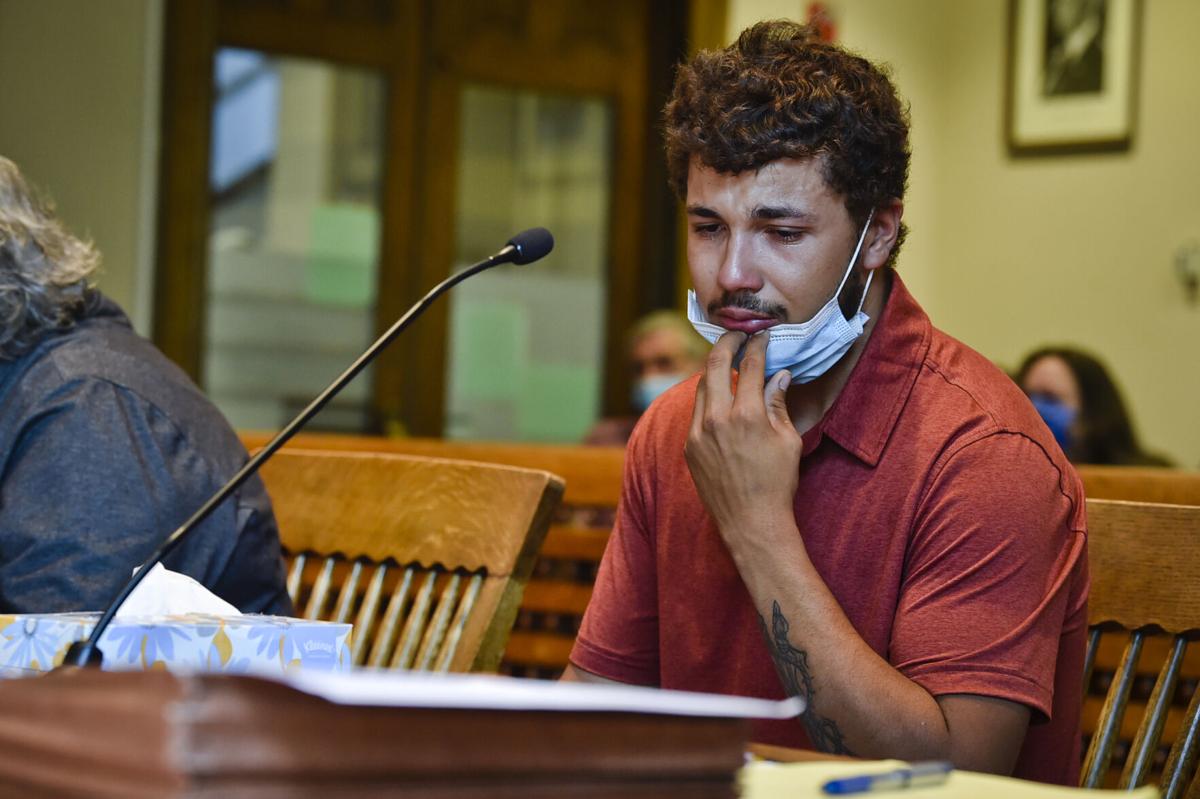 A grandmother stabbed 11 times by her grandson said she loved him and forgave him in Lewis and Clark District Court on Wednesday as attorneys and the judge said they had never seen a case like it.
Austin was arrested at a relative's house in January after stabbing his grandmother and causing potentially life-threatening injuries. Authorities determined that she was sitting on the couch watching TV when he stabbed her multiple times. Law enforcement recovered the weapon and Austin's relatives told law enforcement he admitted to hurting his grandmother.
Austin pleaded guilty to the charge without a plea agreement.
Austin says he does not remember the stabbing nor what motivated it during both his pre-sentence investigation and in court Wednesday. Although he reported some alcohol and marijuana use, the investigation yielded few clues as well, with no prior criminal record and little indication of mental health issues.
Austin's friends and mother testified on his behalf, saying he was a good person and loved his family.
Most powerful was his grandmother who stood and addressed the court.
"I forgive him," she said. "He's my grandson and I love him with all my heart."
The grandmother asked Menehan if she could give Austin a hug, which the judge said would be allowed at the conclusion of the hearing.
Austin made an emotional address to the court ahead of his sentencing.
"It's hard for me to express how I feel now, how sorry I am for ruining my grandma's life and ruining my family," he said. "I don't know what happened and I don't know why."
With no established motive, coupled with the victim's forgiveness, defense attorney Steven Scott, County Attorney Leo Gallagher and Menehan agreed about the perplexing circumstances of the case as the attorneys debated sentencing.
"I can't recall a case such as this," Gallagher said.
"Nor can I," Menehan replied.
Scott called the case "an enigma."
"I haven't seen a case like this come across my desk like this ever," he said.
At the time of the stabbing, Austin's grandfather had recently died, he had been laid off from his job and was struggling financially, Scott said. But none of what was weighing on Austin has been identified as a clear motive.
Both attorneys mentioned the mandatory minimum of 10 years while differing on the length of a suspended sentence, which affects how long Austin would remain under state supervision once released.
The lack of an established motive concerned him, Menehan said, because it made it difficult to determine Austin's likelihood to reoffend.
The judge issued a sentence of 60 years with 50 years suspended. Austin will be eligible for parole after 2 ½ years and gets credit for 25 days served in jail. He must also pay about $9,400 in restitution. 
Menehan recommended Austin undergo a chemical dependency evaluation and, once released, must register as a violent offender.
Reporter Tom Kuglin can be reached at 447-4076 @IR_TomKuglin
Sign up for our Crime & Courts newsletter
Get the latest in local public safety news with this weekly email.