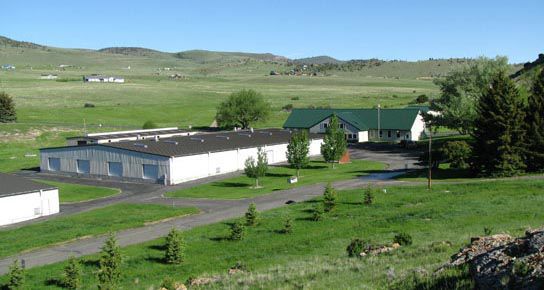 The Ennis National Fish Hatchery is no longer open to visitors after hours and security cameras have been installed because someone recently killed about 20 fish, broke windows and tossed items into the water channels.
"For the last 80 years we have had a visitor's center for folks to come in and check out the facility after hours, so the doors weren't locked," Ron Hopper, the hatchery manager, said Tuesday. "We had felt comfortable up to this point to leave the doors open to let visitors come in."
The vandalism on Sunday, Oct. 27, which included several fish being cut and mutilated, has changed that. 
"I have instructed my folks to lock the doors up," Hopper said.
The Madison County Sheriff's Office is investigating the vandalism and says someone saw a yellow ATV near the hatchery on Oct. 27. Sheriff Phil Fortner said the culprits are likely teens but as of Tuesday, no suspects have been identified and the case is unsolved.
Hopper provided more details about the incident Tuesday and said it appears someone killed the rainbow trout with garden hoes, broken hoe handles, ice choppers or other tools inside the hatchery.
"The fish were kind of cut up," he said. "They were semi-mutilated and we figure they could have used the hoes to chop at them. They threw nets and gear and basically anything that wasn't nailed down into the raceways."
The raceways are long channels of water about 8 feet wide and 80 feet long that contain various strains of adult rainbow trout. The facility began operations in 1933 and is one of three rainbow trout brood hatcheries in the U.S. federal hatchery system.
The fish are raised to adult size and their eggs are taken, incubated and shipped to production hatcheries where they are hatched and raised to stockable sizes. About 20 million eggs are harvested annually. 
"One of our raceways is a display pond for visitors to see," Hopper said. "We have some albinos (fish) in there and one very old fish that was killed. His name was Big Bill. They killed Bill.
"We raise the fish for two or three years to get the eggs out and there is a lot of labor and cost in feed to do that," he said. "We ship the eggs all over the country to state and federal hatcheries and research facilities."
The incident was disheartening, he said, and the damage will linger.
"We have to have a security system now and lock the doors to keep the public out after hours," he said.
Anyone with information about the vandalism can call the Madison County Sheriff's Office at 406-843-5301.
Sign up for our Crime & Courts newsletter
Get the latest in local public safety news with this weekly email.