Casey Blanchard had a new office waiting for him this week as he recalibrates his new life. 
Monday was his first day back to work at Gomer's Diesel since he was gunned down on Expressway more than six months ago. He's unable to walk and still feels pain on a regular basis, but Blanchard was unlucky enough to know exactly how lucky he is to be alive.
The shooting spree just before midnight on March 14 killed his friend, 28-year-old Shelley Hays. His mother, Julie, died due to complications from her wounds months later. An hour after the shooting on Expressway, Montana Highway Patrol Trooper Wade Palmer was shot in the face, head and neck while searching for the suspect. Authorities believe Palmer was ambushed. 
"I'm just glad I'm still here," Blanchard said.
Since Blanchard, 28, returned from a Utah hospital in June, he's been at home recovering with his wife and children, ages 3 and 2. He does outpatient therapy at Community Medical Center three times a week. His pickup is outfitted with a lift so he can be independent in getting around. Blanchard's family is also neighbors with Palmer's family.
"He's doing better," Blanchard said of Palmer, who received a traumatic brain injury in the shooting.
Now that Blanchard is back on the job, his role has switched from the front-desk sales and service department to computer-centered online sales, where his wheelchair allows him.
"It feels pretty good" to be back, he told the Missoulian on Wednesday. "I don't mind hanging out with the kids all day long and doing kid things with them. But gotta get as busy as I was; I can get bored."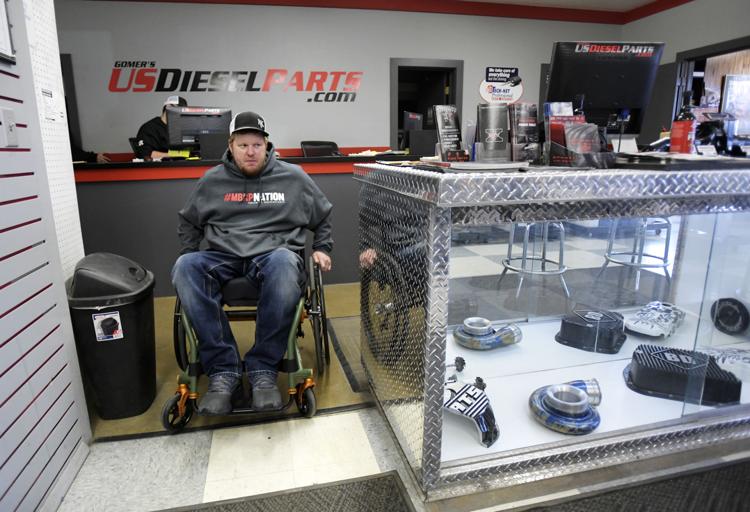 Blanchard is soft spoken, but there's a certain optimism in how he's handling life after the shooting. That may come, at least in part, from the bottomless support from the Missoula community and his hometown of Stevensville, which rallied to raise tens of thousands of dollars to aid Blanchard's recovery. 
"When I came home, basically from Rock Creek Lodge exit all the way to Stevensville, there were people on the overpasses, people on the streets. It was cool," he said. "And there's still a lot of it. In Stevensville and in the Bitterroot, we go out and about there's people trying to do stuff for us. It's great."
You have free articles remaining.
That support system is strong at Gomer's too, where Hays once worked and Blanchard's brother, Kodi, is on staff as well. Tom Dooley, a family friend and co-worker, said there was never a question whether Blanchard would have a place back at work.
"It's great that he's back to work," Dooley said. "It was always planned as long as he could come back. He can't do what he was doing, but having him back, that's the biggest thing."
Blanchard grew up around the diesel pickup his dad, a contractor, used for his construction jobs and hauling building material. Every truck Blanchard had eventually became a project to tinker on, and his family always came to Gomer's for their parts. His brother was the first to work at Gomer's, and when they needed someone to fill an opening, Blanchard got the call.
It's been like a "second family" ever since, he said.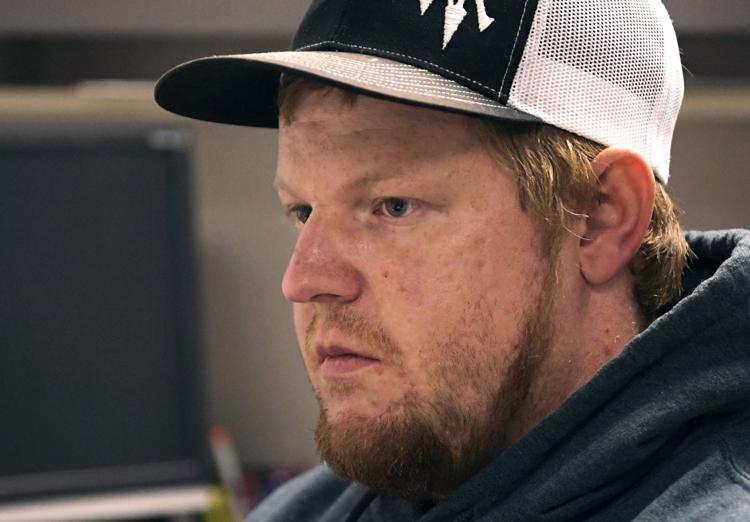 "I go home to my family and then I come into work for another family," Blanchard said. "We just stick together. I think that's helped out a lot."
Some days have surely been more grim than others. Blanchard never got to see his mother after he was flown to Utah after the shooting. She died in Washington, where she was undergoing rehabilitation for her injuries, just days after Blanchard returned to Montana. 
"It's rough some days, for sure," he said. "But you can't really change life. To me, and I tell everyone, 'Throw it on the pile. Keep climbing and you'll eventually get to the top.'"
Blanchard turns 29 next week.
"I have more to live for," he said. "If you don't have negative things in life, you won't have the positive anywhere."
Johnathan Bertsch, the 28-year-old from Arlee arrested with two AR-15-style rifles and a handgun seven hours after the rampage began, is charged with killing Hays, and the attempted killing of Palmer, Blanchard, and his mother Julie. While a coroner has officially ruled her cause of death as homicide, prosecutors said in August they need to review all of Julie Blanchard's medical records before deciding to add a homicide charge on Bertsch's case. 
Bertsch is scheduled to appear in Missoula County District Court on Thursday at 2 p.m.