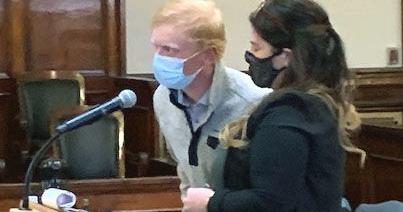 Prosecutors say a Butte man raped a woman during a house party in Butte more than two years ago, possibly by using a date-rape drug, and DNA results bolster their case.
Tracer Lee Croy, now 21, told police he did not have sex with the woman in the early morning hours of Sept. 13, 2018, and on Thursday, pleaded not guilty to a felony charge of sexual intercourse without consent.
District Judge Kurt Krueger accepted the plea and Croy remains free on $75,000 bond. If convicted, he faces a maximum life sentence or up to 20 years in prison.
Prosecutors say the investigation and getting DNA results took a long time. Croy was arrested in Madison County on Aug. 24, posted bond on Sept. 1 and formal charges detailing the alleged events were filed last month.
The woman told police she thought she could deal with the alleged assault on her own, but told her mother about it two days later and went to the hospital, where she also talked with officers.
She said Croy kept trying to kiss her during the party but she resisted. He then gave her a beer and after drinking some of it, she felt "really messed up," according to charging documents.
She said she and a friend were supposed to stay the night in Croy's bedroom, but when she tried to go to sleep, Croy started kissing her. She did not kiss back, she said, but the assault began and she "could not scream or even move."
She was able to call for her friend when a second assault began, she said, and Croy left the bedroom. When he returned, the victim said she punched him in the jaw.
Croy told police he did kiss the woman, but did nothing further, and passed out in his bed wearing sweatpants and a shirt. He said he did not remember having sex and was "fairly certain he did not," and knew nothing about date-rape drugs.
The woman shared Snapchat messages she had with Croy the next day in which he asked, "Did we do anything last night?" and wrote, "I blacked out and have no idea what happened." She responded in part with, "No one hurts me and gets away with it."
DNA tests were done on the woman's underwear and when results came back in May, they matched to him.
"Croy reiterated that he did not have sex with (the victim) and made the statement, 'I woke up in the same clothes I went to sleep in,'" the charging document says. The officer "then asked Croy how his semen got into her underwear and he said he did not know."
Sign up for our Crime & Courts newsletter
Get the latest in local public safety news with this weekly email.