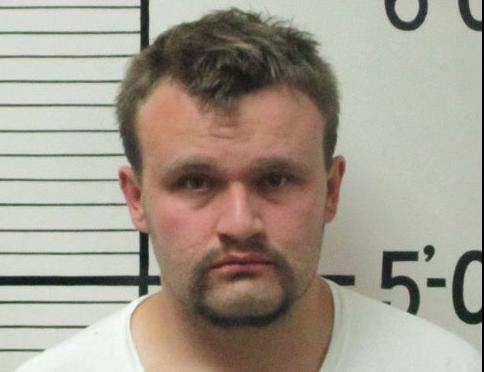 A man accused of fatally stabbing his grandmother in 2017 but was freed and returned to Anaconda is now in jail again, this time for allegedly trying to strangle his grandfather after an altercation over burned popcorn.
Authorities and many residents in Anaconda were dismayed when Tyler Daniel Smith was released from the Montana State Hospital in Warm Springs in January. State officials said they couldn't lawfully comment on the situation, but said they only release people when doctors have determined they are not a danger to themselves or others.
But police say Smith, 24, assaulted his grandfather late Monday night in the same house where the grandmother was killed and he was booked on a felony complaint of partner-family member assault-strangulation. He was still in jail Tuesday with bond set at $25,000.
It was Smith's first run-in with the law in Anaconda since he returned there in January, said Police Chief Tim Barkell, but authorities have been concerned all along.
"We always kind of knew that he can't control his temper," Barkell told The Montana Standard on Tuesday. "You know what we went through after we realized he was let out, but no one will tell you (why he was)."
The grandfather, 69, wasn't seriously injured during the altercation and it was Tyler Smith, after returning to his own residence in town, who initially called police.
Vicki Smith, 64, was stabbed to death at her residence in Anaconda on May 22, 2017. Tyler Smith, who was 21 at the time, was arrested soon after the stabbing and charged with deliberate homicide.
But defense attorneys for Smith sought a mental health evaluation of their client and one was completed in November 2017. Its findings were confidential but pursuant to a judge's order, Anaconda-Deer Lodge County Attorney Ben Krakowka had to drop the criminal complaint and pursue commitment through the Montana Department of Public Health and Human Services.
Smith returned to Anaconda in January and was living in a house two blocks from an elementary school and a middle school. State officials said by law, they couldn't even confirm that Smith was at the hospital in Warm Spring but did spell out some release protocols.
"Once MSH medical staff determine it is safe for a civilly committed patient to be released — meaning they are no longer a danger to themselves or others through extensive mental health treatment, then they are released," the agency said in an email to the Standard in January.
Barkell said Smith called police from his own residence shortly before midnight Monday and said he had been assaulted by his grandfather. Police arrived and drove Smith to his grandfather's house elsewhere in Anaconda to get the other side of the story.
The grandfather and Smith's mother were there and gave this account, according to police:
Smith was making popcorn and "burned it a bit" and the grandfather told him that wouldn't happen if the "popcorn setting" is used. Smith got mad at the comment, threw a bag of popcorn and a plastic bottle and knocked over a lamp.
The grandfather walked toward a phone to call police but "Tyler said, 'You ain't calling' and got behind him and tried to choke him out and strangle him," Barkell said.
The fight spilled to the floor but the grandfather ultimately got loose and the altercation ended.
Krakowka, the county attorney, said in January that once Smith's case was turned over to the state health agency, "it was the only entity that had any control over the continued placement of the defendant to ensure the safety of the community."
"Apparently, they have made the decision to release him," Krakowka said then. "I strongly disagree with their assessment of his dangerousness and their decision to allow him back in the community."
Krakowka said Tuesday that he is reviewing information on Monday night's incident to determine if formal charges are warranted and if so, for what alleged crimes. He declined further comment.
A conviction for partner-family member assault involving strangulation carries a maximum five-year prison term for a first offense and up to 20 years for a second offense.