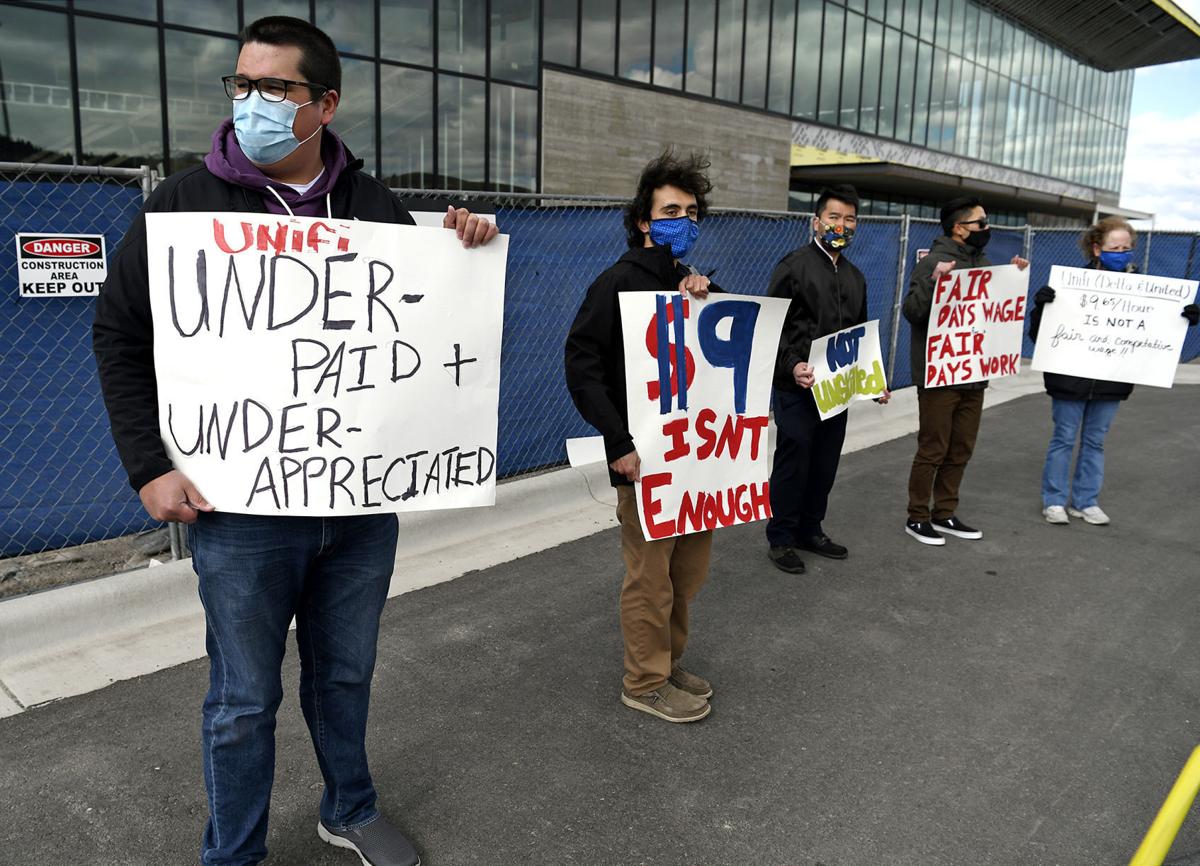 Jared Bonney, a ramp agent for Unifi Service, confirmed that he was one of the six workers who lost their jobs.
"It hurt," he said. "It was expected, but it's like a breakup. You can see it coming a mile away but it's still a punch in the gut."
Unifi Service is an Atlanta-based company that does work for Delta and United Airlines at airports all over the country, including the Missoula International Airport. The workers handle baggage, clean airplanes, marshal airplanes on the tarmac and perform customer service duties at the gates.
About eight of the company's employees walked out of the job last week to protest that they were paid $9.65 hourly as a starting wage with a cap at $10.40 per hour, while their counterparts in the company in places like Spokane and Kalispell made quite a bit more per hour.
"On Friday, we protested and at about 3:30 p.m. phone calls started happening," Bonney explained. "They were calling us up, letting us know we were officially terminated for intentional disruption of operations and abandonment of assignment. We didn't abandon our jobs. We tried to work even the day we were suspended."
The workers walked out of their shift on Monday, April 12 and picketed the sidewalk in front of the airport. On Tuesday, they got calls from management informing them they were suspended pending the results of an investigation. Then, the workers were informed the investigation was complete on Friday and that they no longer had jobs.
A manager for the company told the Missoulian that the company will not comment on employee matters.
The workers are not part of a union. The company has brought in employees from Spokane to replace their jobs temporarily.​
Joey Braun, another former Unifi worker who was terminated on Friday, said another reason he protested the company's pay was because they told him he was an "unskilled" worker despite being required to complete over 140 hours of training. He's supplementing his income by driving for a food delivery company.
The workers all said they've been offered jobs by Alaska Airlines in Missoula, which offers a starting wage of $12.51.
"And the benefits are better," Braun said.
Danny Tenenbaum, a Montana state legislator representing House District 95 in Missoula, expressed support for the workers on Twitter over the weekend. On Monday, he emailed a statement to the Missoulian when asked for comment.
"$9.65/hour is a poverty wage for Missoula," Tenenbaum wrote. "Our airport is so great because of the people who keep it running day and night. The County-appointed board that manages the airport should not side with companies that underpay workers and fire them when they ask for a raise."
Matt Doucette, the chair of the Missoula County Airport Authority board, declined to comment when told of Tenenbaum's statement.
Airport interim director Brian Ellestad said he can't comment on a private company's employment practices.
"But those workers are more than welcome to apply for any other (airport) tenant jobs here at the airport," Ellestad said. "There are definitely jobs open and they're looking for workers."
Bonney and the other workers said they're going to continue to hold signs at the airport this week to continue making their point before they accept other jobs.