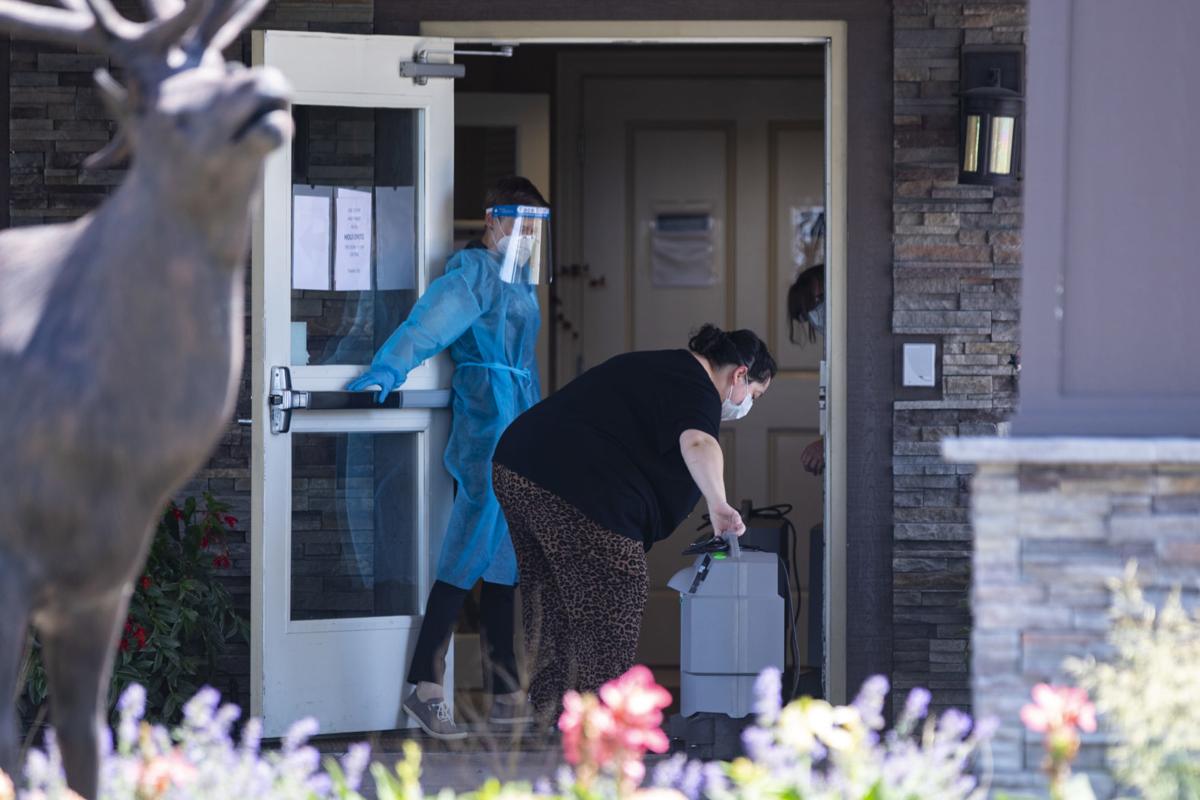 Though he was saddened to hear of the deaths in Billings, Dr. Bruce Troen said that he wasn't surprised.
Troen lives in New York where he works as a professor of medicine and chief of the division of geriatrics and palliative medicine at the University of Buffalo's Jacobs School of Medicine and Biomedical Sciences. He also serves as the director of the University of Buffalo's Center for Successful Aging, which conducts research about aging across multiple disciplines.
"It's almost as if you could not create an environment that would be more predisposed to, unfortunately, causing infection," Troen said of nursing homes.
The New York Times reported in late June that at least 55,000 residents and workers have died in the United States from COVID-19 at nursing homes and other long-term care facilities for older adults, which at the time was about 42 percent of the United State's total deaths.
Six of Montana's COVID-19 deaths going into this week had happened in Toole County where there was an outbreak at the Marias Heritage Center in Toole County began in March.
Senior care facilities like nursing homes are especially susceptible to deadly COVID-19 outbreaks for a variety of reasons. There are an estimated 1.4 million people living in about 15,000 nursing homes across the country, Troen said. Absent COVID-19, he said almost 400,000 deaths are attributed to infection every year in those settings. Older nursing home residents often have a variety of conditions and illnesses that could already develop into life-threatening infections. But the particular risk for senior care populations amid the pandemic doesn't stop with their physical vulnerabilities.
"And you know that many nursing homes have lots of close quarters, so residents might not even have private rooms. They might even share bathrooms. We know that many of them will eat together, so that both residents and staff in nursing homes are at significant risk," Troen said.
Take into account what Troen described as pre-symptomatic spread of COVID-19, meaning the period when a person is infections but has yet to display symptoms, and the risk at senior care facilities deepens.
He added that nursing homes often have meals in a group or communal setting in which people with their mouths open could be potentially breathing out the virus.
Nursing home employees in some cases work at more than one nursing home, which can further the chance of them being vectors for infection, bringing it from one place to another.
Chase Salyers with Koelsch Communities, which runs Canyon Creek Memory Care in Billings, said his organization does not prevent employees from working at other senior care facilities in Billings. Salyers did not specify if any employees were or were not working at other care facilities in Billings before the outbreak.
Canyon Creek reported Tuesday an outbreak of COVID-19 in both staff and residents that has since resulted in five deaths.
For its facilities specializing in the treatment of people with memory loss and related disease, Koelsch constructs them in a way to encourage residents to be outside of their rooms in wide hallways, common areas and areas outside, Salyers said. Staff are also trained to be "high touch" and emphasize one-on-one care to help guide residents into making choices.
"However there are many times and situations where reasoning with the resident is not as simple or as easy," Salyers said. "So enforcing protocols like we all have to abide by in many states and situations, is not as simple or as straightforward with those who suffer from memory loss or related disease."
Some people believe that as many as half or more people in long-term care nursing homes have cognitive impairment and even outright dementia, Troen said. "So now think about a resident who's frail to begin with, who may not have the cognitive capacity, in other words the memory and the recall to go ahead and adhere as best as possible to instructions that would reduce risk."
Physical mobility among older adults with cognitive issues, like the kind Canyon Creek's facility layout is meant to encourage, helps to some extent maintain cognitive capacity and can also help avoid the formation of pressure ulcers and sores, Troen said. But that kind of mobility, along with close contact between staff and residents runs counter to many of the strategies the public has been encouraged to adopt in order to slow the spread of COVID-19.
Speaking generally about COVID-19 outbreaks in nursing homes and other senior care facilities, Troen said he doesn't like to use the word "blame."
"We find ourselves in a complex circumstance, where without knowledge, a couple months ago ... we didn't really have a good sense for how to protect people. But even in a setting where we do, it's never really 100%," Troen said. Supporting staff, patients and families is critical during an outbreak, Troen said.
"If you support the staff, then you almost certainly help support the patient," he said. "So if you can go ahead and test them on a regular basis, and provide them with the appropriate and necessary protective and personal equipment, they can create an environment where they feel safe and when they feel safe they can do a better job taking care of the residents."
Community buy-in on things like masking and physical distancing are all critical to reducing the risk of exposure for everyone, according to the doctor. "The pandemic has revealed that we don't really take the best care of many of our older adults," Troen said. "The scab has been pulled off sort of a wound that says that we've got some major challenges in how we fund our health care and how we do the best thing for our older adults."
Families considering whether to pull their loved ones from care facilities often find themselves between a rock and a hard place, Troen said, describing how the extensive care needs for older adults can be difficult for families to take on and also continue to meet other commitments like working a full-time job.
Testing is one of the key ways to prevent outbreaks, Troen said. But that testing has to be done constantly and in addition to requiring vigilance and an adequate testing supply, it can be financially expensive to maintain effective testing practices, according to Troen.
One strategy to limiting outbreaks that has been effective is splitting up the population of a nursing home into geographically separate buildings or on separate floors, according to Troen.
On the topic of family visits, Troen said that he believes they can happen under the right circumstances. A nursing home would need to be free from the virus and the visits would need to happen outside, and involved masks, social distancing, and proper hand hygiene protocols. "We've had a significant issue with social isolation for many of our nursing home residents," he said, adding that it can lead to adverse health outcomes and even death.
Troen doesn't think the pandemic is going away anytime soon either, saying that he generally tells people "if we're lucky, we'll have a vaccine for the fall of 2021."
In baseball terms, the game is early, according to Troen.
"We're basically in the second inning of a nine-inning game," he said. "And this just might be an extra-inning game."