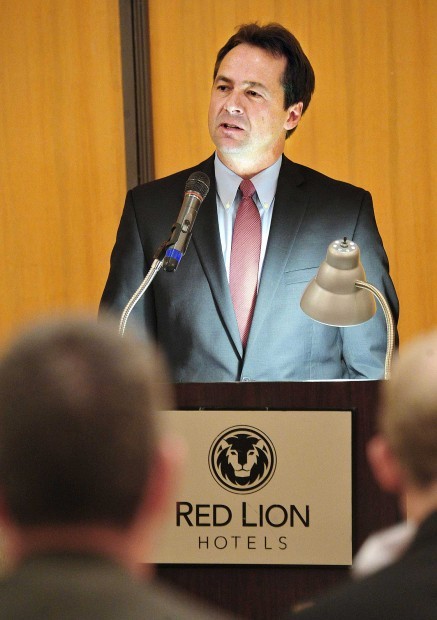 Montana Gov.-elect Steve Bullock addresses members of the Montana Taxpayers Association on Thursday in Helena. - Eliza Wiley / The Helena Independent Record
HELENA—Gov.-elect Steve Bullock asked members of the Montana Taxpayers Association on Thursday for their support for his $400-per-homeowner property tax rebate and his plan to eliminate the business equipment tax for 11,000 small- and medium-sized businesses.
In his first speech since his election as governor, Bullock, a Democrat, addressed a group of business executives, many of them Republicans, at the association's 91st annual meeting.
Bullock read a couple of goals that he said he supports and which happen to goals of the Montana Taxpayers Association.
They include the promotion of a tax climate for both individuals and businesses that is completive with other states. Another was supporting an accountable, efficient government at all levels to meet Montanans' needs for well-managed services and programs.
"Our tax and regulatory environment are strongly competitive with our neighbors," said Bullock, the state's' attorney general.
He said he looks forward to the
2013 Legislature with excitement because Montana is in a strong
"We have a balanced budget and lower unemployment than many other states, and we turn around permits in many areas faster than our neighbors," Bullock said.
He suggested that Montanans ought to be wary of making major changes threatening Montana's fiscal stability.
"So let's be a little bit skeptical, and let's proceed cautiously when we hear of those that want to use that surplus and that sound fiscal management as the excuse to dismantle what I think is a pretty darn good system that exists in Montana," Bullock said.
When Montana has more revenue than it needs, Bullock suggested finding ways to return it to Montanans.
He touted his plan to give one-time $400 property tax rebates to Montana residents living in their own homes. The program, which mirrors the one passed in 2007 at Gov. Brian Schweitzer's
urging, would cost $100 million.
"When you put money in the hands of Montanans, that money is going to be spent downtown or on Main Street, and our overall communities will benefit," he said. "I do hope when we push that
forward you will support it."
During his campaign, Bullock
said he visited many businesses, large and small.
"I can't recall a single one of them saying the factor holding them back from adding their next employees or further growth was our tax structure," he said.
Montana's tax structure for business is rated ninth best among the states by one group that ranks states, he said.
"Additional changes should help that small start-up or Mom and Pop businesses become the next Main Street employer," Bullock said.
He urged the MonTax members to back his plan to eliminate the property tax on business equipment for
11,000 small- and medium-sized businesses. It would end the tax on businesses whose equipment has an
aggregate value of less than $100,000.
Bullock also asked for the Taxpayers' Association members to support a bonding bill to pay for needed buildings and other public works. Although a majority of lawmakers voted for a $100 million bonding bill in 2011, it died because it failed to get the super-
He recalled sitting in a trailer at the two-year college that's now known as Missoula College. The campus has eight trailers built for 750 students, but now has an enrollment of 2,400 students.