The Bureau of Land Management, working with a variety of partners, has steadily pushed back on the line of Douglas fir marching down the mountainsides in southwest Montana. Their work is crucial for the overall health of the sagebrush grasslands that are an iconic part of the Big Sky state, say proponents.
The agencies call the issue "conifer encroachment," a phrase which runs the danger of causing eyes to glaze over. But experts say the work is important for a host of reasons, including to mitigate climate change impacts on Montana's water resources.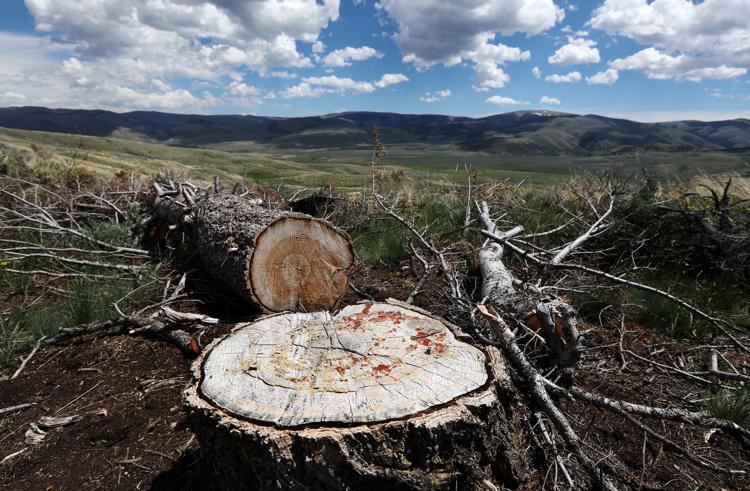 "Removing these trees makes the land more resilient to a warming climate," said Sean Claffey, Southwest Montana Sagebrush Partnership spokesperson for the Nature Conservancy.
Conifers suck water out of the ground as soon as the snows thaw and continue to use water late into the fall, Claffey said.
"They're evergreen," he said. 
With rivers and streams often drying up by the end of summer as temperatures continue to warm, that's a concern for the agencies.
Claffey said over 5,000 acres of both federal and state land in the region saw some kind of effort at removing conifers this year, whether in the form of prescribed burns or tree cutting.
The program to push back on the downward Douglas fir march began in 2015 for the BLM, said Pat Fosse, BLM assistant field manager.
The Nature Conservancy, an environmental group, supports the effort and hired Claffey to coordinate the different agencies involved in fighting back on conifer marches.
"It's what the science is telling us to do," Claffey said. "And it's not just good for the wildlife but also for maintaining sagebrush grasslands for livestock."
The cost of the program has been roughly $480,000 so far, said Fosse.
But ranchers Eric and Stephanie Hansen, who have lived at the base of Medicine Hat peak for most of their lives, say it's worth it.
Stephanie Hansen said since the work began, she's seen Monarch butterflies flit on their property again.
"I haven't seen them in forever," Stephanie Hansen said.
Monarch butterflies are in trouble, mostly due to the disappearance of habitat they need for their life cycle. The U.S. Fish and Wildlife Service is considering putting Monarch butterflies on the Endangered Species List.
Claffey said since 1950, nearly a million new conifers have sprung up on Beaverhead and Madison counties across both public and private land.
"Trees are slow-growing," he said. "Over time, to the naked eye, they don't stand out as a huge problem but when you look back at old photos, you can see they've expanded enormously."
That isn't just bad for the butterflies or the sage grouse or water resources, according to Claffey. It's also bad for mule deer habitat, elk habitat and moose.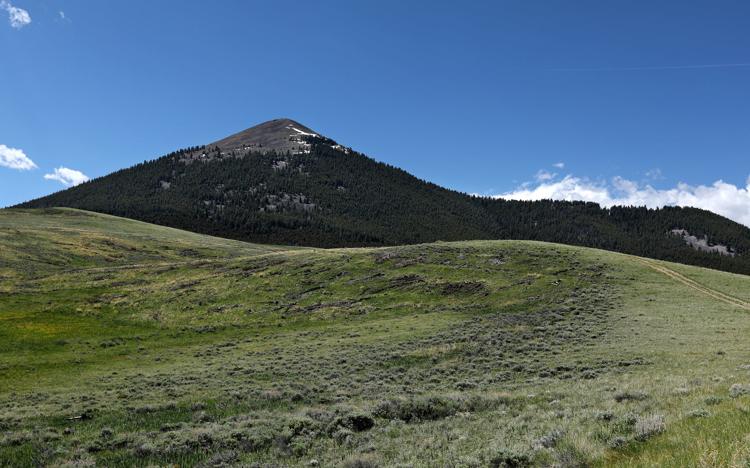 Currently, the Forest Service is working to remove conifers in the Ruby River watershed southeast of Butte and the state is removing conifers from tributaries to the Ruby, Claffey said.
"The trees are moving into winter range for elk, we're starting to lose some of those grasses the elk are eating," Claffey said.
Likewise, conifers are taking over land that once supported mountain mahogany, a shrubby, low-growing tree mule deer live on.
Meanwhile, moose who winter in stream bottoms and subsist on the shrubs that normally line stream beds are seeing their food source losing out to Douglas fir, Claffey said.
Thinning the conifers on the landscape help all wildlife, according to Claffey.
"The trees themselves aren't bad. It's the fact that they're creating a monoculture. That eliminates the diversity that makes southwest Montana so productive for fish and wildlife," he said.
For the last 100 years the goal has been to fight forest fires. But forest fire specialists and some agency professionals say that has been the wrong approach all along.
The result is a dense forest now ripe to turn into an incendiary fire, say officials.
Eric Hansen, 42, has been ranching on the land where he grew up for 30 years, continuing a fourth generation family tradition.
He says he was taught fires need to be put out. He also can't remember a time when the trees weren't marching down the mountainside his house looks out over.
But old photographs taken in an earlier era indicate a different landscape, one in which the trees were not so thick.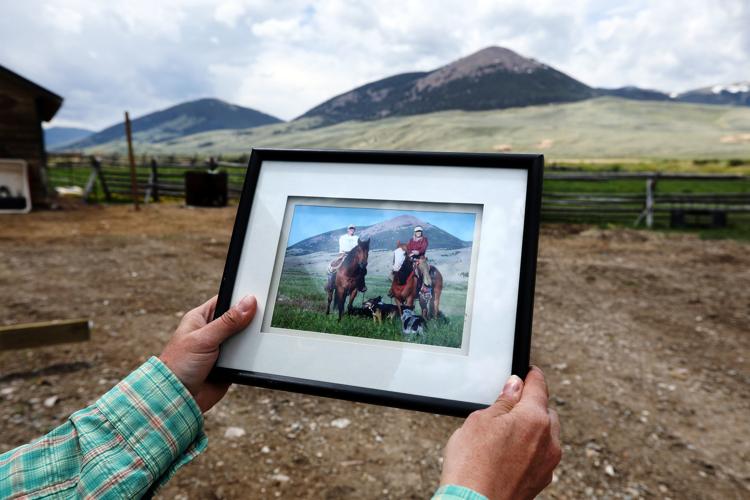 Alex Dunn, Beaverhead-Deerlodge National Forest environmental coordinator, says there's a lot of scientific literature to show "fire was a fairly frequent visitor" to the landscape before white settlers came. 
Dunn said looking at historical photos of the landscape helps to tell the story of conifer encroachment.
"There are a lot more conifer trees on the landscape," Dunn said. "We believe what follows that is a decrease in diversity resulting in ecological integrity and biodiversity. Biodiversity is a benefit to the ecosystem."
Fewer trees in this part of southwest Montana mean a healthier habitat for the greater sage grouse, the iconic Western bird that has suffered from habitat degradation. Montana was one of several Rocky Mountain states that signed a pact in 2015 to protect the greater sage grouse.
Katie Benzel, BLM wildlife biologist, said sage grouse avoid tall structures, including trees. Trees allow sage grouse predators to hide, she said.
"There are no active leks (nesting sites) when you have up to 4% conifer cover," Benzel said.
Greater sage grouse numbers have gone into decline in the last few years. Sage grouse across Montana stood at 77,887 in 2016 and dropped steadily to 43,887 in 2019, according to a recent Fish, Wildlife and Parks report.  
The report says the recent decline is likely due to a severe drought in 2017 impacting sage grouse habitat. The report also says the decline is not cause for concern because sage grouse populations oscillate widely over a period of eight to ten years.
Nick Gevock, Montana Wildlife Federation conservation director, said conifer encroachment is an important issue. He said wildlife returns to their habitats when the Douglas fir and other conifers are removed from the sagebrush steppe lands.
"We support it for the sage grouse," Gevock said.
Benzel said fewer trees mean more flowers and shrubs can grow, which also benefits the sage grouse.
Re-opening the land to mostly sagebrush grassland invites song birds back, Benzel said.
Dunn said the Beaverhead-Deerlodge National Forest has been working to reduce conifers for "quite some time.
"Decades, really," Dunn said. "It's been going on for decades in varying amounts. What we're seeing is a heightened sense of urgency, especially in sage grouse habitat."
Be the first to know
Get local news delivered to your inbox!