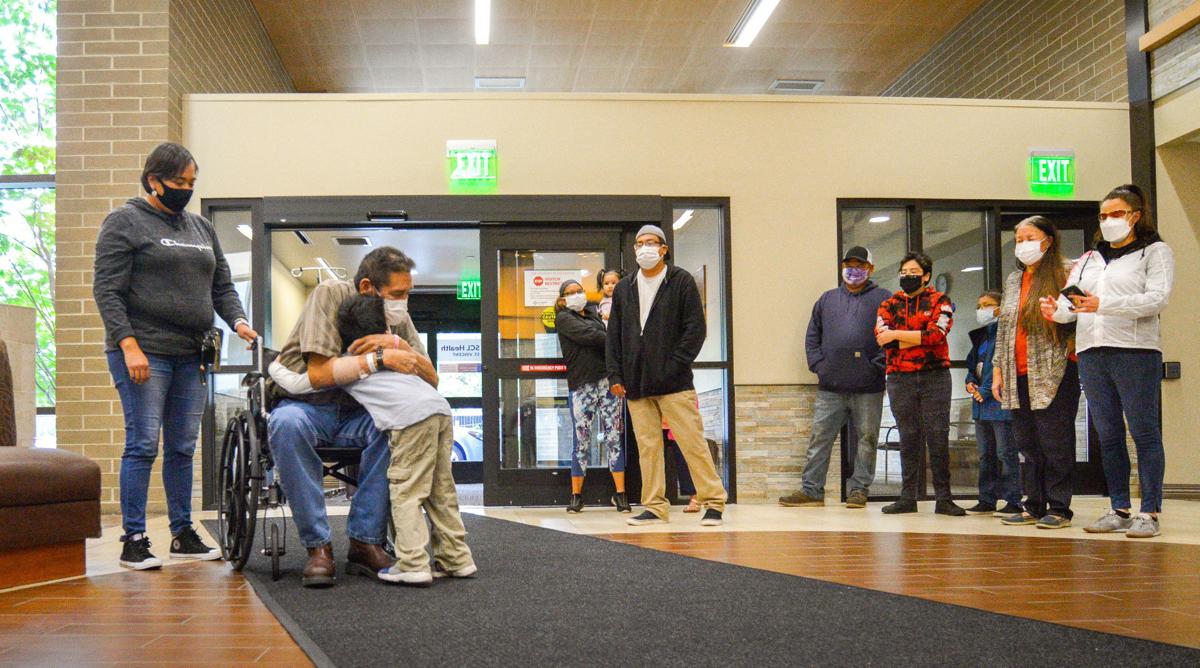 Irvin Risingsun came into the hospital struggling to breathe on June 8 amid the COVID-19 pandemic.
"I knew I had it," he said. The symptoms fit too well. 
On Monday, he celebrated beating it. Risingsun, a 62-year-old Billings resident, was discharged from St. Vincent Healthcare after a prolonged battle with COVID-19. 
Family members, isolated from Risingsun for weeks, hugged him. Medical staff who treated him applauded the man they watched persevere through respiratory symptoms. 
"He has a strong sense of who he is," said Dr. Gerri Mournian, the physician who oversaw Risingsun's discharge. 
Family
Pierre Risingsun was one of four grandchildren who orbited their Papa, delighted to see him after the three-week absence. 
Pierre, 5, was looking forward to making paper airplanes again — Risingsun helped him with the best designs. 
Doctors and relatives highlighted Risingsun's connection with his family. 
Eleanor Kindness, Risingsun's stepdaughter, said that the prospect of COVID-19 was daunting, especially with so much about the disease's progression unknown and variable. 
"Of course I felt fear at first, but faith helped me overcome the fear," she said. Kindness also applauded St. Vincent's communication about Risingsun's condition.
Masks all around were a ubiquitous reminder that Risingsun's recovery comes as the pandemic still threatens so many others, and that many medical unknowns remain. 
"I think we've only scratched into the iceberg," Mournian said. 
Risingsun was able to avoid spending time in intensive care, and his symptoms were mostly respiratory.
"It was a very, very slow and gradual improvement," Mournian said.
Why the disease attacked him fiercely is unclear. Risingsun's medical history didn't seem to put him at particular at risk.
He had some existing medical issues, but not a long list, Mournian said. He's older, but still below the age-65 threshold often touted as an at-risk marker. Statistically, old age and underlying health conditions like heart disease, respiratory problems, or diabetes make it more likely that a patient will have severe symptoms from COVID-19.
Community recommendations
As confirmed cases in Montana have increased in recent weeks — the state recorded a single-day record of 56 new cases Monday — officials have emphasized the importance of following public health advice. 
That includes things like social distancing, wearing a mask and staying home if you're sick. Montana officials haven't retreated from Phase 2 of the state's reopening plan, nor have they required mask use like some other states have, instead making it a recommendation. 
In Montana, 22 people have died from complications of COVID-19. Nationally, more than 128,000 people have died. 
A community ends up "bearing the effects" of its collective behavior during a pandemic, Mournian said. 
"We need to be kind and sensitive to the potential of anyone we encounter to be not as strong to fight a virus like this," she said. "Really, it comes down to the basics."
Concerned about COVID-19?
Sign up now to get the most recent coronavirus headlines and other important local and national news sent to your email inbox daily.