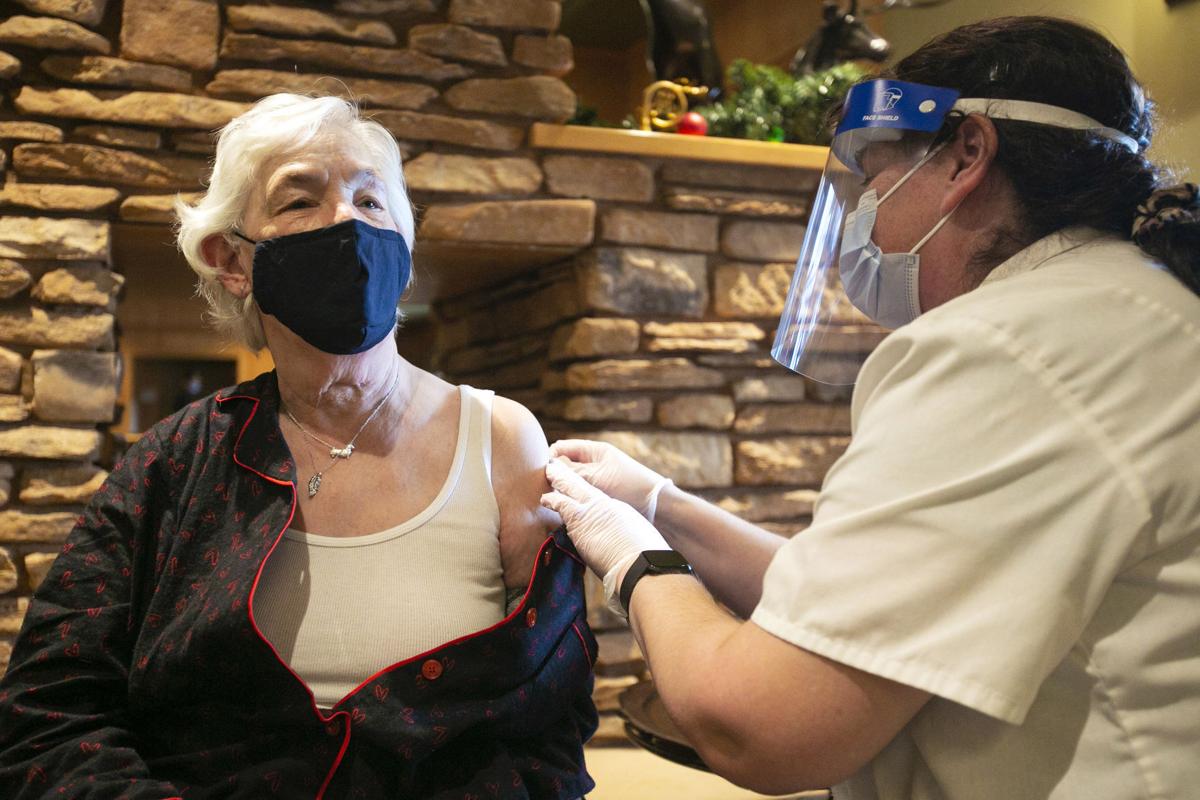 Highgate Senior Living resident Donna Stalkup received a COVID-19 vaccine Wednesday without a flinch.
"Easy as pie," Stalkup, 65, said.
Most of the assisted living facility's 82 residents and a few staff members received the Pfizer-BioNTech COVID-19 shot during a vaccine clinic put on by Walgreens on Wednesday. Long-term care facilities across the state have already started receiving vaccines as part of Montana's vaccine rollout plan.
Right now, the state is still in phase 1A, which aims to vaccinate frontline health care workers, residents and staff of long-term care facilities and other health care workers with direct patient contact or virus exposure.
It's been a long year for many of the residents at Highgate, as statewide orders from former Democratic Gov. Steve Bullock and recommendations from other health agencies forced many care homes to lock out visitors and cancel facility-wide community activities.
The facility recently started allowing a limited number of residents at a time to dine together socially distanced and has hosted a number of activities. But Stalkup said that it was difficult in 2020 when she ate three meals a day in her apartment and couldn't participate in games like bingo and trivia.
Stalkup donned red heart-pattered pajamas as she received her vaccine. She typically wears her PJs around the building.
"Where do we go?" she said. "Twice a week I get dressed."
But she also hasn't been able to see her daughter and son-in-law, who live in Billings, since the pandemic began. She rarely sees the friends she's made in the building.
"We had our independence taken away from us," Stalkup said.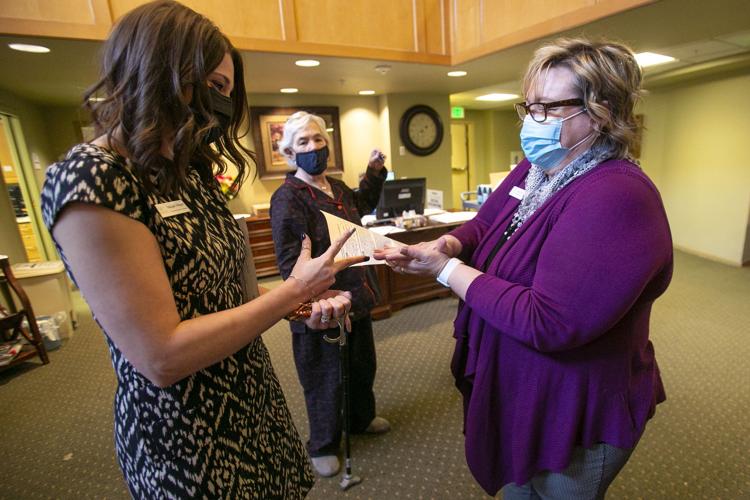 But the residents are excited to get vaccinated, and the facility anticipates full participation from all residents, said Highgate Senior Living health care director Heather Bassett.
So far, Highgate has seen around 20 COVID-19 cases among residents and staff, said Shawna Boatman, executive director of Highgate. The facility would not disclose the number of residents who died of COVID-19-related illness in order to "be in compliance and sensitive to our residents and resident family members," said Highgate community relations coordinator Megan Wilson in an email.
The facility has used rapid testing and tests its 70 staff members weekly for COVID-19 through the Helena State Lab, Bassett said. Visitation is still restricted and depending on where residents go, they are required to quarantine in their apartments for 14 days.
Most of Highgate's residents will be able to get their second dose during its next two clinics, on Feb. 3 and another Feb. 24. Both the Pfizer and Moderna COVID-19 vaccines require two doses, with a 21-day interval between doses for the Pfizer vaccine and a 28-day interval for the Moderna vaccine.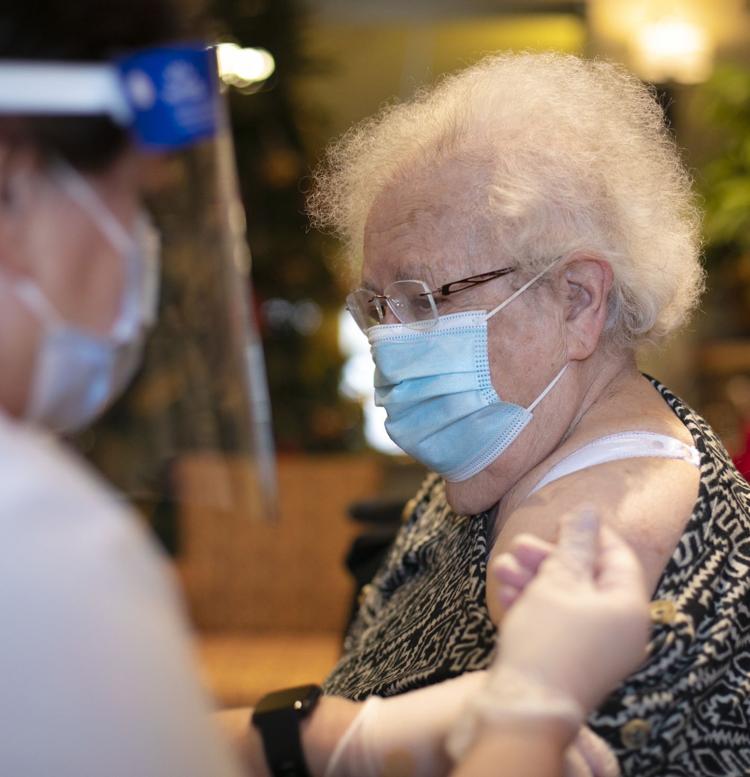 Residents are ready to get back to their normal lives, Bassett said.
"We are really excited, with this vaccine, to be getting to the point where we can get back to what their normal is," she said.
As of Jan. 7, 98.6% of long-term care facilities and 64.5% of assisted living facilities have reported COVID-19 cases in the state, according to a report by the Montana Department of Public Health and Human Services. Seniors are at high risk of developing complications while infected with COVID-19 and are considered high priority for vaccination.
DPHHS is responsible for managing vaccine allocation in the state, however, the federal government is contracting with CVS Pharmacy, Walgreens and Big Sky Managed Care Pharmacy to offer onsite COVID-19 vaccination clinics in nursing homes and assisted living facilities.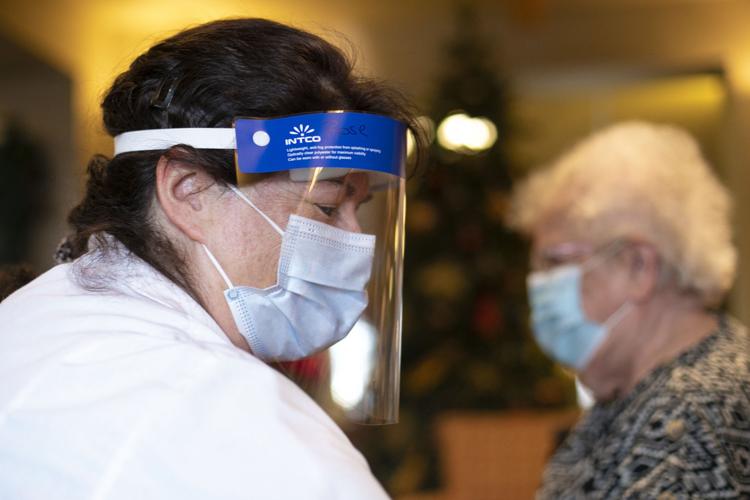 As of Jan. 12, more than 42,000 doses have been administered to Montana health care workers since the week of Dec. 14.
DPHHS is monitoring the process, and has "been assured" by CVS and Walgreens that facilities in Montana will receive their first doses no later than Jan. 18 and Jan. 24 respectively, DPHHS spokesman Jon Ebelt said in an email.
MorningStar Assisted Living is scheduled to receive vaccines through Walgreens on Jan. 29, said MorningStar executive director Stacie Kautzman. And while she's grateful vaccines will be on the way, she's is concerned about waiting. As days pass, there's the fear another resident will test positive for COVID-19, and if an outbreak occurs in a facility, that can slow down the vaccination process.
The assisted living, independent living and memory care facility has 200 residents and 92 employees. MorningStar has had about 15 people total test positive for COVID-19 since March.
"For (residents) to get going and have any sort of life, we really need to get those vaccines," Kautzman said.
The facility will have three clinics total, where 50% of residents and 50% of staff will get their first dose. By the third clinic, everyone who wants a vaccines will be able to get both doses, Kautzman said.
Parkview Care Center, a nursing home in Billings, also held its first vaccine clinic on Jan. 3 through CVS. The facility had a good turnout, said administrator Corbin Boyd in an email. Parkview houses 62 residents and employs 50 staff members.
Partnering with the pharmacies has gone fairly smoothly for Parkview, Highgate and MorningStar. At Parkview, CVS workers went room to room and administered the vaccine wearing PPE, Boyd said.
Two pharmacists and four pharmacy technicians through Walgreens administered vaccines at Highgate through a scheduled process, allowing staff to monitor residents for 15 minutes after getting the shot. Those with mobility issues received their shots in their apartments by workers dressed in personal protective equipment, Wilson said.
Stalkup said she felt fine after receiving the shot and hopes that others get it too. She also encourages everyone to continue to wear a mask.
"I'm ready for the next one," Stalkup said. "I hope that there's a light at the end of the tunnel."